Florida tops first NCBWA Top 30 baseball poll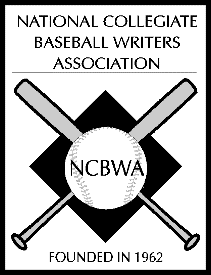 The National Collegiate Baseball Writers Association continues its tradition of NCAA Division I polls for the 21st year with its 2018 weekly surveys and in the first regular-season poll of 2018, the top three remain the same from the preseason poll, with Florida at No. 1, Oregon State at No. 2 and Texas Tech at No. 3.
Coach Kevin O'Sullivan's Gators were the preseason favorite and are No. 1 in the first regular-season poll after going 3-0 over the weekend as they swept Siena, outscoring the Saints, 36-5. The Gators are coming off their initial NCAA World Series victory in 2017 at Omaha, Neb., and a final 52-19 overall record.
Oregon State, which was tops nationally for most of the 2017 season and ended with the most victories (56) in DI baseball, remained ranked No. 2 for the second-straight week as they went undefeated in the Sanderson Ford College Baseball Classic in Surprise, Ariz., over the weekend.
Rounding out the top three is Texas Tech, who had a strong start the 2018 season, going 4-0 against the University of Maine.
Spots four through 10 went through some shuffling this week, as Arkansas jumped up to four from six and Florida State dropped back to five. Entering the top 10 was Stanford, who comes in at No. 9 after sweeping Cal State Fullerton in a three-game series. The only team to drop out of the preseason top 10 after opening weekend was Cal State Fullerton, who fell from No. 10 to No. 22.
The 2018 poll voters come from among 35 college baseball writers and related media persons from throughout the nation. After a preseason Top 35 listing, the remainder of the polls will feature a national Top 30 beginning with the Feb. 19 NCBWA DI survey.
The current survey has representation by 12 different conferences among the 299 baseball-playing schools in the 2018 NCAA Division I ranks. The rankings of 2017 had 13 different DI conferences rated at least one week. For more information or to join the NCBWA, please go to www.ncbwa.com.
Feb. 19 NCBWA Poll
Current Ranking, School               Overall                 Conference                       Rank Last Week
1            Florida                                3-0                        SEC                                    1
2            Oregon State                      3-0                        Pac-12                                2
3            Texas Tech                        4-0                        Big 12                                 3
4            Arkansas                            3-0                        SEC                                    6
5            Florida State                       3-0                        ACC                                    4
6            Kentucky                            4-0                        SEC                                    8
7            TCU                                    2-1                        Big 12                                 5
8            North Carolina                    2-1                        ACC                                    7
9            Stanford                              3-0                        Pac-12                                13
10          Texas A&M                         3-0                        SEC                                    9
11          Vanderbilt                           2-1                        SEC                                    15
12          UCLA                                  3-0                        Pac-12                                12
13          Louisville                            3-0                        ACC                                    14
14          Ole Miss                             3-0                        SEC                                    16
15          Southern Miss                    3-0                        Conference USA                23
16          Clemson                             3-0                        ACC                                    19
17          Virginia                               2-1                        ACC                                    18
18          Dallas Baptist                     3-0                        Missouri Valley                   20
19          Texas                                 2-1                        Big 12                                 21
20          South Alabama                   3-1                        Sun Belt                              22
21          LSU                                    1-2                        SEC                                    11
22          Cal State Fullerton             0-3                        Big West                             10
23          Indiana                               2-1                        Big Ten                               24
24          Houston                              2-1                        American Athletic               25
25          Mississippi State                0-3                        SEC                                    17
26          Arizona                               3-0                        Pac-12                                30
27          Saint John's                        3-0                        Big East                             Received Votes
28          Miami (FL)                          2-1                        ACC                                    26
29          North Carolina State           2-1                        ACC                                    28
30          Oregon                               2-1                        Pac-12                                Not Ranked
Also receiving votes: Alabama (3-0), Auburn (3-0), Austin Peay (3-0), Butler (4-0), Charlotte (3-0), Cincinnati (2-1), Coastal Carolina (3-0), Connecticut (2-1), Duke (1-2), East Carolina (3-0), FAU (3-0), FGCU (4-0), Fresno State (4-0), Georgia Southern (1-2), Iowa (3-0), Jacksonville (2-1), Louisiana-Lafayette (2-2), Maryland (2-1), Michigan (2-1), Middle Tennessee (3-0), Missouri (2-1), Missouri State (3-1), Nebraska (3-1), Notre Dame (2-1), Oral Roberts (3-0), Purdue (3-0), Rice (2-1), Sacramento State (2-1), Saint Mary's College (2-1), Sam Houston State (2-1), San Diego (2-2), Seattle University (3-1), South Carolina (2-1), Southeastern Louisiana (2-1), Stetson (3-0), Tennessee Tech (2-1), Troy (4-0), Tulane (3-0), UCF (1-2), UNLV (3-0), UTRGV (4-0), Wake Forest (2-2), West Virginia (1-2)
Dropped out: West Virginia (27), UCF (29)
Choices by Conference: SEC 8, ACC 7, Pac-12 5, Big 12 3, American Athletic 1, Big East 1, Big Ten 1, Big West 1, Conference USA 1, Missouri Valley 1, Sun Belt 1