Florida remains #1, UVA falls to #20 in new NCBWA baseball poll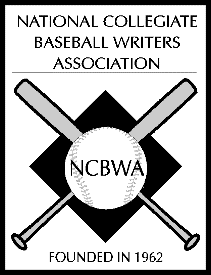 The National Collegiate Baseball Writers Association continues its tradition of NCAA Division I polls for the 21st year with its 2018 weekly surveys and for the second-straight week of the regular season, the top three remain unchanged, with Florida at No. 1, Oregon State at No. 2 and Texas Tech at No. 3.
Coach Kevin O'Sullivan's Gators were the preseason favorite and are No. 1 for the second-straight week of the regular season after going 4-1 last week, including taking two-of-three from in-state rival Miami (FL).
Oregon State, which was tops nationally for most of the 2017 season and ended with the most victories (56) in DI baseball, remained ranked No. 2 for the third-straight week after going 5-0 last week, including going undefeated in the Big 10-Pac-12 Spring Training College Baseball Challenge.
Rounding out the top three is Texas Tech, who is now 8-0 on the season after going 4-0 last week.
Spots four and five went through some shuffling this week, as Florida State jumped up to No. 4 from No. 5, and Stanford joined the top five after going 5-0 last week, including a four-game sweep of Rice.
Joining the top 10 this week was Vanderbilt, who comes in at No. 10 after going an impressive 5-0 last week.
The 2018 poll voters come from among 35 college baseball writers and related media persons from throughout the nation. After a preseason Top 35 listing, the remainder of the polls will feature a national Top 30 beginning with the Feb. 19 NCBWA DI survey.
The current survey has representation by 12 different conferences among the 299 baseball-playing schools in the 2018 NCAA Division I ranks. The rankings of 2017 had 13 different DI conferences rated at least one week. For more information or to join the NCBWA, please go to www.ncbwa.com.
Feb. 26 NCBWA Top 30
1            Florida                                7-1                        SEC                                    1
2            Oregon State                      8-0                        Pac-12                                2
3            Texas Tech                        7-0                        Big 12                                 3
4            Florida State                       7-0                        ACC                                    5
5            Stanford                              8-0                        Pac-12                                9
6            Kentucky                            7-1                        SEC                                    6
7            TCU                                    4-2                        Big 12                                 7
8            Texas A&M                         7-0                        SEC                                    10
9            Arkansas                            5-2                        SEC                                    4
10          Vanderbilt                           7-1                        SEC                                    11
11          UCLA                                  6-1                        Pac-12                                12
12          Ole Miss                             7-0                        SEC                                    14
13          Louisville                            7-0                        ACC                                    13
14          Clemson                             7-0                        ACC                                    16
15          South Alabama                   7-1                        Sun Belt                              20
16          Indiana                               6-1                        Big Ten                               23
17          Southern Miss                    5-2                        Conference USA                15
18          LSU                                    4-3                        SEC                                    21
19          North Carolina                    3-5                        ACC                                    8
20          Virginia                               4-3                        ACC                                    17
21          Texas                                 4-3                        Big 12                                 19
22          Houston                              4-2                        American Athletic               24
23          Saint John's                        7-0                        Big East                              27
24          East Carolina                      6-1                        American Athletic               RV
25          Auburn                                8-0                        SEC                                    RV
26          North Carolina State           7-1                        ACC                                    29
27          Mississippi State                3-4                        SEC                                    25
28          Dallas Baptist                     3-3                        Missouri Valley                   18
29          Alabama                             7-0                        SEC                                    RV
30          San Diego                          7-2                        West Coast                         RV
Also Receiving Votes:
Florida Atlantic (6-1), Florida Gulf Coast University (6-1), Fresno State (7-2), Georgia (6-1), Kent State (4-2), Louisiana (5-3), Miami (FL) (3-4), Minnesota (5-2), Missouri State (4-2), Nebraska (5-3), Notre Dame (4-3), Oklahoma (4-4), Oklahoma State (4-1), Oregon (4-2), Purdue (6-1), Saint Mary's College (4-3), Sam Houston State (5-1), San Diego State (5-2), South Carolina (6-2), Stetson (6-1), UC Irvine (5-2), UCF (4-3), USC (6-1), VMI (5-2), Wichita State (6-0)