Fishburne wrestlers trounce military school rivals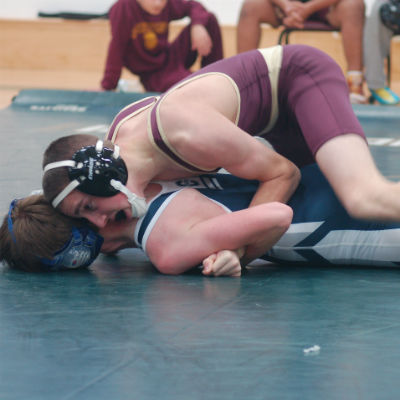 Fishburne Military School wrestlers handed host school Massanutten and Randolph Macon Academy a loss at a military school tri-meet Tuesday afternoon.
Massanutten went down 63-18 against a Caisson squad that only forfeited one weight class. All but one of Fishburne's wins came by pin, with junior Thomas Fosdick starting the roll at 120. He was followed by sophomore Matthew Farrar at 126, junior Matthew Sim at 132, and freshman Jeremiah Brown at 170. At 285, senior Shaheen Alfarhan had an exciting come-from-behind win in overtime to beat Massanutten's Saad El Khali by a 7-5 decision.
A small Randolph Macon team succumbed to Fishburne 60-12, with Fishburne wins, all by pin, coming from Farrar, Sim, senior Jakob Harrison (152), Brown, and senior Christopher Ross (182).
"I'm pleased with our showing," said head coach Terry Waters. "Our goal at the beginning of the season was to beat every military school we face and we're doing that. The guys came out today with a mission and wrestled aggressively."
"We're going to keep improving and we're on track to peak at the right time for the conference championships next weekend," concluded Waters.
Fishburne (19-4) is in action again next Tuesday when it faces Massanutten at home.
Comments