Fishburne Military School welcomes parents for big weekend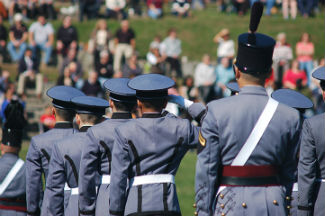 Cadets, faculty and staff alike at Fishburne Military School are busily preparing for one of the biggest weekends of their school year. Parents Military Weekend at FMS is an opportunity for Cadets to showcase their talents and achievements before an adoring crowd of family and friends.
Throughout the weekend parents will come to campus from across the country and around the globe to meet with their Cadets' instructors and get a first-hand look at the progress and development that have taken place in the first nine weeks of the school year.
Twenty-one Cadets will be inducted into the M. Frank Wooten Chapter of the National Honor Society on Friday morning in a ceremony to be held at First Presbyterian Church at 11:00am. The guest speaker for the National Honor Society Inductions will be Mr. Derek Rogers, FMS Class of 2012. Rogers went on from Fishburne to the University of Florida, where he earned a Bachelor of Science in Sports Management. During his college career, Derek spent four years as the Head Manager of the Florida Gators NCAA Track and Field Team which brought home 3 SEC Championships and 2 NCAA Championships. He has coached eight Olympians over the course of his young career.
Immediately following the National Honor Society Inductions, fourteen Cadets will be sworn in to the FMS Chapter of Key Club.
Senior Athlete Recognition will take place before and during half-time of the 4:00 pm footbal game versus Virginia Episcopal School. 

On Saturday morning, RAT Breakout will begin at 0650 for New Cadets (know as RATs, or Recruits-at-Training) hoping to finally, officially become members of the FMS Corps of Cadets will begin their day with a 5K road march, will then be drilled and tested in a number of team-building tests on Anderson Field and will finally come together as a whole to pull an FMS bus. The bus pull is symoblic of the fact that Cadets are taught the power of teamwork can achieve things that no individual effort can.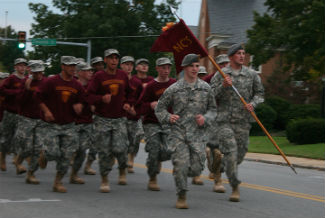 Beginning at 9:10am, Fishburne's Raiders, Drill Teams and Color Guard will stage Rappelling, Drill and Rifle-spinning exhibitions for the assembled crowd of Parents, Family, Faculty and Alumni.
The Saturday events will conclude with a Corps Review Parade during which the mother of the 2017-2018 Battalion Commander will deliver the featured address.
Immediately following the Review Parade, a New Cadet Pinning ceremony will be held in the FMS Quadrangle. Parents of the new cadets who "Broke out" earlier are invited to pin new "old man" name tags onto their sons' uniforms to officially welcome them into the Corps of Cadets at Fishburne Military School. This event is particularly emotionally charged and often ends with proud tears and hugs.
Comments