Fishburne Military School prepares for Governor's Inauguration with parade through Waynesboro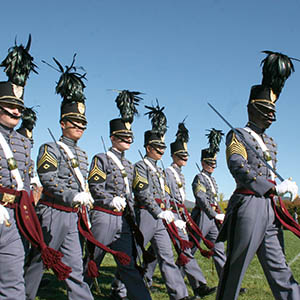 In preparation for their appearance in Governor-elect Ralph Northam's Inaugural Parade this weekend, the Fishburne Military School Corps of Cadets will be staging a practice march through parts of Waynesboro tomorrow afternoon.
The practice parade will begin Wednesday at 3:30 p.m. 11th Street next to Fishburne Military School. Members of the community and media are invited to watch as the Caissons march down 11th Street to Race Street,  then turn onto Short Street where they will turn around in the Invista/DuPont parking lot and then return along the same route to the FMS campus.
The FMS Corps of Cadets performed a similar practice parade before marching in the 2017 Presidential Inauguration. Hundreds of supporters and onlookers turned out along the route for that event.
Saturday's march through Richmond will mark the second time that the Fishburne Military School Corps of Cadets has marched in the Virginia Gubernatorial Inauguration. The Caissons appeared in the 1986 Inauguration of Fishburne Military School Alumnus Gerald Baliles, who served as Virginia's 65th Governor (photo attached).
FMS Superintendent Captain Mark Black USN(Ret) noted "Fishburne Military School is tremendously honored to accept this invitation. As an Army Junior ROTC Honor Unit with Distinction, we pride ourselves upon teaching our young men the importance of honor, citizenship and self-discipline. Being included in an historic moment such as this is something that our Cadets will proudly recall for the rest of their lives."
In January of 2017, Fishburne Military School marched in their first Presidential Inauguration.
Since its founding in 1879, the Waynesboro, Virginia military school has also marched in review for dignitaries such as President Calvin Coolidge, Virginia Governor Harry Flood Byrd, and Secretaries of the Army Generals George C. Marshall and Eric Shinseki.