Fishburne Military School honors military veterans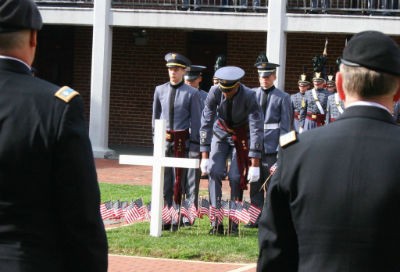 Millions of Americans have fought and died on battlefields to defend our freedoms and way of life.
"It is a great honor to pay tribute to the 22 million veterans living throughout our nation, as well as veterans from past conflicts, who continue to inspire with their courage, sacrifice and selfless courage," said Col. William J. Coffin, the commander of the 116th Infantry Brigade Combat Team, the Stonewall Brigade, on Wednesday at the annual Veterans Day ceremony at Fishburne Military School.
Cadets placed American flags on grounds in the school's quad in memory of Fishburne alums who gave their life to their country in wars dating back to the Spanish-American War in the 19th century.
The FMS band played a medley of service songs and invited veterans in attendance to stand for their favorites.
A 21-gun salute added solemnity to the occasion, whose attendees included several local veterans with service dating back to the World War II era.
"From the very first battle to the very last, in every period of peace in between and since, veterans have daily returned to productive civilian occupations," said Cadet Maj. Brian Draper, the battalion commander of the Fishburne Corps of Cadets. "As history reflects, there were those veterans who came home to welcome parades and showers of confetti. And there were those who came home to the scorn of a citizenry they were asked to serve. Veterans have served during periods where Americans were united, as well as periods when our nation was divided in purpose and understanding. Today will produce its share of veterans, as will tomorrow, and every day after that.
"Consider this when you observe Veterans Day. We are a nation of freedom, and no small measure of this achievement is the service of our veterans," Draper said.
Coffin, a 33-year military veteran, also highlighted the important role that the families of military service members play.
"Soldiers never go to battle alone," Coffin said. "Without the support of our families, we would never succeed. While thanking a veteran, also thank the families, because they are the backbone of the military, and never receive the recognition they truly deserve."
Coffin said he was "proud" to be able to spend Veterans Day with the Fishburne family.
"Like the 200 cadets here today, the men and women I represent, over 3,500 soldiers of the Stonewall Brigade, are similarly driven by the ideals of duty, honor, country and a lifetime of service to a mission greater than self," Coffin said.
– Story by Chris Graham/Photo by Chris Richmond
Comments