Fishburne Military School cadet Matthew Farrar wins state wrestling title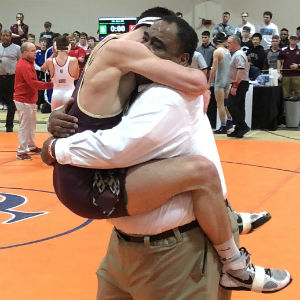 No matter what, Fishburne Military School cadet and standout wrestler Matthew Farrar (Waynesboro, Va.) will end his high school career with a coveted state championship and the title VISAA Lightweight Wrestler of the Year.
Just last week, Farrar claimed his fourth conference championship in as many tries and was named the Virginia Independent Conference Wrestler of the Year.
With his win at states, Farrar earned his second trip to the Prep School National Tournament to be held at Lehigh University this weekend. On his way to the national tourney, Farrar set a new city, county, and school record with career wins by claiming his 170th victory, surpassing Brandon Summers, who had been on top with 168 career wins.
Joining Farrar at nationals will be fellow Fishburne Cadets Levi Smith (Fayetteville, N.C.) and Silvio Dionisotti (Sudbury, Mass.).
Smith, a junior, finished fourth after dropping a hard-fought semifinal match. at the state tournament. Dionisotti, also a junior, lost a triple-overtime semifinal match but bounced back to place third and earn his second trip to the national tournament.
Fishburne wrestling coach Terry Waters praised his team and points hopefully toward the program's future.
"As a team, we wrestled well, we are young. In fact, this is the youngest team I have ever coached," Waters said. "But with just two seniors on the mat this year our future looks bright. We were hoping for another top-10 finish, but came up two points short. We sent eight of our 14 starters to states, so it is a good showing overall. All but one wrestler won two matches at the state level."