Fishburne hosts VIC wrestling championships on Saturday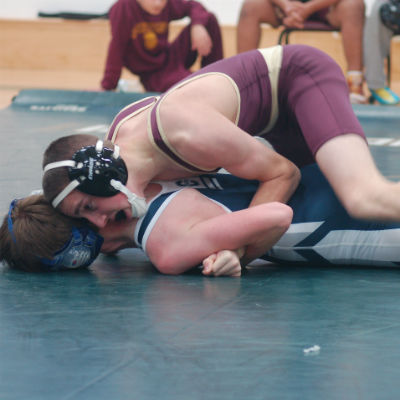 Fishburne Military School is hosting the Virginia Independent Conference wrestling championships on Saturday, and four Caissons will bring undefeated records into the VICs.
Sophomore Matthew Farrar (Waynesboro) is undefeated in conference competition and 34-3 overall at 126 pounds is joined by junior Thomas Fosdick (Staunton) at 120 pounds, junior Clayton Berry (Wentzville, Mo.) at 138 pounds and senior Christopher Ross (Alcoa, Tenn.) at 182 pounds.
First-year FMS coach Terry Waters is looking forward to his first VIC championship meet.
"As a team right now, we are as healthy as we have been all season," Waters said. "We have been stressing the little things in practice and getting those right.  The practices have been going well, and I think the guys are ready."
In addition to Fishburne, competing schools include Miller School, Blue Ridge School, Hargrave Military Academy, Virginia Episcopal School, Roanoke Catholic and Covenant.
"I think it will be a dog fight between us and Covenant, and the day may come down to back points, so our kids will have to perform well in the consolations," Waters said. "Hargrave and Roanoke Catholic have a few wrestlers throughout their lineups that could make things interesting. Realistically, I think we have a good shot to have six or seven champions."
Comments