Fishburne duo spinning toward national championships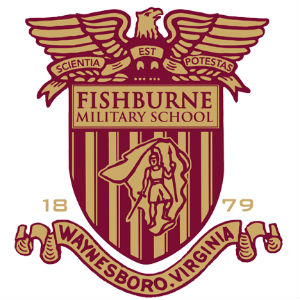 Fishburne Military School junior Tyler Long knows the margin of error in the upcoming JROTC National Drill Championships is razor-thin.
Throw an interception, drop a fly ball, miss a free throw, you can still win the game. Make a single mistake spinning a 10-pound rifle in a six-minute dual routine, and you're done.
"All of the hard work comes down to one routine. We don't practice to make perfect. We practice to not mess up. That's the hard part of it," said Long, a native of Columbus, Ohio, who is teaming up with classmate Jacob Randall, of Stafford, Va., to represent Fishburne at the national championships May 1-3 in Daytona Beach, Fla.
It came down to an audition video that Long and Randall put together in February.
"Randall and I are two of the best spinners on the team, and we thought about it, and said, we seem to have a knack for this, maybe we should do something more with it," Long said.
So the duo talked before the winter break with Lt. Col. Robert Hunt, the Senior Army Instructor at Fishburne, and he encouraged them to put together a video to try to qualify for the national championship.
Long and Randall spent a month developing a routine, "getting it down pat, getting it right," said Long, and then they submitted the video for review.
From there, they were tabbed for the national competition, one of 125 two-person spinning teams from more than 3,000 JROTC units across the country to advance, and one of three teams representing JROTC programs in Virginia.
The hard work that went into the audition video has ratcheted up since Long and Randall were selected for the national championships.
They practice every school day on their lunch period, then add practice sessions after school and on weekends.
It's all about developing timing and cohesion.
"The discipline and technique that goes into rifle-spinning are the two most challenging aspects," Long said. "Soloists are very good at doing a lot of free spinning, a lot of cool tricks. Duals is a lot of precision, a lot of timing, synchronization. We try to look the same and then separate at the same time, kind of juxtaposing both the individual and the dual at the same time.
"Most of the time, we're not even looking at each other," Long said. "That's where the timing and practice and technique comes in. Things you might not even notice now, but important things, like, I turn here, you turn here, I throw a rifle, he catches it, throws it back."
You read that right. It's not rifle-spinning. Long and Randall are throwing and catching their 10-pound riles in tandem.
You won't be surprised to hear that it doesn't always go as planned.
"Randall has suffered a concussion. I've almost fractured bones. It's very, very tough," Long said. "It can wear on you. But it's like with any other sport. Injuries happen, and you have to keep on going."
It's tough mentally as well as physically.
"Nerves come and go, but the performance is going to go on either way," Long said. "I try to overcome those emotions, put them aside, and focus on what I need to do. Every time I go out to spin a rifle, there's always a chance of dropping it. Whenever you do anything, there's a chance something can go wrong. You practice so those chances get smaller and smaller."
Long watches the audition video that got the team into the nationals differently than you or I would.
"I'm more of a critic," Long said. "I tend to see the things that are wrong, and try to fix them, as opposed to seeing the things we do well. I've played the video for my friends, and they say, Wow, that's insane! And I say, no, I messed up there, I need to fix that. They don't see it the way I do."
Story by Chris Graham
Comments