Culture
Crystal Graham: My date night with Christian (and 13 girlfriends)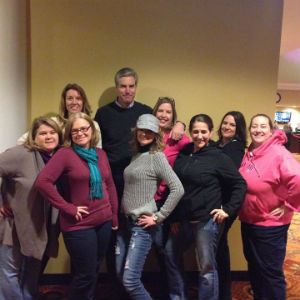 By Crystal Graham
What gets 13 girlfriends to the theatre on a Thursday night in February? A school night? A weekday? No surprise that it was the Fifty Shades of Grey movie. This wasn't a movie that I could ask my husband to go to with me. But it didn't take much convincing to round up a circle of friends to go to Zeus Digital Theaters in Waynesboro on opening night.
It started pretty simple … one friend and I decided months ago that we would go together. And when the time came, we invited a couple of other girlfriends. And it built from there. A few friends said "no way," not their thing, etc. I get it. It's wasn't a book for everyone. And probably not a movie for everyone, either.
Our group was pretty diverse – vice president of a web firm, local food blogger, director of a private school, real estate agent, hair dresser, dental assistant, etc.
I was encouraged to read the E.L. James series by a prominent local CEO who serves on numerous boards (who didn't make it Thursday due to illness). My point is … admitting you've read the books or were going to the movie shouldn't be something you are ashamed of. But I understood when several people attending asked that no one tag them or take photos of them. Some hold public jobs. Some didn't want their kid's teachers to know they had seen it. I just laughed. I guess I don't care. If you judge me for watching a movie, well ….
After a few drinks at a local restaurant (our waiter is still reading book #1), we went off for our date with Christian Grey.
The local theater was showing the movie in two theaters at the same time. Although we arrived an hour early, our group couldn't sit together because both theaters were packed! The theater owner said people started showing up as early as 4 p.m. There were still some empty seats in our theater especially in the front, but it was a packed house.
We counted about 10 men total in the audience. Since we happened to be sitting next to one couple, we grilled the man a bit while we waited. Turns out, to our surprise, they were married, not dating. My hypothesis had been that men dating would go to make their women happy but married men wouldn't go that extra mile. Another couple two rows back said they were married, too. So I was wrong. And the men there seemed to be having a great deal of fun being surrounded by chatty women.
We managed to snap a fun photo with the theater owner and about half of our group. He was, shall we say, bemused in the photo. We all got a good laugh out of it.
Outside of our group, I saw three other people I knew at the theater – a high school classmate, a local art teacher and another friend. Surprisingly, there was a huge number of teachers in the audience. I was even accused of being a teacher for bringing cute little heart stickers to put on our seats to reserve them. (Sorry, Brett, I forgot to grab these on the way out).
Apparently, the two 8 o'clock shows were packed, but a friend went to the 9:30 show, and it wasn't. Probably the school night factor.
So what did we think of the movie? Most critics are panning the movie. (Are they secretly afraid to admit they like it?)
First, on casting. I don't think any of us were thrilled with the selection of Jamie Dornan to play billionaire Christian Grey. That's the hard part about reading a book first. You have your own picture of the lead, and Jamie just wasn't it. We were all pleasantly surprised at the chemistry between Dornan and Dakota Johnson, who plays the female lead, Anastasia Steele. I'd say, in the end, I think the casting director did know what they were doing. We should have had more faith.
I personally loved the cutaways to Ana biting her lip, Christian's facial cues, etc. The directors did a great job of capturing expressions and closeups in general. Great cinematography.
For a movie that deals with a very adult theme, it was tastefully done. There were still some moments where my jaw dropped, and some language that definitely isn't suitable for everyone. There were a lot more scenes of Ana's body than that of Christian's, which we should expect with an R rating – but it just might make this movie worthwhile for the male audience.
I think our whole row of women agreed that if we had been introduced to the "red room of pain," we would have all run away. That just doesn't happen in Waynesboro. One thing I can take away from the movie for my home life … I need to get myself a white button down shirt and make some pancakes for my hubby very soon. Just sayin'.
Another big win for the movie was the music. We were already downloading the soundtrack before we got out of the theater parking lot. It was a good mix of sexy and haunting and is going to be my workout track until I can't take it any more.
For all the positives, I am personally not a huge fan of cliffhanger movies. I didn't hear anything about movie two or three until the week of the release. I'd prefer everything to be wrapped up in one single movie. But I get with Twilight, Hunger Games, and others, that this is becoming more of the norm. So don't expect a happy ending. This one definitely ends with an emotional letdown (but let's admit it, we secretly want more). And if you read the books, well, I guess we should have expected it.
Did it stay true to the books? It's been awhile since I read Fifty Shades of Grey, but surprisingly, I think it was well done. A couple of the ladies with me were relieved some of the inner dialogue from the books wasn't in the movie. And one moviegoer messaged me this morning to say she is reading the series again after watching the movie.
So in the end, we laughed, we gasped, I even cried (just a few tears) at one moment … and we agreed that we need more reasons for a Girls Night!
Do we agree with the critics? Our group of ladies did not leave disappointed. Who wouldn't dream about meeting a billionaire in our senior year of college and being whisked away in helicopters and planes and given a car as a graduation gift? Once again, that's not happening in Waynesboro, but still. It could happen, right?
We are ready for more of Grey and Steele. The only question is … how long will we have to wait?
(We'll have to settle for Magic Mike XXL until then … I haven't seen the first one, but three ladies offered to let me borrow the DVD.)
After our movie, we ended up at the same restaurant for one more drink and had the same waiter ….
"Don't tell me anything," he asked as we were seated in his section.
But as we paid our bills, he was begging for just a few details. So maybe it's not just a woman's movie.