Top News
Fields of Gold Farm Trail kicks off spring season with giveaway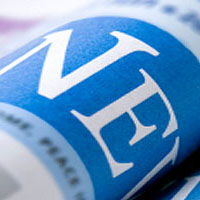 The Fields of Gold Farm Trail, the first trail in the state of Virginia, kicked off the 2015 agritourism season by sponsoring a giveaway featuring a basket filled with items donated by farm trail members. Over 250 people registered to win gift certificates, a cook book, wine, honey, jam, lavender products, pickles, salsa, wool products, maple syrup, goat cheese and more, all made and grown in the Shenandoah Valley.
With more than 30 farmers' markets, 12 "pick your own" farms and dozens of farm festivals and special events on tap with the arrival of spring, the Fields of Gold Farm Trail is home to over 185 farms that are open to the public for educational and recreational purposes. The trail traverses five cities and eight counties in the heart of the Shenandoah Valley. Residents and visitors can experience everything from farm-to-table dining, barn/farmhouse lodging, wildflower and herb picking, cow milking, sheep shearing, goat milk soap making, llama trekking, wine, craft beer or cider tastings or trout fishing just to name a few activities.
The winner of the gift basket is Greta Kreider of Rockingham County. Fields of Gold Farm Trail coordinator Tracey Coltrain will present the gift basket to Greta at Pebble Hall Wildflowers farm located at 11 Pebble Hall Lane, Weyers Cave, Virginia on May 12 at 3pm. The media and the public are invited to attend.
"Marketing is critical to the success of my agritourism business," says Pebble Hall owner Kathy Tourje. "By joining a program like Fields of Gold we have an easy and efficient way to get the word out about what we offer. Showcasing the abundant agricultural activities in the Shenandoah Valley in a Farm Trail allows individual businesses to have a much greater impact in reaching interested visitors."
For more information about the Fields of Gold program, contact Tracey Coltrain, [email protected]  (540) 885-5174 or visit www.fieldsofgold.org.