EMU earns Climate Leadership Network Mark of Distinction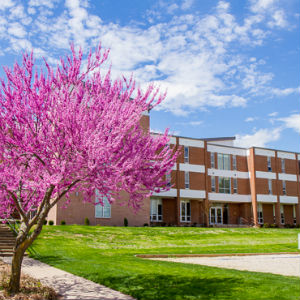 Eastern Mennonite University is among those signatories of the Climate Leadership Network that earned an "On Track" Mark of Distinction.
The initiative recognizes institutions that "set high-performance goals, demonstrate and report measureable progress towards those goals, and support network activities," according to a press release.
The "On Track" performance mark recognizes institutions that have set their own carbon reduction goals in the Climate Action Plan and then matched their annual goals with submitted data.
"Sustainability is a core value at Eastern Mennonite University that grounds our mission and vision," said President Susan Schultz Huxman. "The Marks of Distinction award affirms our long-time commitment to its practice. We are proud to be part of the Climate Leadership Network and to do our part in inspiring innovative action for climate progress."
"We're delighted to be recognized for EMU's historical commitment to sustainability," said Professor Doug Graber Neufeld, executive director of the Center for Sustainable Climate Solutions. "This award reflects on the dedication of many who have over the years who have worked to made EMU more sustainable both in setting goals to reduce our carbon impact, and in documenting how those goals are met. Recognition as a leader among our peer universities will spur us to setting ambitious goals that help us take responsibility to reduce our climate impacts."
To remain eligible, the institution must continue to be an active participating signatory by contributing annual dues and reporting annual data.
Marks of Distinction are awarded in three categories: performance, participation and goals. Fifteen different Marks of Distinction recognize various accomplishments such as progress towards carbon neutrality, use of renewable energy, and more.
The Climate Leadership Network comprises more than 600 colleges and universities in every state and the District of Columbia which have committed to take action on climate and prepare students through research and education to solve the challenges of the 21st century.
Click here to view the reporting platform, where EMU's emission reduction targets are listed through 2020.