EMU awarded record-breaking total of more than $3.3 million in grants in 2017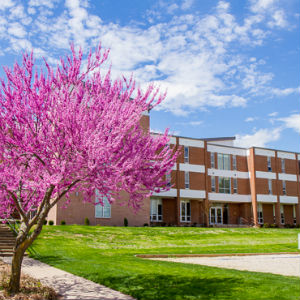 In 2017, Eastern Mennonite University was awarded grants in excess of $3.3 million, including more than $2.2 million in federal funding.
The grants support the health and wellbeing of local and state residents through such initiatives as improving behavioral health treatment and counseling to underserved populations; creating mentoring networks for pastors; increasing awareness of and proactive responses to sexual violence in the community; and working on social justice issues with marginalized communities.
On a global scale, EMU's peacebuilding work supports citizens, including youth, in conflict areas in the Middle East and Africa by increasing both human capacity and academic infrastructure.
"This record of grant-writing success is outstanding for school of our size," said Provost Fred Kniss. "It's a testament to the strength of our faculty and staff and the relevance of the programs they offer.  It is gratifying that so many external funders want to partner with us in the significant work we do for our students and the world.
Following is a sampling of grants.
U.S. Department of Health and Human Services: $1.2 million
"Expansion of Counseling in Underserved and Rural Areas" program
MA in Counseling degree program
This four-year grant aids the MA in counseling program in providing increased behavioral health treatment and counseling to underserved populations in the Shenandoah Valley region of western Virginia and beyond. Pre-professional counselors in the graduate program, who will provide the services as part of their requisite 600 hours of field placement, will also benefit from specific training and practical experience.
Lilly Endowment Inc.: $999,893
"Strengthening Foundations for Thriving in Ministry" program
Eastern Mennonite Seminary
Eastern Mennonite Seminary has received a grant of $999,893 from Lilly Endowment Inc. in support of a national initiative to help organizations create and launch programs that support pastors as they move through professional transitions and face challenges posed by their particular ministry contexts.
The Rev. Dr. Brenda Martin Hurst will direct the five-year grant. Hurst, who holds a doctorate from Union Theological Seminary, was pastor of Frazer (Pa.) Mennonite Church for 10 years, and a professor of practical theology at EMS for nearly six years.
The seminary is one of 24 organizations – including seminaries, universities, retreat centers, denominational judicatories, faith-based agencies and other interdenominational and non-denominational organizations – representing diverse Christian communities to be selected to help establish the.
National Science Foundation: $644,944
"STEM Scholars Engaging in Local Problems" program
Multi-departmental grant
This innovative new program will provide scholarships for academically talented students with financial need studying in the fields of science, technology, engineering and math (STEM). The grant funds 14 scholarships as well as other support services for students, including peer tutoring, attendance at conferences, and stipends for student clubs.
U.S. Department of Justice: $300,000
Office on Violence Against Women Campus Project
Counseling Services
EMU is one of several college and universities nationwide to be awarded this grant focused on interdisciplinary resources and trainings for students, faculty and staff. The project is being overseen by the newly named grant coordinator Leda Werner, as well as Title IX Coordinator Irene Kniss and Director of Counseling Services Tempest Anderson. An announcement of a committee of community partners, including representatives from the Harrisonburg Police Department and The Collins Center, will be made shortly.
 United Nations Development Programme/Iraqi Al-Amani Association: $112,000
Youth Peacebuilding Development and Trainings Related to Peacebuilding Curriculum in Iraqi Universities
Center for Justice and Peacebuilding
Several Center for Justice and Peacebuilding alumni and faculty are involved in this multi-phase grant. Two separate cycles of youth peacebuilding trainings, one now in progress, develop young leaders and support community peacebuilding projects.
Another grant phase provides training to academics from five Iraqi universities to develop a common peacebuilding curriculum.
W.K. Kellogg Foundation: $10,695
"Restorative Justice in Education Pilot Program in Jackson, Mississippi Public Schools"
Center for Justice and Peacebuilding
This grant is continued support of a 15-month planning grant involving Center for Justice and Peacebuilding staff and faculty from the MA in Education program, as well as school officials and community leaders in Jackson, to strengthen youth engagement and use of restorative justice practices in the classroom and community.
Additional grant funds
Other supporting organizations providing grant-funding during the year include the E. Rhodes and Leona B. Carpenter Foundation, the JustPax Fund, the Center for Performance and Civic Practice, the Virginia Foundation for the Humanities and the Arts Council of the Valley, among others.
Other donations
EMU is the annual recipient of numerous endowments and generous gifts. More than 230 endowed scholarships benefit current undergraduate, graduate and seminary students. More information about endowments is available here.
A recent $672,000 bequest from the Virginia College Fund by the Guy E. Beatty Revocable Trust will also be used primarily for student scholarships.
Story by Lauren Jefferson