Eastern Mennonite Seminary conference gives space to brokenness, 'kintsugi clergy' and ministry in a polarized society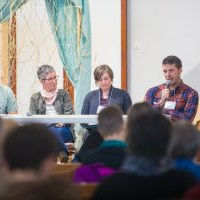 The Reverend Meredith McNabb is director of the United Methodist Church Virginia Conference's Center for Clergy Excellence, and she isn't afraid to poke a little fun at the grandiose-ness of that title.
This she did, gently and to knowing laughter, during her keynote address last week at Eastern Mennonite Seminary's annual School for Leadership Training. The gathered included some 160 clergy and faith leaders representing 10 denominations and coming from 13 states.
Yet it was clear to all that McNabb had considerable experience helping to prepare both prospective clergy for the path of ordination and supporting those currently serving. In her hour-long address, McNabb suggested that there is a temptation to ignore "unhealed wounds in unhealed places."
"We don't stay in Good Friday, we keep moving and we are Easter people," she said.
Taking as her theme the Japanese art form kintsugi, McNabb shared that the goal of excellence in ministry cannot be truly attempted unless one considers — deeply — one's own "broken places."
"In kintsugi, broken ceramic pieces are mended together with gold and silver, filling in the cracks with craftsmanship, value, care and beauty," she said. "This is what God does, pouring in the gold and working it in finely … it is critical that we be models of how the broken places can be mended."
Iris de León-Hartshorn, director of transformative peacemaking for Mennonite Church USA, offered the first keynote address on Monday evening. She shared the story of her journey in leadership, "from Catholic to Presbyterian to Southern Baptist to Mennonite," and invited listeners to "face into brokenness as an integral aspect of finding one's place as a leader."
Networking a highlight
One goal of the event was for those attending "to come to grips with the reality that 'brokenness' and 'thriving' are not mutually exclusive realities," said EMS Director of Admissions Les Horning. "Several participants noted that the speakers and workshops challenged them to rethink the categories of wholeness and brokenness."
"How is wholeness defined? How is brokenness defined? And who gets to write the definitions?" asked one participant.
Time to connect and network was woven into the schedule, which Horning said was the highlight for many participants. "I think the more we encounter brokenness in us and around us, the more we need each other."
"Just being with other pastors is wonderful," wrote one participant in an evaluation. "Guest speakers are icing on the cake. I like how all the emotions and brain waves get validated and voiced."
Practical skills
In breakout sessions throughout the three-day conference, seminars focused on practical skills related to the complexities of congregational leadership.
Professor David Brubaker, an expert in congregational change, brought a sociologist's perspective to current polarization on political and cultural issues in the United States, then presented with EMU President Emeritus Loren Swartzendruber a case study of how the university moved through a long listening process on the way to making the decision to change their same-sex policy for employees.
Brittany Caine-Conley, an EMS alumna and ordained minister in the United Church of Christ, shared about her leadership and involvement in the clergy response to recent white supremacist rallies in Charlottesville, Virginia.
While many in the audience knew the popular narrative provided by the media, Caine-Conley shared a more nuanced and detailed narrative: of how she became involved in area activism at the behest of an anarchist group for people of color; how as a layperson, she persuaded area clergy to become involved; and how her leadership among various groups sometimes forced her to make decisions she later regretted. She spoke openly about the challenges of making decisions in fear-filled situations and mediating between citizens' groups with disparate and conflicting views.
"Allowing our bodies to be bruised and our spirits broken for the gospel is not new but it is necessary in today's world," she said. "We follow an agitator who was executed by the state.  If you enter into this ministry, you're called to do this thing that doesn't make any sense, to put your body on the line to spread the good news that is countercultural to everything our society values. Jesus put his body on the line to absorb violence at the hands of the emperor so that others didn't have to. If I am to follow this Jesus, I need to do that as well."
Story by Lauren Jefferson