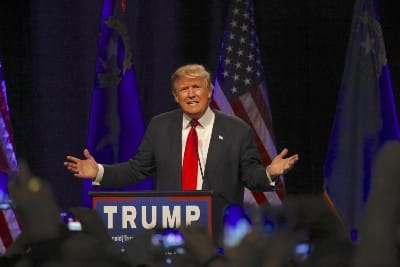 CNN's Chris Wallace thinks former president Donald Trump's threat of "problems" if he is indicted for his political crimes translates to "violent protest."
Hate to break it to you, Chris, and anybody else worried about "violent protest" arising out of what seems to be the inevitable indictment of Trump, but Jan. 6, 2021, wasn't a "violent protest." It was an organized insurrection, and the people on the front lines who plotted for weeks what would eventually go down that day have spent the past 20 months learning from their operational mistakes.
The next Jan. 6, which Trump foretold is coming this week in a radio interview with conservative media sycophant Hugh Hewitt, will benefit from the muted federal government response to America's first attempted coup.
The shock troops on the Trumpist far right – the Oath Keepers, the Proud Boys, the Ministry of Self Defense – are very much still out there, and Trump's words to Hewitt were not so much a warning as a call to action.
Trump, who told Hewitt he can't "imagine" he'll be criminally indicated, yet approved his Save America PAC paying a $3 million retainer to criminal-defense attorney Chris Kise, which is significant for a guy who prefers to stiff his lawyers, said if he were to actually be indicted, "I think you'd have problems in this country the likes of which perhaps we've never seen before. I don't think the people of the United States would stand for it."
Ahem, the most recent polling has more than half of Americans saying he should be indicted, so … the people of the United States very much stand for it, and Trump knows that, which is why he's spending $3 million of his PAC's money on a legal defense.
The "violent protest" that Wallace is worried about is part and parcel to the Trump defense strategy.
Basically, he has to know that he is doomed to losing in court, but if his ground troops kill a few congressmen in a "violent protest" afterward, hey, the putsch is on.
Wallace did acknowledge that the Trump cultists got the message that their dear leader sent with his radio comments.
"The world changed after January 6th and Donald Trump's words and the what, it doesn't matter what I hear, it's what his followers hear. And clearly what, what they hear is a call to arms, in many cases. So that is a reason for concern," Wallace said today.
It's the call to arms, not "violent protest," that we should be focused on.