Dominion Energy announces fourth quarter, full year 2017 earnings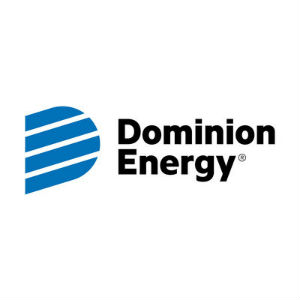 Dominion Energy today announced unaudited reported earnings determined in accordance with Generally Accepted Accounting Principles (reported earnings) for the three months ended Dec. 31, 2017, of $1.4 billion ($2.25 per share) compared with earnings of $457 million ($0.73 per share) for the same period in 2016.
Operating earnings for the three months ended Dec. 31, 2017, were $585 million ($0.91 per share), compared to operating earnings of $618 million ($0.99 per share) for the same period in 2016.  Operating earnings are defined as reported earnings adjusted for certain items.
The principal difference between reported earnings and operating earnings for the quarter was a tax benefit associated with the Tax Cuts and Jobs Act enacted in December 2017.
Dominion Energy uses operating earnings as the primary performance measurement of its earnings guidance and results for public communications with analysts and investors.  Dominion Energy also uses operating earnings internally for budgeting, for reporting to the Board of Directors, for the company's incentive compensation plans and for its targeted dividend payouts and other purposes. Dominion Energy management believes operating earnings provide a more meaningful representation of the company's fundamental earnings power.
Thomas F. Farrell II, chairman, president and chief executive officer, said:
"We are very pleased with our record operational and safety performance for the year.  In addition, we achieved strong financial results for 2017 and reported operating earnings of $3.60 per share in the middle of our guidance range, despite weather that was significantly below normal.
"Construction of the 1,588-megawatt Greensville County combined cycle power station continues on time and on budget.   The project is approximately 73 percent complete and is expected to begin commercial operations in late 2018.
"We recently received a Limited Notice to Proceed from FERC for the Atlantic Coast Pipeline and the Supply Header Project which allows us to remain on schedule for completion of the projects in the second half of 2019.
"Cove Point Liquefaction construction is complete and we are in the final stages of commissioning.
"And finally, in December the Dominion Energy Board of Directors established a 2018 dividend of $3.34 per share, subject to quarterly determination and declaration, that represented a 10 percent year-over-year increase."
Full-year 2017 Reported and Operating Earnings Compared to 2016

Reported earnings in 2017 were $1.0 billion higher than full-year reported earnings in 2016.  Business segment results and detailed descriptions of items included in 2017 and 2016 reported earnings but excluded from operating earnings can be found on schedules 1, 2, and 3 of this release.
Operating earnings, in 2017, decreased $58 million as compared to full-year 2016 operating earnings.   The decrease is primarily attributable to milder weather in our regulated service territory, a step down in solar investment tax credits, a second Millstone refueling outage and a reduction of Cove Point import contract revenues.  Factors offsetting the decrease include growth in our regulated gas and electric businesses, the addition of Dominion Energy Questar and lower operating expenses.