Dinner Diva: Thanksgiving, Paleo Style
Oh, how I adore Thanksgiving. Family and feasting and giving thanks-what could be better than that?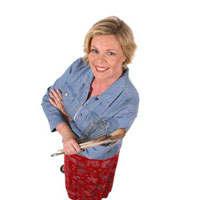 Here in the U.S., our Thanksgiving marks the unofficial kick-off to the holiday season, too, so it really is an exciting time.
Thanksgiving is only a couple of weeks away, so it's not too early to start thinking about the menu. If you've taken our 30 Day Paleo Challenge lately, you might be wondering how you'll survive this food-focused holiday without your non-Paleo favorites, but have no fear! It's not as difficult as you might think to survive Thanksgiving as a Paleoista, and I'm going to prove that to you right now!
So, let's take a look at some favorite traditional Thanksgiving standbys and I'll give you some Paleo-friendly substitutes.
Turkey. No need to take Turkey off the menu, as you know! You're free to add as much butter and bacon to that bird as you like!
Dressing. If you are avoiding gluten as part of a lifestyle choice, and not because of a celiac condition, you don't have to offend Grandma Mae at dinner by skipping out on her famous dressing. By all means, have a bite or two if it won't do you too much harm! But, if you're preparing the meal, go ahead and experiment! Dressing doesn't have to involve bread. Get creative in the kitchen and see what you can do with some pork sausage, diced sweet potatoes and apples, pecans, cranberries, mushrooms, celery, etcetera, etcetera. Start trying out some recipes now, so you'll have the right one perfected by the time your dinner rolls around.
Mashed potatoes. White potatoes are one of those items that can cause debate between Paleoistas-some of us eat them, some of us don't. A scoop of mashed potatoes isn't going to send you to Paleo Prison, so if you feel so compelled, go ahead and enjoy a bite. If you're preparing the meal, see if you can find some purple potatoes to boil and mash to serve on your Thanksgiving plate. Purple potatoes have more nutrition in them than their white counterparts, and they are so pretty on the plate! If you want to avoid spuds all together, whip up some faux-tay-toes by steaming cauliflower and whipping with butter, heavy cream and seasonings.
Sweet potato casserole. By all means enjoy a sweet potato casserole for Thanksgiving this year! Just don't add brown sugar and marshmallows to it. Peel and slice four or five sweet potatoes and toss into a baking dish. Drizzle with olive oil and sprinkle with sea salt and lemon pepper. Add about half of a thinly sliced red onion on top so it looks like there are pretty purple ribbons on top of your sweet potatoes. Drizzle again with olive oil. Bake at 400 for about 35–45 minutes until everything is golden brown. Even non-sweet potato lovers love this. My own brother was tricked into thinking these were carrots at one Thanksgiving dinner!
Cranberry sauce.  Most homemade cranberry sauce is made from sugar with sugar added to sugar and more sugar. But what is Thanksgiving Turkey without cranberry sauce? For a delicious Paleo-friendly cranberry sauce, add some fresh or frozen cranberries to a saucepan. Cover the berries with orange juice and add honey, maple syrup or coconut sugar to your taste. Add in lemon zest or orange zest for color and a bit of extra citrusy zing. Once you start making your own cranberry sauce, you'll wonder why you haven't always been whipping up this simple sweet dish!
Turkey gravy. Many gravies involve cornstarch or white flour-neither of those items are Paleo-friendly. Sometimes I like making a simple au jus out of pan drippings, butter and a bit of chicken broth. But you can find dozens of Paleo gravy recipes online. Again, start experimenting with recipes now, so you'll have just the right one down pat for your Thanksgiving dinner.
More from dinner diva leanne ely at www.SavingDinner.com.
Comments