Top Trending Cryptocurrency Now 2022

Despite Bitcoin trading sideways the past month, interest in other cryptos is up – we list and review the top trending cryptocurrencies now in this crypto market review.
The 'why is crypto going up today' trend may be explained by Bitcoin's brief spike above $24,000 on July 20th shortly before the weekly close – Bitcoin did then close under the 200 week MA however.
Bitcoin hasn't dropped below $20k in the last 14 days which is a show of strength by the bulls. Other cryptos have been pumping by much higher percentages than Bitcoin – also explaining the 'is crypto recovering trend' increasing in Google search volume.
Most Trending Cryptocurrency – Battle Infinity
We recently reported on Battle Infinity, a new crypto presale running until October 10th 2022 for its native currency IBAT, a play to earn rewards token within its metaverse game with a fantasy sports theme.
That may have been trending in keyword search terms as it passed its soft cap sooner than expected, and then the $1 million mark after only two weeks of raising funding from early investors.
At the time of writing the Battle Infinity presale is around the 5000 BNB raised mark – which is over $1,250,000 in USD terms based on today's Binance Coin price – now $257.
On Twitter 'Battle Infinity raises one million dollars' has also been trending in India according to the project's Telegram channel. Battle Infinity's project lead and core developers hail from India, now based in the UK. Co-founder Sureshi Joshi is a graduate of the university of Delhi.
Check the latest progress of the Battle Infinity presale at battleinfinity.io.
MDT Crypto
The 'MDT crypto' trend can be explained by Chain announcing they have acquired Measurable Data Token (MDT) and its ecosystem for over $100 million.
The MDT price did retrace around 40% after that initial pump however – the 'sell the news' effect in action. Check the latest MDT crypto price on Coinmarketcap.
Barnbridge Crypto
Barnbridge crypto – its native token has the ticker symbol BOND – has been trending as well strongly on Google and other social media platforms.
Its DeFi risk tokenizing protocol has been making headlines for its 200% price pump. Crypto Youtubers have also been reviewing the BOND price chart to predict its next move.
Rounding out the top trending cryptocurrency assets in the top ten are:
SNX crypto – as traders search for info on Synthetix
BICO crypto – Biconomy is an exchange and the name of its native coin
My Bricks crypto – MyBricks ($BRICKS) has been a popular trending crypto in 2022
FLM crypto – Flamingo pumped over 200% in July 2022 before a correction
Lucky Block
Another asset that was trending this year in Q1 and Q2 was Lucky Block (LBLOCK) and that might be expected to start trending again as it has just completed the LBank exchange listing of its upgraded V2 token.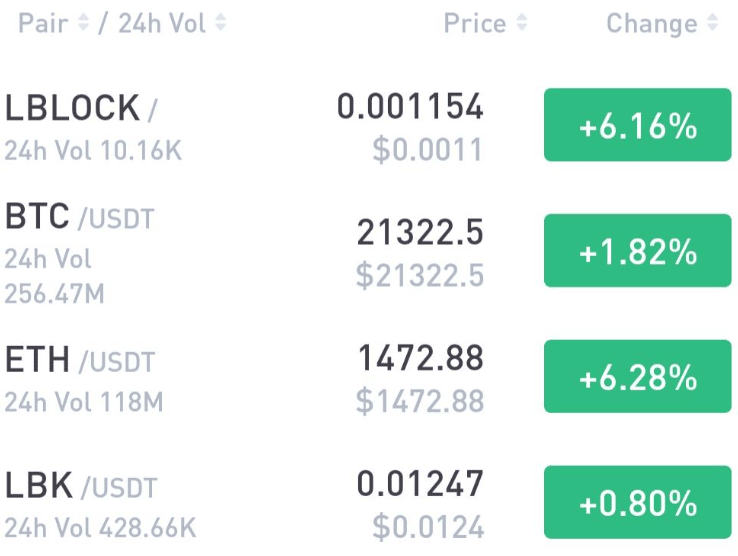 At the time of writing the LBLOCK price is pumping, outperforming Bitcoin and Ethereum.
Another presale we reported on – in fact a beta sale, the earliest point in a presale – is for Tamadoge. That launched this week so may become a top trending cryptocurrency as more people search for information on that brand-new crypto.
See our post on the play to earn crypto utility of Tamadoge (TAMA).
Why Follow Trending Cryptos?
Knowing where investor attention is focused gives a hint as to which cryptocurrency assets will see increased buying volume, so monitoring Google search trends for crypto related terms can be a helpful technical indicator of sorts.
Other top trending cryptocurrency terms now are 'Copper crypto' which is not a crypto token, but the name of a cryptocurrency custodial firm – news broke of Copper.co seeing millions of dollars in investment from Barclays bank.
'FOMC' is also trending alongside 'Fed crypto' as this week another Federal Reserve meeting is taking place – which often leads to increased volatility in crypto prices, so trade carefully.
Also see our longer guide to the best altcoins to buy this year.