How to Buy a Coin Before it Launches
The best cryptocurrencies, including Bitcoin and Ethereum, have rewarded early investors with a staggering amount of returns. However, many investors have been lucky enough to invest in the biggest cryptos during their presale or ICO launches (Initial Coin Offerings). 
For example, Solana (SOL) had an ICO price of $0.22 before reaching an all-time high of $260. Therefore, this article will show interested traders how to buy a coin before listing. 
How to Buy Crypto Before Launch: Summarized
Before new cryptocurrencies are deployed on the best cryptocurrency exchanges, the platform developers initially seek methods to raise capital for their projects. Similar to how private companies hold an initial angel investing round to raise capital, crypto projects tend to go down the same route. 
However, the next step for cryptocurrency platforms is to hold a presale launch, where developers offer cryptocurrencies to the general public. Similar to an IPO (initial public offering) launch, which takes place when private companies decide to go public, blockchain projects hold a crypto ICO (Initial Coin Offering) launch.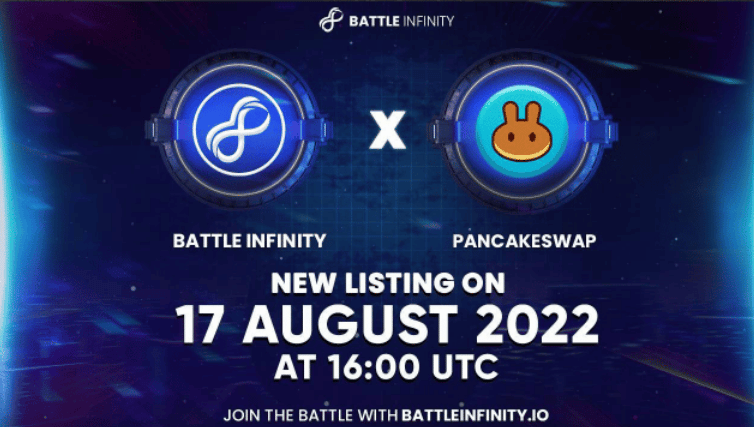 Investors participating in ICO launches receive cryptocurrency tokens in exchange for their monetary contributions made towards the project. For example, investors participating in the Solana ICO were reimbursed with the native cryptocurrency – SOL. 
The ICO price is often set at a fixed rate during the presale launch of specific projects. For instance, Battle Infinity (IBAT) was an upcoming decentralized cryptocurrency gaming project with a presale price of $0.0015 per token. The presale sold out within 24 days of launch, and now IBAT's listing on PancakeSwap is on 17 August 2022 at 16:00 UTC.
After a token completes its presale targets, they are listed on various crypto exchanges and can provide sufficiently higher returns to holders. Therefore, investors can buy a token before it launches for a potentially lower price via ICOs and presale events. 
Where to Look for Upcoming ICO and Crypto Presales
Currently, the cryptocurrency markets are oversaturated with the number of upcoming decentralized projects and ICO coin listings. Thus, finding an ICO or crypto presale can be slightly challenging for interested customers who are not sure where to look at. Numerous investors are wondering where to buy crypto before listing.
The sections below show users how to find a cryptocurrency before it launches:
Top ICOs
Top ICOs is an online website aggregating a list of the upcoming initial coin offerings in the digital assets market. Users can access this platform to get a list of everything from upcoming ICOs, active ICOs and crypto airdrops. 
ICO crypto projects must pay a small listing fee to get added to this platform, which has been running since 2017. Apart from the online website, interested users can stay tuned for updates on various social media platforms such as Instagram, Facebook, and Twitter to get informed on upcoming launches. Moreover, the platform provides information on how to buy crypto before it launches.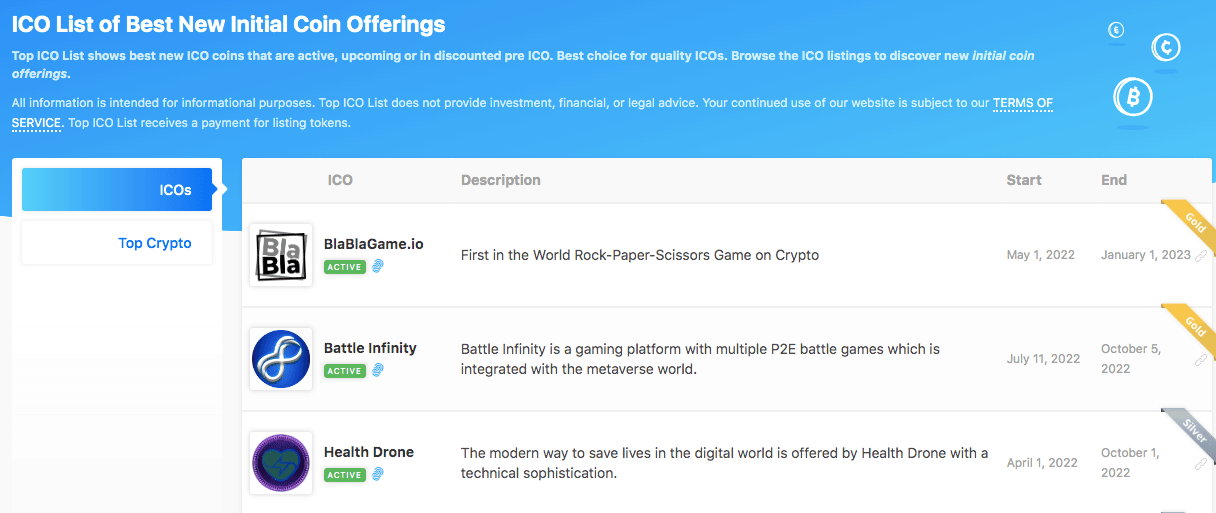 Top ICOs also provide articles and information to users on how to evaluate ICOs and navigate their investment methods. Additionally, you can access a plethora of information on each ICO listed – including the presale price, ICO launch dates, hard cap & soft cap targets and more. 
Reddit 
Reddit is a social media platform home to several communities in the investing sector. For example, the popular subreddit r/wallstreetbets rose to popularity when they pushed the price of GameStop from $20 to $480 to counter a 'short squeeze' the company experienced in early 2021. 
Additionally, Reddit has been home to several crypto-based subreddits where community members discuss popular tokens, blockchain developments and launches. One such community is r/CryptoMoonShots – which has garnered over 1.8 million followers. Apart from discussing the best cryptocurrencies to buy, this platform is a hub for new projects to launch details and suggest the best crypto to buy on Reddit.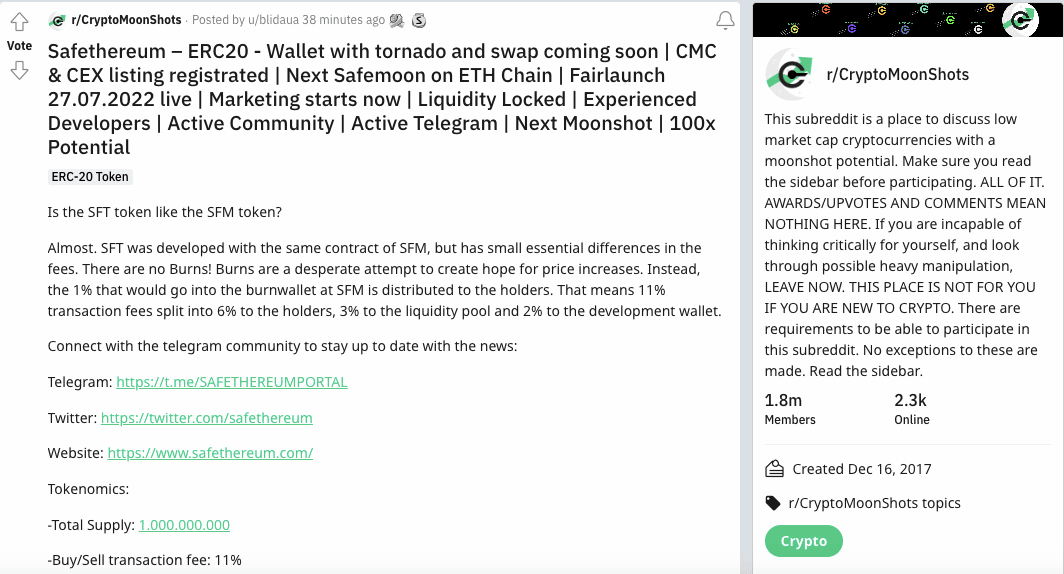 For example, the screenshot above details a posting of the final presale round of a new crypto project. Users can find details related to the project's features, token supply, ICO dates, presale prices and more. 
Therefore, Reddit platforms promote community participation, allowing investors to discuss the potential of ICOs and new crypto projects. 
Telegram Channels
Besides using social media platforms like Twitter and Instagram, developers have started creating telegram groups to promote their upcoming ICO launches and presale events. Applications like Telegram are a great way of learning important project information and updates directly from the project's creators. Many cryptocurrency projects actively promote their telegram channels since it is the first medium to spread new information and ICO-related updates. 
For example, Battle Infinity is a popular cryptocurrency project that has launched its own Telegram Channel.
CoinMarketCap
CoinMarketCap is a popular coin tracking website where users can search for live token prices and learn more about the token's historical price charts and features. However, this platform also lets investors stay tuned with upcoming ICO launches via the CoinMarketCap ICO calendar. 

Users are redirected to a page where they can view active and upcoming ICO launches. The platform will also provide key stats such as fundraising goals, available tokens and more. 
What is the Difference Between ICOs and Presales?
While many investors often use the terms ICO-presales and ICO interchangeably, the two terms have a slight difference. 
Pre-ICOs or presales are usually the last stages before a crypto project receives significant funding to run a full-size ICO marketing campaign. This presale campaign is usually the last opportunity for investors to invest in a crypto token for a lower price. 
Normally, a presale ICO allows traders to invest in a limited amount of the total supply at a cheap price. For example, Tamadoge is an upcoming cryptocurrency project and the native token of the metaverse. This new NFT project is currently on its presale and has offered 50% of its tokens for the presale event.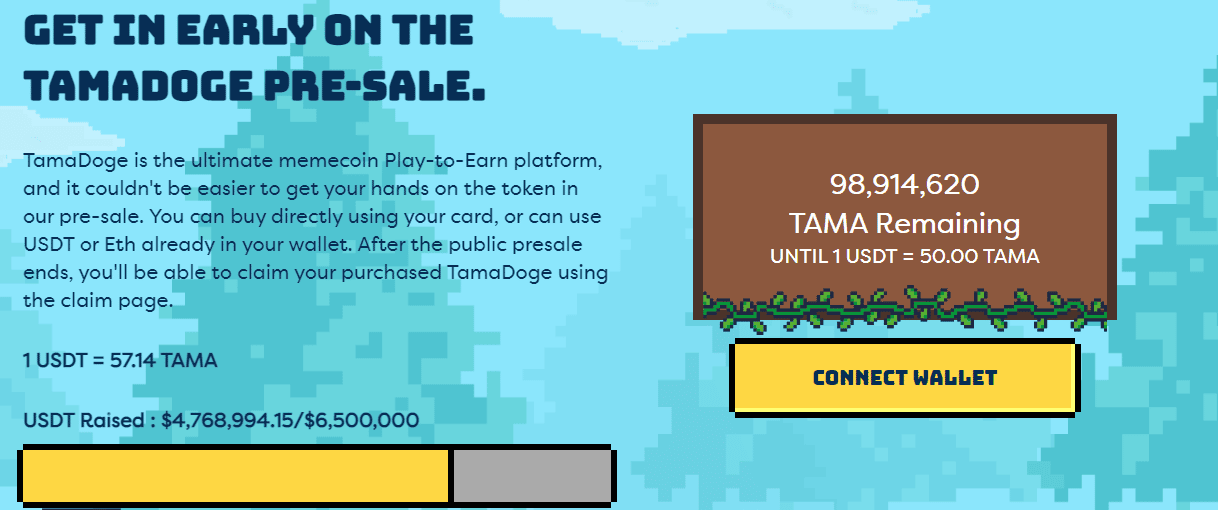 Developers usually reserve an amount of the overall token supply for major listings on decentralized and centralized exchanges. On the other hand, when the official ICO is launched, tokens are often released for a higher price. One potential downside is that some presale ICO investors tend to dump tokens as soon as the main ICO goes live. 
However, many projects try to combat this issue with a concept of static rewards". For example, DeFi coin is the native token of DeFiSwap – a decentralized exchange. After investors buy DeFi coins, the concept of static rewards promotes long-term holding. Whenever holders sell or swap these tokens, a 10% tax is levied to reduce token dumps. 
Therefore, investing in a presale ICO may allow you to invest tokens for a cheaper rate before the project goes live. 
Types of Crypto Presales
When learning how to buy crypto before a listing, investors should also know the difference between the two main types of cryptocurrency presales – mainly public and crypto private presales. 
For the initial capital to be raised, crypto projects tend to start with private presales – where angel investors or venture capitalists invest a large chunk of money into the projects. Developers may lay out strict rules for private presales – such as proper interview processes and negotiations to ensure that the two parties are on the same page. 
For the investors, this can be a great opportunity to invest big in crypto projects they believe to potentially provide significant gains in the long term. Furthermore, private sales offer the option to buy larger tokens than in a public sale or ICO launch. 
For example, let's assume a private investor puts in $100,000 in exchange for 100,000 tokens. This puts the token price at $1. However, if the crypto token launches at an ICO for $2, the first-round investors have already doubled their investments.  
On the other hand, private sale investors are taking on a larger risk due to the uncertainty of cryptocurrency markets and the large investments involved in this process. 
Public crypto presales open up the tokens for the public. Normally, there is a minimum number of tokens to purchase on a public presale, but it is significantly lower than a private round. This round is beneficial for the investors looking to get in early on crypto projects with a smaller budget. 
Best Cryptocurrency to Buy Before Launch
The sections below review two cryptocurrency presale projects that can potentially deliver high returns in the long term. 
Battle Infinity 
One of the best cryptocurrency projects to invest in before
launching is Battle Infinity – a decentralized platform that aims to revolutionize the gaming sector via blockchain technology.
We recommend this NFT coin as one of the cryptos with the most potential in 2023. Players can take part in various play-to-earn (P2E) games and earn in-game rewards with IBAT –  the native token of Battle Infinity.
The main P2E platform is the IBAT Premier League, one of the best NFT games that let players create their own fantasy sports leagues.
Players can use Battle Marketplace to get tokenized characters and assets in the form of NFTs. To buy NFTs and IBAT, players must access Battle Swap, the platform's decentralized exchange. Players can use the exchange to sell their rewards for other currencies.
Platform members can buy avatars and characters from the Battle Market, where all the items have been minted as NFTs via smart contract functionality. Then, the avatars enter Battle Arena, where players use their VR headsets to compete against other players. 
Battle Infinity also offers a staking platform, allowing traders to lock up their assets and generate a potentially high annual percentage yield (APY). 
On July 11th, IBAT launched for presale for only $0.0015 per token. Early investors bought 8,600 BNB ($2.5 million) of IBAT in the first four weeks of the Battle Infinity presale, and now it's completely sold out. Investors have a chance to buy IBAT on PancakeSwap after its listing on 17 August 2022 at 16:00 UTC.
Staying in touch with the game's latest developments is easiest done through the Telegram channel. Just keep in mind that the admins will never DM first. 
Tamadoge
Like Battle Infinity, Tamadoge (TAMA) is an upcoming cryptocurrency
project offering play-to-earn (P2E) features and in-reward benefits for players and participants. 
Tamadoge is the main utility token of the Tamaverse – a P2E platform where community participants can create, trade and sell dog-like virtual avatars. These avatars are known as Tamadoge pets, minted as NFTs. Each avatar offers different characteristics and is used to compete with other Tamadoge pets to earn points on a monthly leaderboard. 
Unlike popular meme coins Dogecoin, TAMA is a deflationary asset with a max supply of 2 billion tokens. The Tamadoge NFTs can be purchased from the Tama store, which can be bought with the TAMA coin. Crucially, 5% of all tokens spent when purchasing items are burnt on the network. 

TAMA launched for presale during Q3 2022. Interested investors can buy 50% of the total supply on this public presale round. Developers reserved 20% of all tokens on decentralized and centralized exchanges for future listings. 30% of the tokens will be released over a 10-year period. Early investors bought over $140,000 of TAMA in the first two weeks of the Tamadoge beta sale, and the project has raised more than $4 million so far and going extremely strong.
One of the best metaverse cryptos to buy, TAMA charges no tax when buying or selling the coin. Tamadoge will only make money when the tokens are spent within the game to purchase the pet NFTs on the TAMA store.
CoinSniper has verified this soon-to-be Metaverse game, and Solid Proof has completed an audit. Interested traders can purchase TAMA during the presale period now. Tamadoge has the potential to be one of the best long-term crypto investments in 2023. 
| | |
| --- | --- |
| Min Investment | 1,000 TAMA (∼$10 + gas fee) |
| Max Investment | N/A |
| Purchase Methods | ETH, USDT, Debit / Credit Card (via Transak) |
| Chain | Ethereum |
| Beta Sale Ends | Ended |
| Presale Ends | Q4 2022 |
How to Buy Crypto Before Launch: Tamadoge
For users interested in the Tamadoge presale project, the sections below show you how to buy Tamadoge now. 
Step 1: Set up a Crypto Wallet
Before purchasing TAMA, users must set up a crypto wallet. One of the available options is MetaMask – one of the best crypto wallets that provide on-chain support to investors. 
Investors can head over to MetaMask and click on 'Download'. Investors can follow the on-screen instructions to get started with MetaMask. 
Step 2: Buy ETH or USDT
Traders can buy Tamadoge with ETH or USDT tokens.
Therefore, those who do not already hold these assets can either buy Ethereum or USDT from a suitable cryptocurrency brokerage such as eToro.
After purchasing the chosen digital asset, investors can transfer their holdings to the MetaMask wallet. 
Step 3: Link MetaMask to Tamadoge Presale Platform
Now, investors can head to the Tamadoge website and click 'Connect Wallet' and then choose their wallet provider to connect with the presale platform. 
Follow the instructions to officially link the wallet. 
Step 4: Buy TAMA Tokens
The final step is to purchase Tamadoge tokens. Simply enter the amount of TAMA to buy and select 'Convert ETH' or 'Convert USDT'. Investors need to purchase a minimum of 1,000 TAMA tokens.
Finally, investors will be able to claim their TAMA tokens once the presale ends. Once the presale period is over, click on 'Claim' on the Tamadoge website's homepage. 
Why Invest in Coins Before Listing
Since the concept of investing in presale ICOs is not very mainstream among cryptocurrency investors, it is essential to learn the key advantages of participating in this investment category. The sections below discuss the benefits that may lead investors to buy cryptocurrency before it lists. 
Buy Cryptocurrency at Low Prices
Investing in presale ICOs allows investors to buy cryptos at extremely low prices. Many ICOs list at a higher price than the presale, which can provide an instant profit for investors. While not every token will provide significant returns, this can be a great entry point to invest in for the long term. 
Listings on Exchanges
The next step after a presale ICO is the eventual listing of the token. Usually, cryptocurrencies are listed on centralized or decentralized exchanges, making the tokens available to the mainstream audience. For example, many tokens receive massive hype after getting listed on popular exchanges like Binance, eToro and more. 
Early investors have the opportunity to sell their cryptos after the ICO listing since there is a chance that the token has already increased in price. 
Conclusion
This guide has discussed how to buy cryptocurrencies on presale before an official launch. One of the best cryptos to buy when it launches on PancakeSwap is Battle Infinity (IBAT) – a decentralized crypto project and P2E platform.
Tamadoge (TAMA) is another decentralized project available to buy on presale. With TAMA, investors can access a metaverse platform where players can earn in-game rewards, hold NFTs and more. 

FAQs
What is the easiest way to buy a coin before launch?
How to buy crypto before listing?
What are the best coins to buy before launch?