Best Metaverse Games to Play & Invest In
The metaverse has been hailed as the future of gaming, and it's here today. There are now dozens of metaverse games where players can explore, battle, quest, and even earn money.
In this guide, we'll highlight the 11 best metaverse games for 2023 and explain everything new players need to know about playing top metaverse games.
The 11 Best Metaverse Games for 2023 Ranked
We ranked the 11 best metaverse games for players to try in 2023:
Tamadoge – Dogecoin Metaverse Game with Deflationary Token
Battle Infinity – Building a Multiverse for Play-to-earn Game Developers
Axie Infinity – Popular Metaverse Game for Pokemon Lovers
Star Atlas – Highly Anticipated RPG Metaverse for Exploration
The Sandbox – Builder-friendly Metaverse with Tons of Mini-games
Lucky Block – Popular Play-to-earn Competition with Upcoming Metaverse
Illuvium – Expansive Metaverse with NFT Creatures to Collect
Alien Worlds – Establish a Planetary Government and Mine Trillium
Highstreet – Metaverse Crypto Game for Commerce and Play
Bloktopia – Actively Growing Metaverse Game with 3D Experiences
Revomon – Capture NFT Monsters in this New Metaverse Game
The Best Metaverse Crypto Games Reviewed
Now that players have seen our top metaverse games list, let's take a closer look at each of the best metaverse games for 2023.
1. Tamadoge – Dogecoin Metaverse Game with Deflationary Token
Tamadoge is a Doge-themed metaverse game set to be released and well-anticipated by the gaming community. In this game, players get started by purchasing an NFT pet. Each pet has its own characteristics, strengths, and weaknesses from the start, but players can also influence how their pets turn out by nurturing them and feeding them virtual food.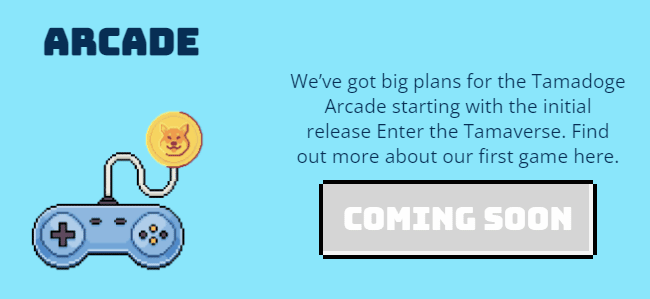 Once these pets are grown, players can battle them against one another in Tamadoge's virtual arenas, which make up the 'Tamaverse'. Winning players climb the game's leaderboards and earn TAMA tokens – the game's native cryptocurrency – as a reward. Players can then spend TAMA at the Tamadoge marketplace to buy more NFT pets or in-game upgrades.
TAMA is one of the best emerging cryptocurrencies because it's deflationary. Every time a player uses TAMA to buy an NFT or upgrade, 5% of the tokens are removed from circulation and burned. That means that the more players who join Tamadoge, the faster the supply of TAMA decreases. Eventually, demand for TAMA could outpace supply and send the price of the token higher.
Tamadoge just completed one of the most talked about crypto presales of the year and raised more than $19 million in funds. TAMA then began trading on crypto exchanges including OKX, Bitmart and Uniswap on September 27th, 2022, and rose over 15x from its early beta sale price.
So far, TAMA has achieved a larger market cap than many leading meme coins including Dogelon Mars and Baby Doge Coin, so its upcoming metaverse game should be one to watch. Its first NFT drop is set to take place October 6th.
2. Battle Infinity – Building a Multiverse for Play-to-earn Game Developers
Battle Infinity is another hot metaverse game that has players and developers alike excited. Battle Infinity's goal is to build a multiverse of metaverses, where players can find a multitude of different experiences to explore. In addition to games created by the Battle Infinity team, this metaverse platform will feature mini-games built by independent developers as well.
Battle Infinity is kicking off the metaverse with its first game, called IBAT Premier League. This play-to-earn fantasy sports game is based on India's Cricket Premier League. Players can assemble their own cricket team and then earn points as players perform on the field in real life. At the end of the season, top players are rewarded with IBAT, the official crypto token of the Battle Infinity metaverse.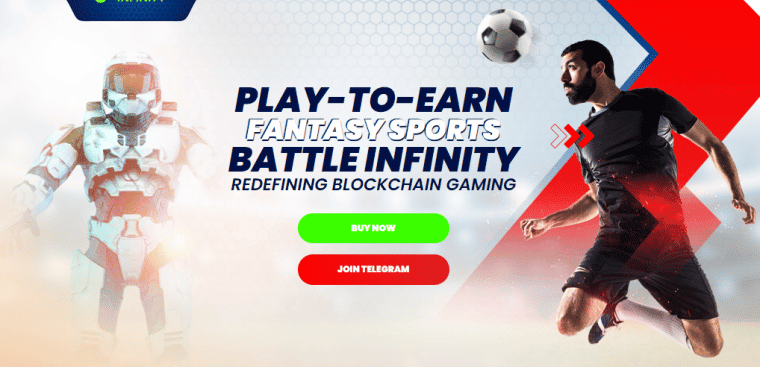 IBAT can be used for a wide range of purposes, including re-investing in upgrades for IBAT Premier League, buying NFTs at the Battle Infinity marketplace, paying for entry to other games in the Battle Infinity metaverse, and more. IBAT can also be staked on Battle Infinity's built-in staking platform, giving players a way to earn even more when they win tokens in this metaverse.
IBAT is currently available for purchase on the decentralized exchange Pancakeswap. Battle Infinity raised more than 16,500 BNB during its crypto presale and is well on its way to launching the metaverse. Buy IBAT today to join the Battle Infinity gaming ecosystem!
3. Axie Infinity – Popular Metaverse Game for Pokemon Lovers
Axie Infinity was one of the earliest play-to-earn crypto games, and it remains among the most popular metaverse games today. Axie Infinity has more than 2.8 million daily players.
Anyone who's played Pokemon will find the game environment in Axie Infinity relatively familiar. The goal is to explore a virtual world and collect creatures called Axies, which players can then battle against one another.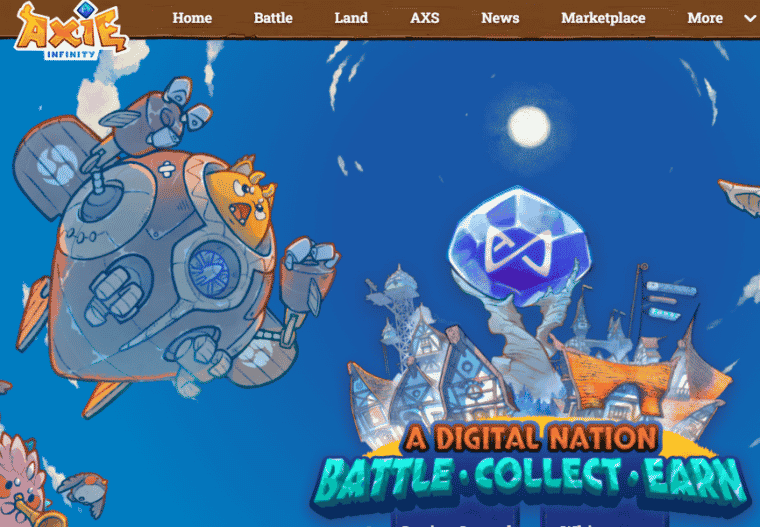 Players who win battles in Axie Infinity are rewarded with Smooth Love Potion (SLP) tokens, the game's native cryptocurrency. SLP is traded on most major exchanges and can be used to purchase in-game upgrades for a player's Axies.
On top of that, every Axie in this metaverse is an NFT. So, there's a lively exchange of valuable creatures on the Axie Infinity marketplace. The most expensive Axie ever sold fetched a value of more than $820,000!
4. Star Atlas – Highly Anticipated RPG Metaverse for Exploration
Star Atlas is a new and expansive metaverse game that brings players to the edge of the known universe. In this game, players purchase NFT spaceships, which they need to fly around the galaxy and explore little-known planets.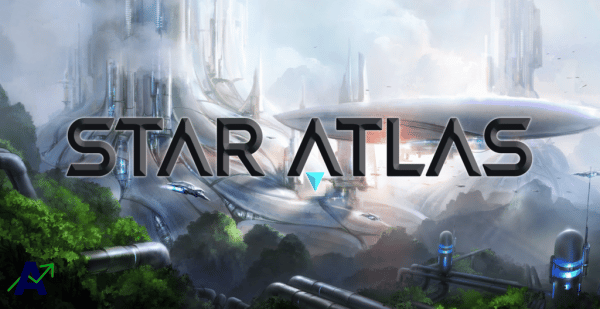 Star Atlas is dominated by 3 different factions, which each player chooses. These factions are used to control territory, battle, and vie for political dominance on established planets.
The Star Atlas metaverse is speckled with NFT objects for players to collect, which can then be sold at the game's marketplace. In addition, players can go on a variety of quests and earn ATLAS tokens. ATLAS is also available to buy and sell on most major crypto exchanges.
Star Atlas is built on the Solana blockchain using Unreal Engine, enabling the game to offer some of the best graphics of any new metaverse.
5. The Sandbox – Builder-friendly Metaverse with Tons of Mini-games
The Sandbox is an ever-growing metaverse game that's developed in part by players. In The Sandbox, players can purchase pieces of NFT real estate and develop their land however they want. That includes hosting mini-games for other players to try, creating a nearly limitless patchwork of games within this metaverse.
What's really cool about The Sandbox is that players don't have to have development or coding skills to build their own games. The platform offers its own design tools that are easy and free to use. Anyone can build a game and iterate on it based on feedback from other players in the metaverse.

The Sandbox is tied together by an in-game crypto exchange and NFT marketplace, as well as the native SAND crypto token. An interactive map shows the current experiences available in The Sandbox as well as NFT land parcels still available for purchase.
6. Lucky Block – Popular Play-to-earn Competition with Upcoming Metaverse
Lucky Block is one of the most popular play-to-earn competition games built on the blockchain. Players can purchase entry into drawings for grand prizes like a Lamborghini, a $1 million house, or a 5-star vacation. The game has given away more than $2 million in prizes to LBLOCK token holders already.
Lucky Block also has its own NFTs. the Platinum Rollers Club collection. Owners of these NFTs have a chance to win $10,000 in a daily drawing. There are only 10,000 Platinum Rollers Club NFTs available, so owners have a 1-in-10,000 chance of winning each day.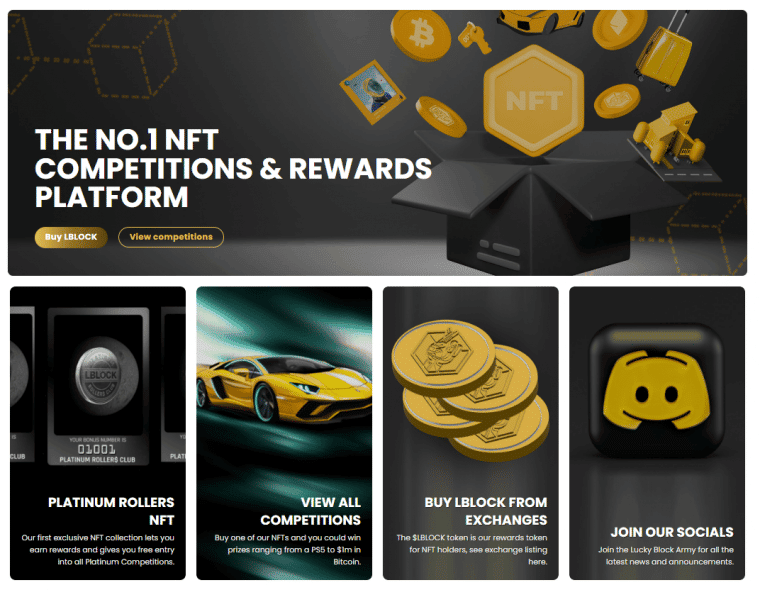 Lucky Block doesn't have a metaverse just yet, but the creators behind this platform have plans in the works to create one. This metaverse will serve as a hub for LBLOCK token holders to come together. Join the Lucky Block community to get all the latest updates about this new metaverse project.
7. Illuvium – Expansive Metaverse with NFT Creatures to Collect
Illuvium is a new metaverse game with a lot for players to be excited about. In this game, players can create custom avatars and then go on the hunt for mystical NFT creatures. Players have to battle and defeat these creatures – called Illuvials – to bring them under their control. Once players capture an Illuvial, they can use them against other players in ongoing battles.
There are more than 100 NFT Illuvials to discover in this metaverse as well as dozens of quests and special achievements for players to unlock. Illuvium also hosts tournaments where players can win ILV crypto tokens or wager ILV on the outcome of battles between other players.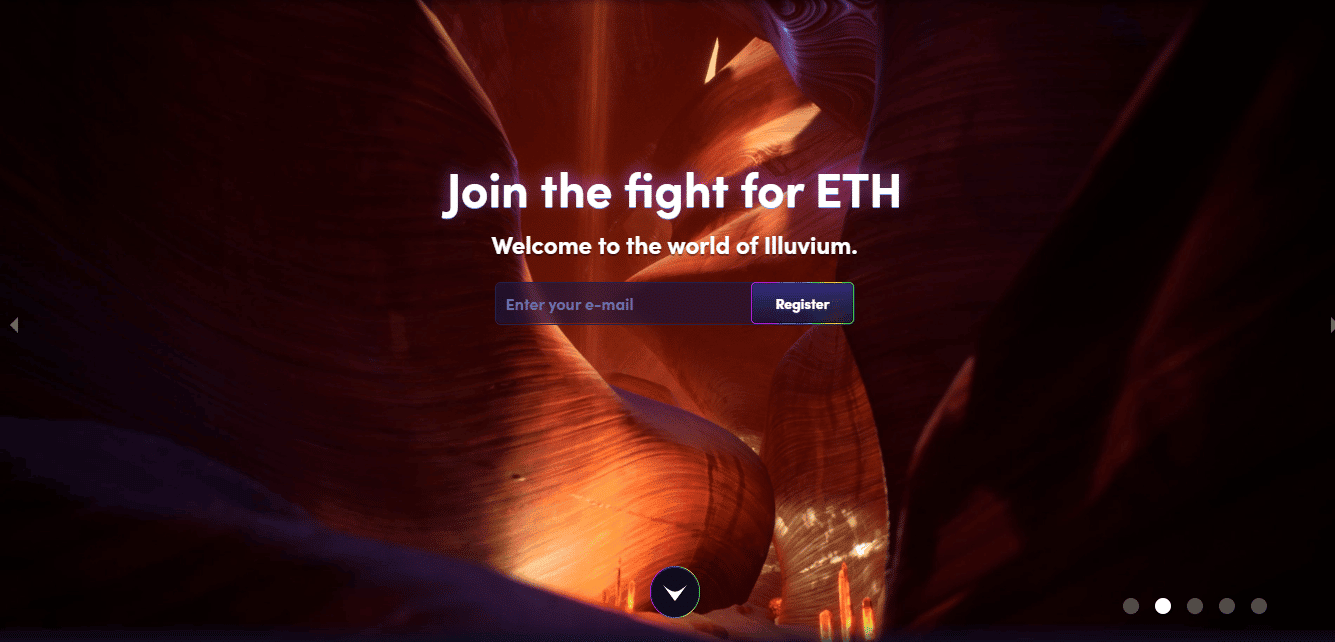 The Beta version of Illuvium is available now, with full-scale versions of this metaverse launching in the near future. ILV tokens can be traded on most major exchanges.
8. Alien Worlds – Establish a Planetary Government and Mine Trillium
Alien Worlds is a metaverse game that's as much about cooperation as it is about battle. Players in this metaverse get to be a part of several planetary decentralized autonomous organizations (DAOs) that make decisions about the planet's economy, defenses, politics, and more. In essence, each planet is its own mini-world where players have a stake in its success.
Of course, Alien Worlds also has elements of exploration. The game offers rewards in Trillium tokens (TLM) for players who complete quests across the Alien Worlds metaverse. The metaverse also has hidden NFTs that players can collect and use for themselves or trade for crypto.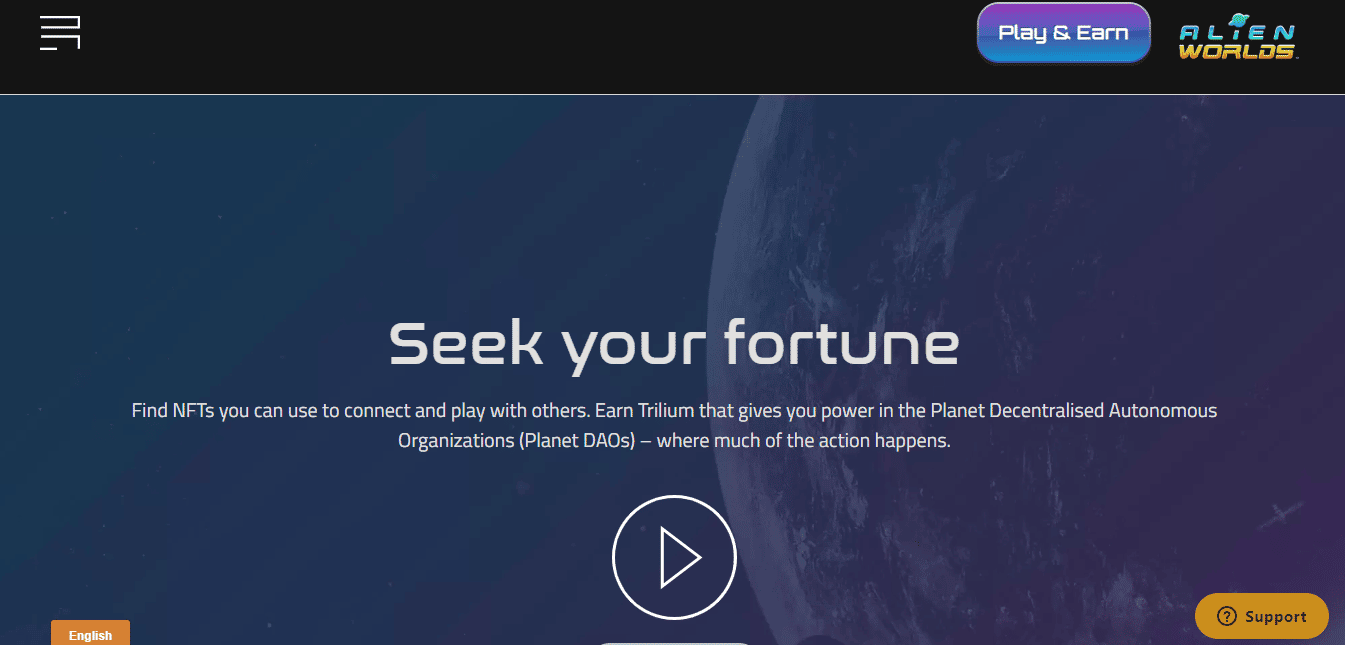 Alien Worlds has a highly complex ecosystem of financial transactions, which stabilizes the value of TLM and makes it valuable for players to earn. TLM can be traded on several of the largest crypto exchanges.
According to data on SafeBettingSites.com, Alien Worlds can exceed one million monthly unique users.
9. Highstreet – Metaverse Crypto Game for Commerce and Play
Highstreet is a unique metaverse game that blends digital commerce and exploration. On Highstreet, companies can set up virtual storefronts right next to individual developers who are creating mini-games. The result is a mixed-used metaverse where players can move seamlessly between shopping, playing, or simply meeting fellow players in the metaverse.
Highstreet offers land for sale for individuals and companies who want to open up shop. In addition, the explorable area of the metaverse is constantly growing as Highstreet becomes more popular. That means that existing players won't find themselves bored of the same old experiences after a few months.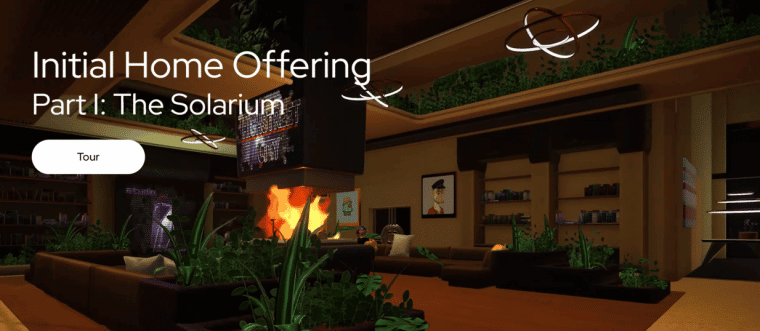 Highstreet is compatible with several popular VR devices, including the Oculus Rift and HTC Vive. However, players don't need a VR headset in order to explore the metaverse. The HIGH token is currently available on Coinbase, Binance, Crypto.com, Pancakeswap, and Uniswap. See our guide to the best metaverse crypto coins.
10. Bloktopia – Actively Growing Metaverse Game with 3D Experiences
Bloktopia is a digital 21-story skyscraper where each floor provides a completely unique experience for gamers. One floor of the skyscraper might be all about virtual shopping, another might offer play-to-earn casino games, and another might serve as an NFT art gallery.
Within Bloktopia, anyone can purchase NFT floor space within the skyscraper. This space can then be developed into a storefront, mini-game, or whatever the owner wants it to become. In order to purchase floor space, Bloktopia players will need BLOK, the game's native cryptocurrency.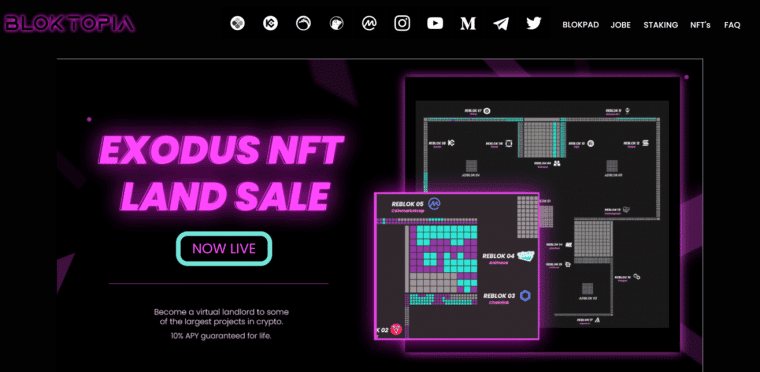 Bloktopia is still under development and the layouts for each floor have not yet been released. However, the creators have launched Bloktopia Alpha, a limited version of the metaverse that supports a play-to-earn game where players can earn BLOK tokens. BLOK tokens can also be staked to earn up to 30% APY interest.
11. Revomon – Capture NFT Monsters in this New Metaverse Game
Revomon is a fun and exciting new metaverse game where players can battle and capture NFT monsters. There are dozens of unique creatures on the loose in the Revomon metaverse, and players themselves have creature-like avatars in order to start hunting. Players can earn REVO tokens as they explore and any NFT creatures they capture are theirs to own.
To make things even more interesting, there are different factions within the Revomon world. Scientists want to study Revomon creatures and catalog their abilities. Secret society members are trying to use Revomon to turn a profit. Anarchists want to deploy Revomon to wreak havoc within the metaverse.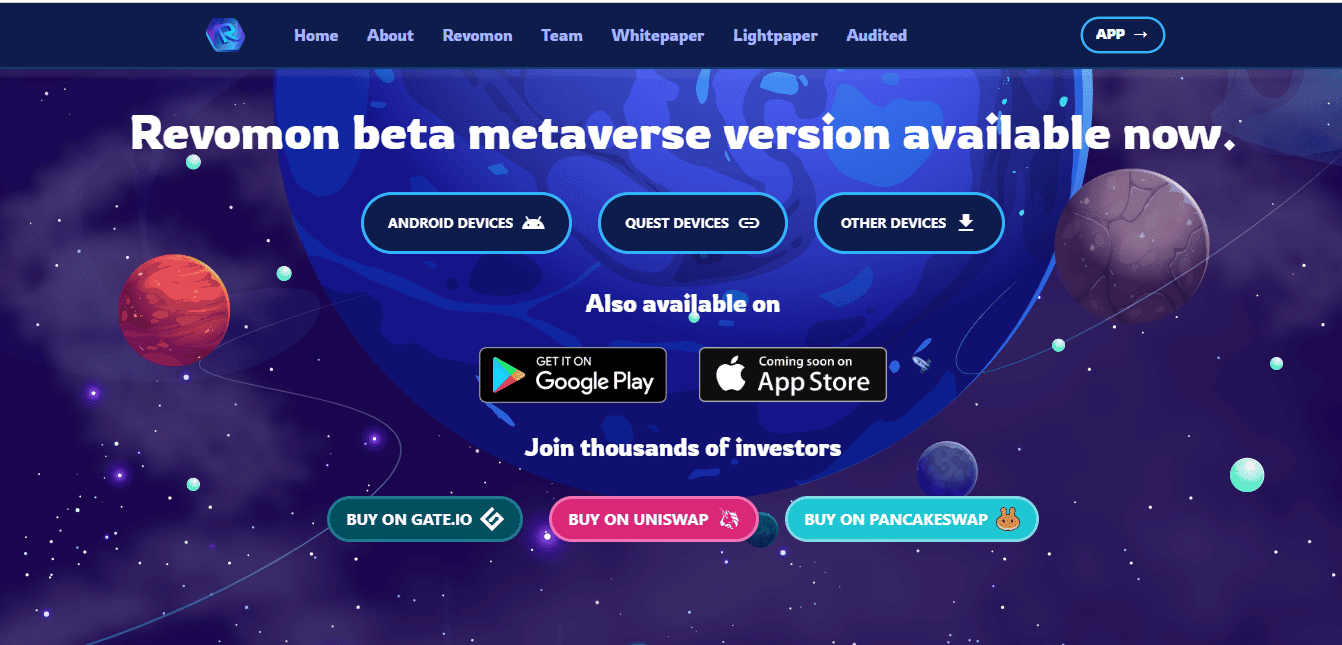 Revomon is out now for Android and Oculus Quest devices. An iOS app is coming soon. In the meantime, REVO tokens are available to trade on decentralized exchanges Pancakeswap, Uniswap, and Gate.io.
What is a Metaverse Crypto Game?
Metaverse games are video games that take place in a metaverse. This is a virtual world that can leverage technologies like virtual reality (VR) or augmented reality (AR). In essence, metaverse video games provide an immersive digital experience for players to explore, battle, and more.
There is no single metaverse right now, but rather many different metaverses that players can join. Each metaverse has its own structure and features, and many are purpose-built for specific games. Some metaverses have gaming as a feature among other experiences like social gatherings and digital events.
Metaverse games aren't limited to the crypto universe, either. Traditional video games like Fortnite could be considered part of the Epic Games metaverse. Roblox is often considered a metaverse as well and even hosted an event called the Roblox Metaverse Champions games.
How Do Metaverse Crypto Games Work?
Metaverse crypto games work a lot like traditional video games. Players can join a common game universe with other players and interact as they explore. The metaverse might contain non-player characters, monsters to be slain, and other resources and obstacles for players.
The biggest difference between metaverse crypto games and traditional video games is that crypto games are hosted on a blockchain like Ethereum or Solana. In contrast, traditional video games are hosted on a game developer's servers. All actions in blockchain games are recorded as transactions on the blockchain, making them transparent and immutable.
Why Play Metaverse Games?
Why do so many people enjoy playing metaverse games? Metaverse games offer several features that traditional video games can't match. Here are some of the best reasons to try a metaverse game today:
Immersive Experiences
The best metaverse games offer incredibly immersive experiences that make players feel as if they're in another world. These games sometimes leverage AI engines that respond dynamically to players' actions and can generate new edges of the metaverse in real time. Some metaverse games also integrate with VR and AR headsets, allowing players to put themselves directly into the digital world.
Constantly Evolving Play
Many metaverse games use AI to build new experiences around players in real time. That makes these games more realistic and more dynamic than traditional video games.
In addition, several of the most popular metaverse games support development by individual players and developers. That means that the experiences and mini-games available in a metaverse are constantly changing and growing over time.
Meet Other Players
Metaverse games can serve as a hub for gamers with similar interests. Players can meet in the metaverse's central square and battle or go on quests together. These games offer many of the same communication tools as traditional video games, as well as avatars that allow players to be easily identified in the metaverse.
Earn Cryptocurrency
Many of the most popular metaverse games are play-to-earn crypto games. When players do battle or complete quests, they can be rewarded with the game's native cryptocurrency. Players can also collect NFTs like creatures, weapons, and more, and then sell them for a profit in the metaverse's marketplace.
How Do You Earn Crypto by Playing Metaverse Games?
Many metaverse games offer players a way to earn crypto just by playing. This can work in several different ways.
First, games can offer crypto tokens as a reward to players for various actions in the game. Players might earn crypto tokens for defeating another player in batte, completing a quest, or stumbling onto a treasure chest hidden in the metaverse. These tokens can either be traded for a major cryptocurrency like Bitcoin or used to purchase in-game upgrades that might make it easier for a player to earn more crypto in the future.
Another way players can make money from metaverse games is by creating or collecting NFTs. NFT games often have hidden NFTs that players can find within their metaverse, and keep. These NFTs can then be traded or sold in the metaverse game's marketplace for a profit.
Finally, in metaverses in which players have the ability to create their own games, they can charge other players to play these games. For example, a player might host a mini-game in Battle Infinity and require players to purchase an NFT or pay IBAT tokens to play.
Many of the most popular metaverse games offer multiple ways to earn free crypto.
New & Upcoming Metaverse Games
Metaverse gaming has exploded in popularity in the past few years, and advances in VR, AR, and AI technologies promise to make metaverse gaming even more common in the years ahead. There are already a number of new metaverse games that have been announced and are currently in development. Here are 5 upcoming metaverse games that we're excited about:
Tamadoge – Battle NFT pets and earn a deflationary cryptocurrency
Battle Infinity – Play fantasy sports, user-contributed mini-games, and more
Otherside – An upcoming metaverse from the creators of the Bored Ape Yacht Club
Cross the Ages – A free play-to-earn metaverse game that blends fantasy and sci-fi
RaceFi – A new metaverse car racing game packed with NFT collectibles
Conclusion
The best metaverse games offer immersive experiences for players and opportunities to earn crypto tokens and NFTs. Two of the top metaverse games for 2023 are Tamadoge and Battle Infinity.
Tamadoge lets players groom and battle NFT pets in the metaverse to earn TAMA tokens. Battle Infinity is developing a multiverse for fantasy sports and a growing selection of mini-games. Check out both metaverse games today!
FAQs
What are metaverse games?
What is the most popular metaverse game?
Can you earn real money by playing metaverse games?
Which metaverse is the biggest?