Corps of Cadets alum Evan Wright named Boston College game Hokie Hero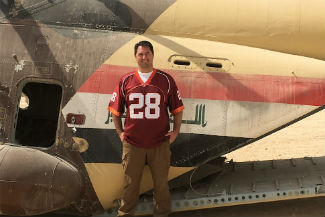 U.S. Navy Lt. Cmdr. Evan Wright, a 
Virginia Tech Corps of Cadets
 alumnus who earned a degree in political science from the College of Liberal Arts and Human Sciences and minors in leadership studies from the 
Rice Center for Leader Development
 and in history in 2005, was selected as the Hokie Hero for 
Saturday's
 football game against Boston College.
The Hokie Hero program honors corps alumni who are deployed. Recipients are highlighted by Jon Laaser and Mike Burnop during their radio broadcast of Hokie football games, on the Corps of Cadets website, and in the Corps Review magazine.
Wright is deployed to Iraq in support of Operation Inherent Resolve with a mission to defeat the Islamic State group. He serves as an operations officer, coordinating American and partner nations' air power in the theater.
Comments