Top News
Copper Fox Distillery committing to source 100% Virginia-grown products, revitalize Williamsburg site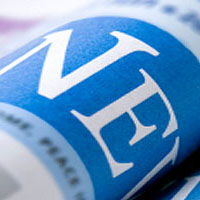 Governor Terry McAuliffe announced Wednesday that Copper Fox Distillery (www.copperfox.biz) will open its second malting, production, aging, and tasting facility in the City of Williamsburg.
The company, the first distillery in the world to use apple- and cherry-wood smoke to flavor their malt, will invest over $2 million and create 28 new jobs in Williamsburg, while sourcing 100 percent of its grain from Virginia agricultural producers.  The Commonwealth of Virginia is partnering with the City of Williamsburg and Copper Fox Distillery on this project through the Governor's Agriculture and Forestry Industries Development Fund (AFID).
Speaking at Copper Fox Distillery, Governor McAuliffe said, "Today's announcement is an excellent example of the important role that our diverse agricultural industry can and will play in my economic development strategic plan.  The AFID incentive grant to the City of Williamsburg brings together multiple aspects of economic development in one operation – agriculture, entrepreneurship, manufacturing, tourism, community development and exports.  This is just another excellent example of leveraging our greatest assets through our mission to build a new Virginia economy."
The new distillery, which is located in Williamsburg's North East Triangle, brings a new economic development and agritourism opportunity less than a mile away from the heart of Colonial Williamsburg.  The new location for Copper Fox Distillery, one of Virginia's oldest craft distilleries, raises the profile of the craft distillery industry in the state, merging the interests of agriculture, tourism, and community revitalization.
"Copper Fox Distillery's commitment is exciting not only for one of our most historic cities, but also for Virginia producers as we continue to take advantage of the emerging craft beer, cider, and distilled spirit industries to enhance, improve, and successfully market Virginia-grown inputs,"  said Secretary of Agriculture and Forestry Todd Haymore.  "Further, agritourism is a major driver to Copper Fox Distillery's existing Sperryville location and we expect it even more here following this building revitalization – all demonstrating the impact agriculture can have in an urban setting."
Copper Fox Distillery will invest in the site improvements, buildings, and equipment needed to renovate the existing, vacant 1952 motor court buildings into malting, production, aging and tasting facilities.  This new facility will be the second location for Copper Fox Distillery, following the success of its first site in Sperryville, Virginia.  In addition to producing its own malts, Copper Fox Distillery will malt barley and grains on a custom basis, both for other distillers and craft brewers, as the Virginia distilled spirits and craft beer industries continue to grow.
"I have always considered it an honor and a privilege to be part of the spirits industry in this great Commonwealth," said Rick Wasmund, owner of Copper Fox Distillery.  "Our expansion to this site would not be likely without this grant from Governor McAuliffe and the amazing support from the City of Williamsburg.  We look forward to having this facility up and running as soon as possible and producing fine spirits that continue our global reputation for excellence."
"In 2013, Williamsburg changed its zoning regulations to recognize and encourage new economic sectors that would both complement our hospitality and tourism base, as well as help diversify the City's economy," said Clyde A. Haulman, Mayor of the City of Williamsburg.  "Craft distilleries were a critical component of those changes.  At about the same time, the City purchased the Lord Paget property with the objective of finding a business use that would create jobs, spur redevelopment of the Capitol Landing Road commercial corridor, and bring new vitality to the City's North East Triangle.  Today, these two actions come together as we welcome Copper Fox Distillery to our community.  This will be its second Virginia location and brings its proven record of success to Williamsburg."
Speaking about the AFID grant's impact for Copper Fox Distillery, Senator John Miller, D – Newport News said, "Williamsburg is a great tourism destination in the Commonwealth, and thanks to this announcement we will have yet another thriving local business to promote to visitors across the country, all while supporting agritourism, manufacturing, and redevelopment efforts in the region."
Delegate Monty Mason, D – Williamsburg added, "Today's announcement represents the first discretionary, performance-based economic development incentive ever awarded to the City of Williamsburg by the Governor's office, which is a testament to the work of our region to diversify our economy and lure innovative companies like Copper Fox Distillery to create new jobs and support other existing businesses in the Commonwealth."
The Virginia Department of Agriculture and Consumer Services (VDACS) worked with the City of Williamsburg to secure this expansion for Virginia.  Governor McAuliffe approved a $50,000 grant from the AFID Fund to assist the City of Williamsburg with the project.  Copper Fox Distillery is also committing to purchase over 1,000 tons of Virginia grains, continuing its current purchases of 100 percent Virginia-grown products.
According to a 2013 economic impact study conducted by the Weldon Cooper Center for Public Service at the University of Virginia, agriculture and forestry are two of Virginia's largest private industries with a combined economic impact of $70 billion annually.  Agriculture generates more than $52 billion per annum, while forestry induces over $17 billion.  The industries also provide more than 400,000 jobs in the Commonwealth.  More information about the Weldon Cooper Center's study can be found at www.coopercenter.org/node/2/publications/economic-impacts-agriculture-and-forestry-virginia-revised-2012.