Community Emergency Response Team celebrates 15 Years of resilience training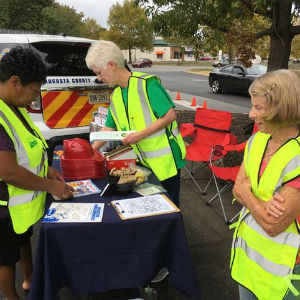 With the nation observing Tornado Preparedness Month in March, the 15th anniversary of the Community Emergency Response Team (CERT) program comes at a perfect time to highlight CERT's regional support for disaster response and relief education.
Coordinated by the Central Shenandoah Planning District Commission (CSPDC), CERT trains citizens to protect themselves, family, and neighbors from disasters and emergencies. Begun in 2003, the seven-week regional course has trained over 548 people with a standard curriculum designed by the Federal Emergency Management Agency. Training topics include disaster preparedness, fire safety, emergency medical operations, and terrorism awareness.
Once the basic training course is completed, CERT members have the opportunity to take advanced training courses that are offered several times a year as well as volunteer in their communities.
To date, there are over 100 active volunteers in the Central Shenandoah Valley CERT program.  CERT volunteers have staffed emergency shelters, set-up a temporary pet shelter, and manned disaster preparedness informational booths at countless community events.  Dedicated CERT volunteers have spent an entire decade donating their time to making the Central Shenandoah Valley disaster resistant.
Teri Robinson, CERT volunteer and instructor describes the value of the CERT program: "As a CERT member and in teaching a section of the course to new CERT prospects, I have enjoyed both ends of the spectrum.  CERT is valuable to our rural community to ensure the First Responders, who are under pressure daily from multiple sources, have additional trained support to help manage and minimize damage over a widespread area. On the personal side, the caliber of people in the CERT program and in the First Responder community is above average and I walk away from every meeting and class with a renewed sense of good will and purpose."
The next CERT class offered by Staunton, Waynesboro, and Augusta County, in partnership with the CSPDC, will be held Thursdays, 2:30 – 5:00 PM, April 5 through May 17. The training will be at the CSPDC office at 112 McTanly Place in Staunton. The course is free and open to anyone who lives or works in Staunton, Waynesboro, or Augusta County.  All materials are provided.
Participants must pre-register no later than March 28, by contacting CERT Coordinator Rebecca Joyce, at 540-885-5174 or by email at [email protected].