Among the various new AI-powered cryptocurrency projects that have emerged, TruthGPT($TRUTH) has captured the attention of investors everywhere. After experiencing a surge, many in the cryptocurrency world are questioned whether the token will continue on an upward trajectory or whether this is a start of a decline. Well, their questions were answered as progress has since slowed. 
Hence, while some investors are waiting for the next perfect moment to invest in TruthGPT, others have found an even more explosive alternative – yPredict ($YPRED). 
TRUTH Price Correction: Assessing Whether It's a Temporary Retracement or the Beginning of a Downward Trend
TruthGPT Crypto is a revolutionary platform with a clear mission – to uncover and share the truth in all its forms within the world of cryptocurrencies. Just like its parent company, TruthGPT, the crypto version is committed to providing accurate and reliable information to empower investors and enthusiasts in the ever-evolving crypto landscape.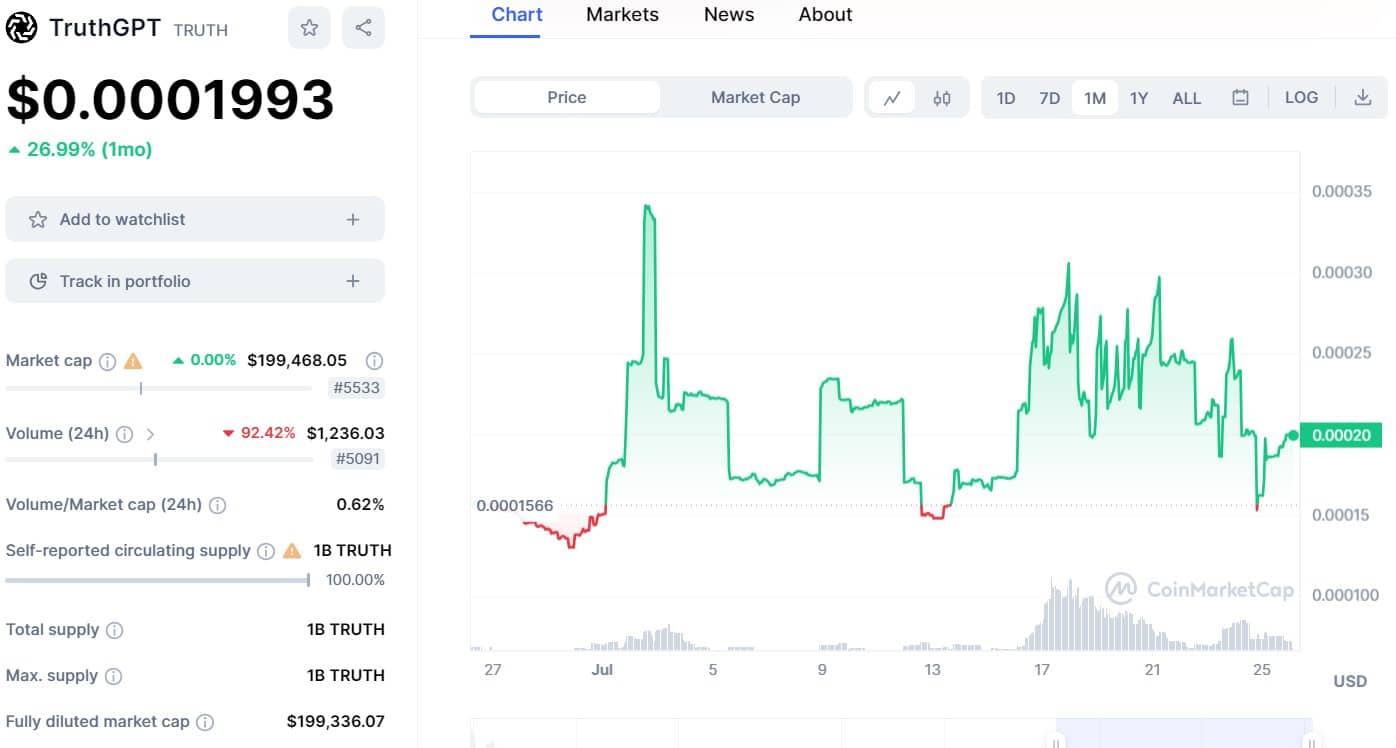 As the above, chart shows, it has been a big month for this promising Ai Crypto. 
Currently valued at $0.0001993, TruthGPT has lost most of its earlier gains. It has registered a 8% price increase in the last 24 hours but a 27.18%% price drop in the last seven days. Despite this, it remains up 26% in the last month. 
The recent volatility of TRUTH has captured the attention of traders, sparking discussions about its surge and subsequent correction. However, amidst this market buzz, there's another crypto project drawing interest in artificial intelligence – yPredict.
Introducing yPredict: Innovative AI-powered Crypto Tool
Newcomers and seasoned traders need expert guidance to enhance their trading strategies. While there are many tools and educational resources available, not everyone can yield their advantages. Now, yPredict has come to offer a helping hand. It is a groundbreaking blockchain project that harnesses Ai technology to change how traders approach the market. 
Traders can unlock the potential of real-time trading signals with yPredict, as the platform offers cutting-edge predictive models at their disposal. These models have been developed by the most skilled 1% of AI experts, ensuring that the signals provide unparalleled insights to elevate their trading game.
Traders using this platform will be able to save hours which would've been otherwise wasted on inaccurate trading signals. It also offers real-time sentiment analysis for all popular tokens. This is a powerful asset at any trader or analyst's disposal. 
yPredict Comes With Interesting Features Like Chart Pattern Recognition
Apart from the features mentioned above, yPredict also comes with chart pattern recognition. With generative AI at its core, yPredict will identify the most promising chart patterns on your shortlisted coins, further empowering traders to seize lucrative opportunities. 
These cutting-edge products promise to cater to a diverse range of market participants, including quants, developers, and more. As yPredict's ongoing presale for its native utility token, $YPRED, continues, anticipation is building for the official release of these powerful tools.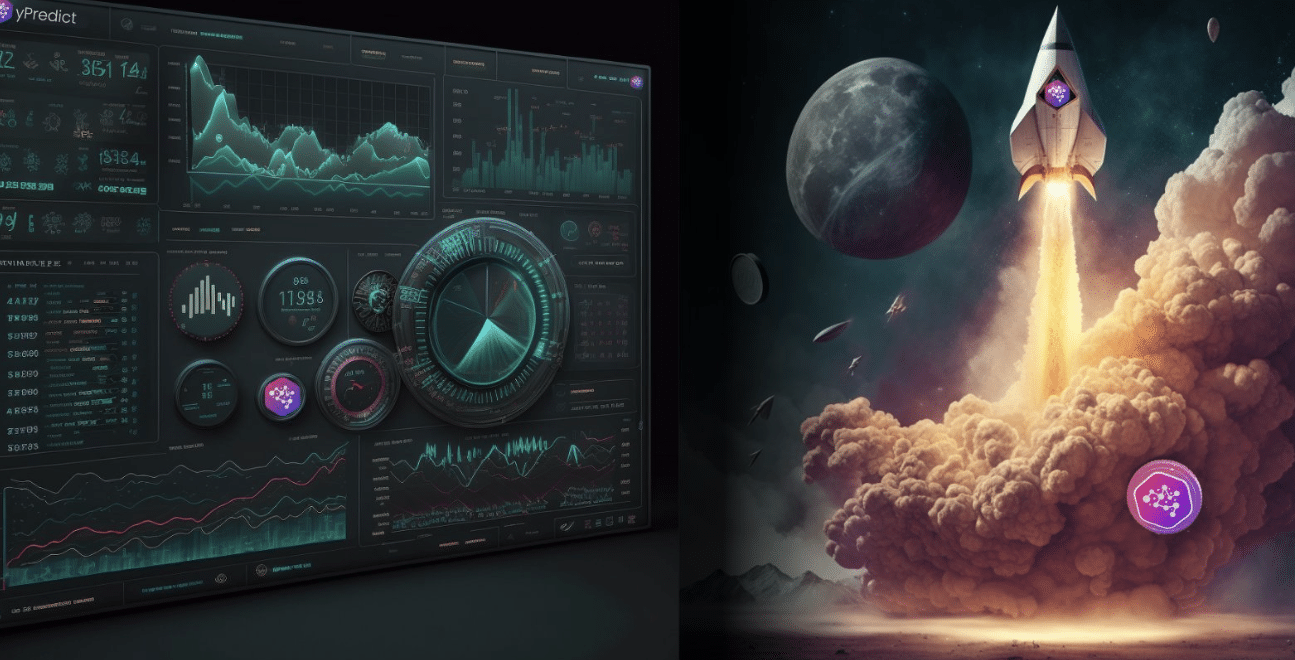 yPredict is Ramping Up Initiatives
yPredict is starting to develop new products, with one of its latest offerings being the Backlink Estimator. This is the company's first-ever feature that leverages the power of AI. As soon as it was launched, it sparked interest among several thousand users on the first day. 
Leveraging a vast dataset of over 100 million links, this exceptional feature aims to provide precise predictions for the backlink profile necessary to achieve a top-ranking position for a specific keyword associated with a URL. Due to the overwhelming demand for this cutting-edge capability, the team has introduced a new pricing scheme of $99 per query. 
However, participants who joined the presale early will still enjoy unrestricted access to the Backlink Estimator and the potential to access future tools as they are released, reaping exclusive benefits.
yPredict – Amazing Tokenomics
YPRED tokens are the backbone of yPredict's ecosystem, designed to empower and sustain its growth and economy. The platform caters to the needs of two key participants within this ecosystem: developers and traders. For developers, YPRED serves as a powerful incentive to offer their predictive models on the platform. 
By doing so, they have the opportunity to earn a passive income, attracting millions of AI/ML developers to join the yPredict community. Traders, on the other hand, benefit from YPRED tokens by utilizing them to purchase subscriptions to the various predictive models listed on the platform. T
These models provide real-time signals to aid traders in their decision-making processes. Additionally, acquiring YPRED grants traders free access to the yPredict Analytics platform and access to high APY staking reward pools. The token distribution for $YPRED is as follows: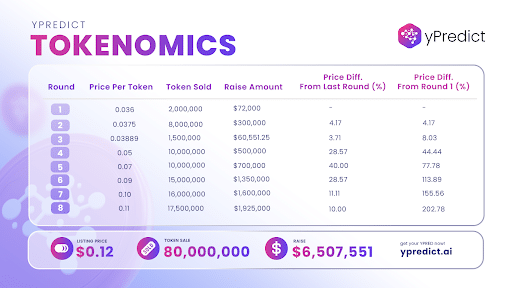 Generating Lucrative Staking Rewards for Token Holders
The platform offers token holders a lucrative opportunity to receive up to 45% in quarterly staking rewards. A rewarding pool has been established, utilizing 10% of tokens from each new subscription to benefit valued token holders. 
In contrast to the industry average staking returns of 5-10% APY, the platform takes an audacious approach by sharing a portion of subscription proceeds with the community, providing the potential for remarkable returns of up to 45% every quarter. This initiative is designed to bring substantial benefits and rewards to the platform's loyal token holders.
A staking pool has been set up to distribute 10% of each new subscription to YPRED holders. Subscriptions are generated through the platform's marketplace, which features a diverse array of AI signals provided by multiple models listed on the platform.
yPredict's Succesful Presale – Time to Invest?
The incorporation of AI technology has already captured the fascination of crypto investors, as several projects have integrated AI into their systems. However, yPredict stands out as a pioneering force among these projects, carving a path for a new breed of cryptocurrencies tailored specifically to cater to traders and analysts.
From the very moment, yPredict opened its doors for presale purchases, it started gaining traction among potential buyers who recognized its immense potential. As more and more individuals realized the groundbreaking prospects yPredict holds, investments poured in from across the globe, leading to an impressive total of approximately $$3,145,017.95 raised out of a target of $4,582,551.25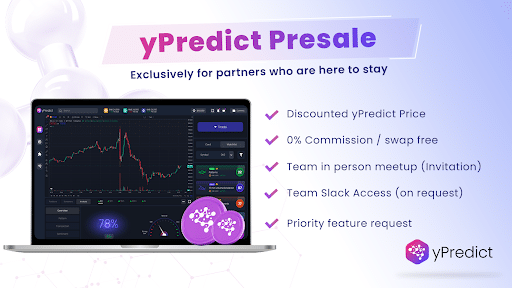 Conclusion
With AI trending at the moment, yPredict's robust platform takes advantage of it for the benefit of traders. What's even more remarkable is that yPredict's success shows no signs of slowing down, positioning the project for a promising future ahead. The time is now to invest in yPredict and wait for massive gains going forward.