Ripple CEO Brad Garlinghouse has announced recently the latest addition to the company's legal team, embroiled in a lawsuit filed by the U.S. Securities and Exchange Commission (SEC). The market has already reacted, pushing the XRP price above $0.5.
Rahul Mukhi of Cleary Gottlieb Steen & Hamilton LLP is an experienced litigator and a former Assistant U.S. Attorney in the Southern District of New York from 2010 to 2016. His expertise will be invaluable in the legal battles Ripple is facing, but the case brought on by the SEC remains strong.
Ripple's legal team managed to score a minor victory earlier this year, rekindling the hopes that XRP can soar above the magic $1 line. However, there are other claimants that could get there before Ripple, namely TG Casino (TGC), a rising gaming crypto star.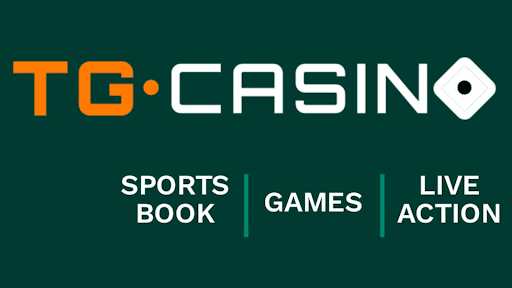 Is $1 Realistic Expectation for XRP?
The XRP price predictions have been all over the place in the last three years, and understandably so. The legal troubles Ripple and its executives find themselves in have made it very hard to accurately predict the token's price, especially considering all the twists the case has suffered.
It all started in 2020 when the SEC filed a lawsuit alleging that Ripple broke the law by selling more than $1.3 billion in XRP tokens without registering them as security first. This was a novel approach to the crypto market regulation, which could spell disaster for more than 20 cryptocurrencies and crypto exchanges the SEC listed in their lawsuit. It could be said without exaggeration that if the SEC wins the case, it would be the end of the crypto market as we know it.
Ripple managed to score a minor victory in July when the federal judge ruled that XRP can't be considered a security if sold to individuals. That leaves Ripple on the hook for some $700 million in XRP sold to various institutions. Immediately following the ruling, XRP surged by more than 30%.
The legal battle will last for at least another year, as the next big hearing is scheduled for 2024. However, XRP price is suffering from the insecurity that inevitably follows the prolonged courtroom troubles plaguing it. Investors are put off from buying the token, especially those considering long-term investments. Instead, they are turning to other options, like a new rising gaming crypto star TG. Casino, promising massive returns.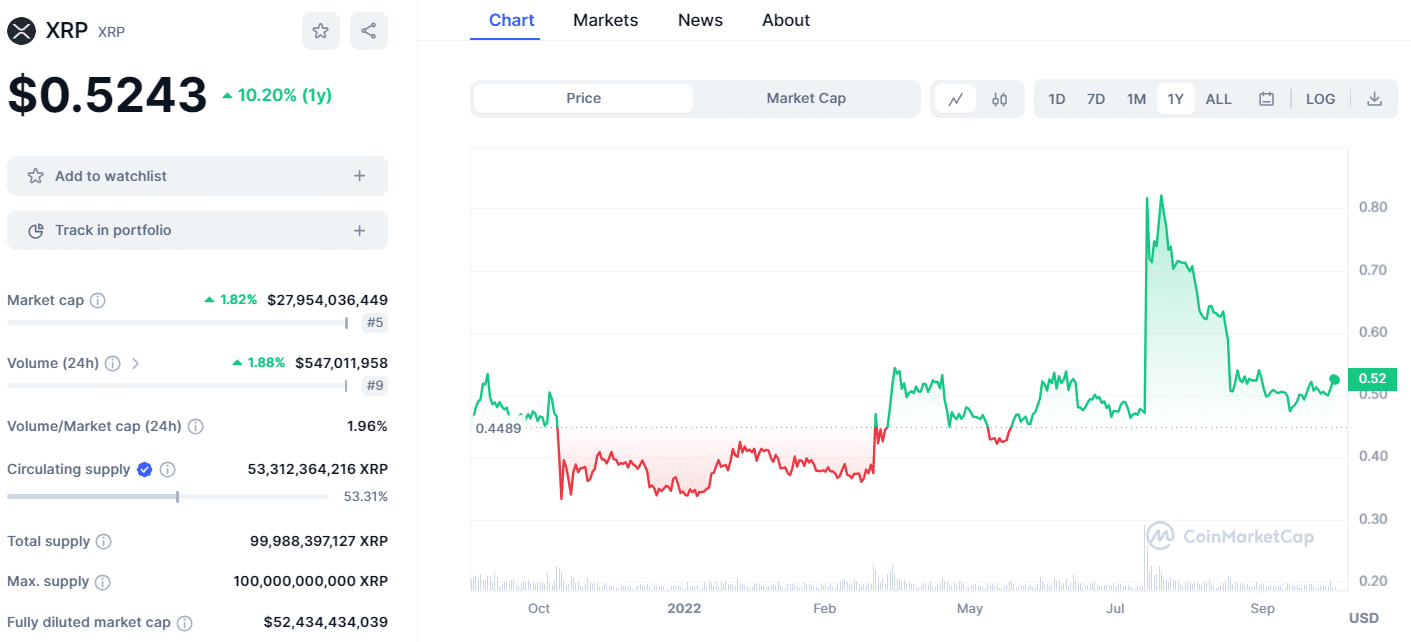 XRP Lagging Behind TG Casino in The Race to $1
Despite an excellent starting position, the insecurities surrounding XRP will delay it in its race to $1 price. Some analysts even go as far as to claim that the target is unachievable in this climate, at least not until XRP extracts itself from the legal nightmare.  On the other hand, TG Casino is racing through its presale, perfectly positioned for explosive growth as soon as it hits the open market.
The new crypto gaming app is offering unparalleled access to gaming content. Since it is integrated with the popular Telegram app, it can benefit from direct access to millions of users immediately upon launch. Spreading the word around is usually the biggest hurdle startups face in the early stages, but TG Casino will jump over it easily.
TG Casino Outperforming XRP
The GambleFi segment of the crypto market has largely been neglected, but not for the lack of trying. The apps that aimed at exploiting it were simply not up to the task, and users were left largely disappointed with them. Hence the hype surrounding TG Casino, as it offers a novel approach that will attract a lot of players.
TG Casino employs the latest Telegram addition allowing users to use bots to initiate actions in the app. Leveraging this feature provides TG Casino with an edge over the competition, attracting players and securing a massive user base.
Currently, in presale, TG Casino's native token TGC is already setting some records, like raising the first $100,000 in mere minutes. Its staking feature, providing huge APY, is one of its biggest selling points. A full 60% of all casino profits will go to staking rewards, while the remaining 40% will be burnt to provide an anti-inflation mechanism.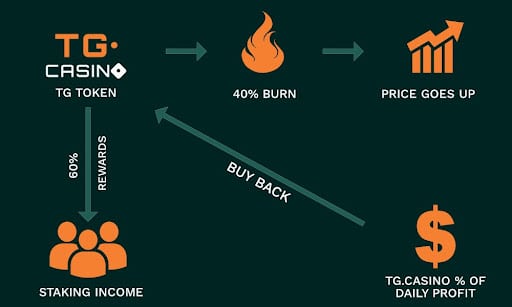 TG Casino is a Regulated and Licensed Casino Operation
Online gambling in any form is susceptible to scams and fraud, which is why the TG Casino team has taken extra steps to ensure its players that their operation is perfectly legal and above board. The app is licensed with the Curaçao Gambling Authority, one of the world's largest bodies regulating online gambling. The license will provide peace of mind for its players, allowing them to play without having to worry about any nefarious actions.
For an added layer of security, TG Casino and its developing team have undergone a full audit by Coinsult, one of the most respected blockchain security companies on the market.
TG Casino Offers A Full Selection of the Most Popular Games
TG Casino will feature games from all major casino software developers, including Novomativ, Evolution Games, NetEnt, Play 'n' Go, Red Tiger, and many more. It will offer popular titles for games like blackjack, roulette, poker, baccarat, and craps, plus a huge variety of the most popular slot games.
On top of the initial offering, developers have made sure to sign long-term contracts with all game suppliers, providing players with a fresh selection of titles regularly and ensuring there is always something for everyone to enjoy.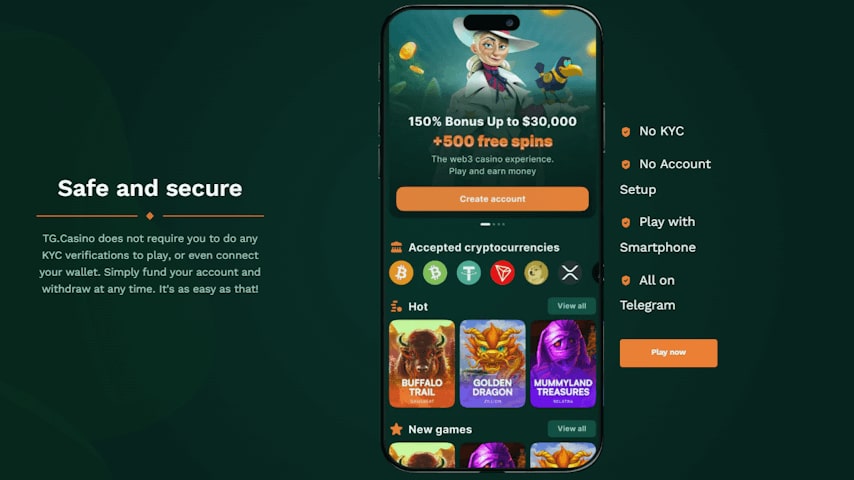 Conclusion
Despite its best efforts, we can't see XRP reaching $1 before TG Casino does. The lawsuit against one of the most powerful regulatory bodies on the planet is too big of a factor to ignore and the Ripple legal team has some hard fighting ahead of them, even with the latest addition. On the other hand, TG Casino brings some much-needed refreshment to the crypto GambleFi sector and is set up perfectly for a moonshot as soon as it starts appearing on crypto exchanges. Those who bite the bullet and invest heavily in it early on stand to make a bundle.