Meme coins have been the talk of the town for a while now. A trend that started with Dogecoin as an experiment has now gained much hype. 
Love Hate Inu (LHINU) is a brand new Vote-to-Earn (V2E) meme coin project keeping the trend alive of dog-based tokens. Initially, meme coins didn't provide much utility as they were for fun. 
But meme coins have broken those barriers and now provide utility for their buyers. LHINU is a fast-growing blockchain project that allows users to vote on crucial matters. 
As LHINU is starting to gain hype, raising 100k in a few hours after its launch, it's high time to see what this project offers and how you can buy its tokens.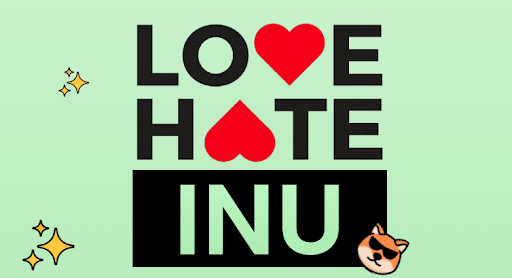 Love Hate Inu (LHINU) – An Overview
Love Hate Inu (LHINU) is a voting meme token that allows you to vote on hot topics and get rewarded for doing so. It is the first blockchain-based token for voting on different hot topics, as this concept has not been introduced in this ecosystem. 
LHINU offers a unique platform for people to unite and promote healthy discussions about topics related to politics, social issues, entertainment, and more. Also, as it is built on the Ethereum network, it allows for a transparent, fair, and secure voting mechanism. The polls used are based on different meme templates, which are fun and shareable. 
The Global survey software market has grown in 2023 to $3.2 billion. Hence, LHINU has a chance to partner with established brands to sponsor multiple polls where investors can vote and, in return, get exciting rewards such as an NFT discount code, Metaverse assets, and more. 
After buying LHINU tokens, you can connect your wallet to their website and participate in the voting. The founders are selling 90% of the tokens in a presale to build a loyal community that will help grow the system further. So make sure to buy some so you can be part of voting in the future. 
How it Works
To make the polling fair and square, $LHINU has decided to incorporate the staking mechanism, so if you want to be a part of the voting, you'll have to stake a portion of your $LHINU tokens on their platform. 
The more tokens you stake, the longer the staking period; you'll have a longer period to vote on topics. This is also a good thing, as you'll earn double profits from staking and voting.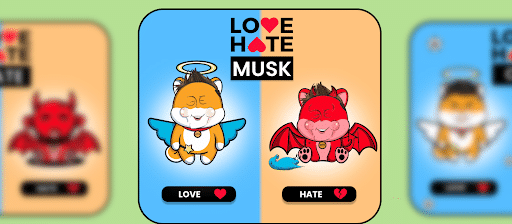 Buying Guide to Love Hate Inu Token 
Right now, $LHINU is in public presale, and buying these tokens is fairly simple. All you need to do is visit the Love Hate Inu website and click the "BUY NOW" button. After that, you'll have three different options to buy $LHINU. 
1. Buy with USDT
The first way is by using USDT available in your wallet. You can buy USDT from any exchange and transfer it to your crypto wallet. Now use these USDT to buy $LHINU tokens.  
2. Buy with ETH
The second way is by using ETH. You can also buy ETH from multiple exchanges and transfer that to your wallet. Then use ETH to buy $LHINU tokens from the website. 
3. Buy with a Credit/Debit Card
If you do not have a crypto wallet, use your bank's card with Wert. Use their smart contract embedded in the system to purchase your desired amount of $LHINU tokens. 
All this is only during the presale. Once it's over, you can buy these tokens through different exchanges. 
How is it Different and Similar to other Meme coins?
Let's take a look at the similarities and differences between LHINU and other meme coins.
Looking at the similarities, Love Hate Inu also uses the dog theme, which has been used since the emergence of Dogecoin and has been a complete success. Also, it aims to use the community as its power to grow like all other meme projects, including Tamadoge, Dogecoin, Floki, and more. 
On the other hand, unlike other meme coins, LHINU aims to provide utility to its users by giving them the right to vote on matters of utmost importance and also give ideas on upcoming polls. Another thing is that it is going to be the only meme coin yet to sell 90% of the supply during the presale. 
Is buying $LHINU worth it right now? 
Love Hate Inu is a fast-growing project with hype already created on social media platforms. People love the concept of voting on topics, sharing their opinion, and in return, earning rewards. 
It is currently in its initial presale stages, where the price per token is the lowest ever. If you hurry up and buy $LHINU tokens now, you can easily double your investment even before the presale ends. 
$LHINU is currently at 0.000085 USDT per token, which means you can buy 12,000 $LHINU tokens for 1 USDT.  It's just like Shiba Inu, which grew by 100,000% in 2021, and 2023 might be the one for Love Hate Inu. So if you missed the previous rally, I suggest you don't leave this one and buy a bag full of $LHINU now.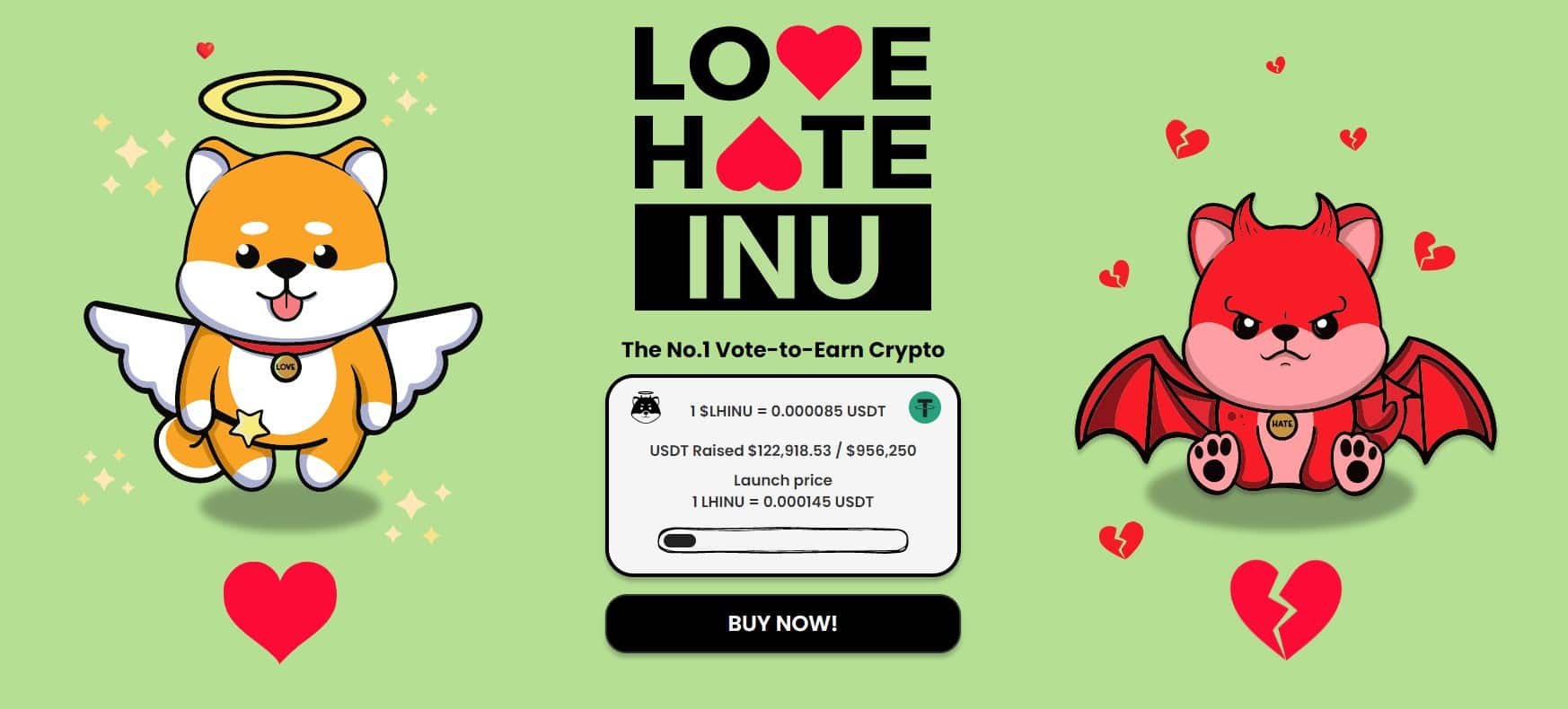 Final Words
Love Hate Inu has introduced a new idea into the blockchain community where anyone with $LHINU tokens can vote on topics, create polls, and be a part of healthy and crucial discussions. 
The price will regularly increase until 90% of the tokens are not sold. So leave what you're doing and buy $LHINU tokens and be a member of a community dedicated to revolutionizing the world with ideas.