Currently, being placed at the rank of #3 of the top 3 gainers on DEXtools, the whole industry is paying attention to the progress of SpongeBob Token ($SPONGE).
Notably, the overall success of the SpongeBob Token did not come out of the blue. Thus, one of the major factors contributing to the success of $SPONGE was the nostalgia around the popular SpongeBob SquarePants TV show that was broadcasted in the early 2000s. Moreover, it was the most-watched children's TV show, and its viewership similarly overlaps with the age group of most crypto traders.
The recent CEX listings on Bitget and Gate.io will also dramatically increase the price of $SPONGE and exposure to crypto investors, especially those in love with meme coins.

Some even go further into claiming that the SpongeBob Token can be listed on Binance in the future, as well.
However, we will see how things will develop and turn out soon.
Nevertheless, many crypto analysts suggest that now is the perfect time to grab the $SPONGE tokens before another bull run emerges.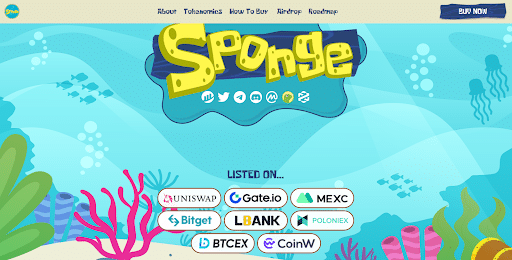 SpongeBob ($SPONGE) – the Meme Coin of the Year
SpongeBob token has all the necessary ingredients for a meme coin explosion that's the current trend in the crypto market. Regardless of whether it is the theme, credibility, or some marketing campaigns, $SPONGE is paying off, as the numbers show.
$SPONGE's price movement is of no surprise because of its similarity to PEPE. Both of these meme coins are community-driven that have brought hype without any presale involved through memes and social media actions. Same as PEPE is founded on Pepe The Frog, the SpongeBob token is also tied in with the popular TV show for kids, named SpongeBob SquarePants.
It took only a few days after the release for $SPONGE to become the hottest token on DEXTools, and marked as the top-performing token on CoinMarketCap website.
The SpongeBob team took several judicious measures to rule out all fears of rug pull and scams, which were widely possible in the meme coin market. 
In addition, $SPONGE has entered the market well-armored that also played an important role in helping the token to win the approval of a large community of investors within a few hours after going live.
Interestingly, many traders and analysts has predicted that $SPONGE will be the next meme coin to skyrocket in price due to its large and unexpected popularity.
Another reason for why investors are taking interest in this meme coin is the fact that it's fairly straightforward and easy to use. Users can access $SPONGE through a variety of wallets, including MetaMask, Uniswap, and WalletConnect. As a result, it has opened a plenty of doors for $SPONGE and brought increased investments in this meme coin, since the project's launching.

$SPONGE is officially listed on BitGet and Gate
This meme coin's most recent release unveils that the SpongeBob ($SPONGE) is now also accessible for purchase on topmost marketplaces such as Bitget and Gate.io.
Bitget and Gate.io are both top-ranked marketplaces and exchanges globally. For instance, Gate.io is ranked ninth and Bitget thirteenth on CoinMarketCap website. In addition, they both accumulate a trading volume of around $800 million in 24 hours.
If we add up to that their weekly visitor count of 5.2 million, we can be sure that it will provide a large increase in brand awareness for $SPONGE coin.
Recently, the SpongeBob project also announced that $SPONGE is going to be listed on numerous top-tier exchanges soon, including Binance.
In the recent week, $SPONGE managed to break records when it jumped from a market cap of $2 million to $90 million in merely four days. After a brief withdrawal, there has been an increase in demand for $SPONGE again.
Investors have the possibility to earn returns of 10x from their initial investment if the token passes by the $200 million threshold. However, in case it reaches $1 billion, they will gain returns of more than 50 times from their initial investment.
More top exchanges are very likely to be watching developments with $SPONGE closely as they search for projects that have highly active and engaged communities to drive fee revenue.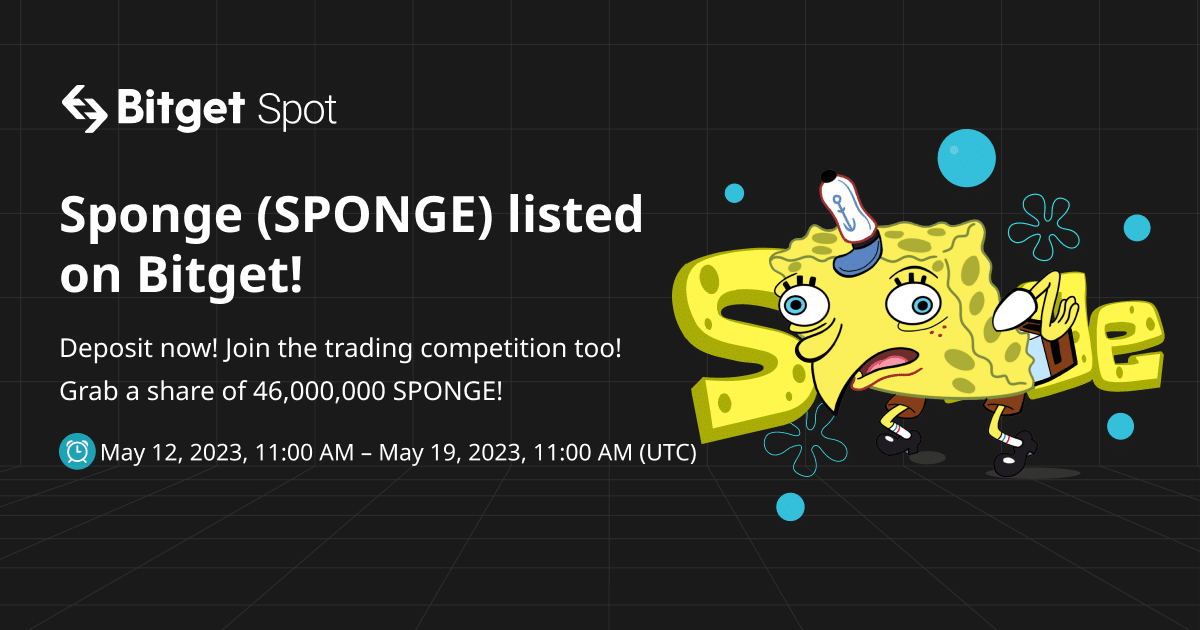 $SPONGE – #1 meme coin token community
The metrics and numerous stats indicate that $SPONGE token holders are in good hands, and the primary proof of the that is the scaling it gets.
$SPONGE has managed to accumulate around 40k Twitter followers and more than 20k on Telegram. Their Discord server is no different, having a vibrant space with hundreds online at any one time and around 4k joined users in total. In addition, Discord is also the place to be if you want to sign up to be eligible for the $SPONGE airdrop
That's the sort of organic growth many projects and businesses would crave for. Judging on the stats and crucial metrics, it won't take a lot before those numbers get doubled, as $SPONGE's community engagement enlarges.

Tamadoge's partnership with SpongeBob
The partnership between Tamadoge and the SpongeBob meme coin will exhibit the Web3 gaming ecosystem to a bigger audience of prospective investors and users.
Importantly, this crucial partnership of these meme coin projects comes only a few days before the official launch of the Tamadoge mobile app. As a result, thanks to this upcoming partnership between SpongeBob and Tamadoge, the $TAMA community will have access to airdrops of $SPONGE tokens.
Tama Army, assemble! 📣

You can get exclusive airdrops from our friends over at @spongeoneth as they launch trading TODAY! 💰

🗓️ $SPONGE will make its debut on @bitgetglobal on May 12th at 10 am UTC.🎉🚀

Get trading here 👉 https://t.co/cBLw8dY6q3 pic.twitter.com/j7tljQl0cG

— TAMADOGE (@Tamadogecoin) May 12, 2023
https://platform.twitter.com/widgets.js
Conclusion
The glory of Dogecoin is gone, but the overall meme coins trend is still at full speed.
The crypto market is anticipated to boom in the approaching months, and $SPONGE is surely making a huge buzz. With a unique combination of real-world utility, impressive market cap, high liquidity and playful nature, $SPONGE stands out as a must investment for everyone looking to make significant profits.
You can get $SPONGE tokens at a lower price now and obtain great benefits in the future. Grabbing your very own $SPONGE tokens seems like the most logical thing to do right now. 
You might end up missing the train if you don't take act immediately.