Meme Coins have always been Crypto Whale's favorite assets as they provide massive investment returns within a short time. This is the case with Pepe Coin, a meme coin that sprung up surprisingly into the market with no presale event. Yet, this frog-inspired token provided massive gains to eagle-eyed investors who spotted the token as it listed on exchanges.
However, its bullish surge didn't hold out long enough as it presented no particular use case. Yet, in a twist of events, Pepe Coin has taken a steep dive of over 20% in its value due to concerning transactions.
Recently, there was a transfer of 16 trillion PEPE tokens (equivalent to about $16.85 million) from the PEPE multi-sig wallet to four Centralized Exchanges (CEXs), including Kucoin, Bybit, OKX, and Binance. This move raised an alarm in the PEPE community, causing massive panic and dumping of PEPE coins on exchanges.
The excitement regarding the PEPE coin continues to wane despite crypto whales' early interest in this meme coin. Consequently, investors are shifting their focus from this crypto to new meme coins that offer immense potential in the market. Notably, they have found Wall Street Memes and Sonik Coin as alternatives with 100X price potential. Discover more about these cryptos in this post.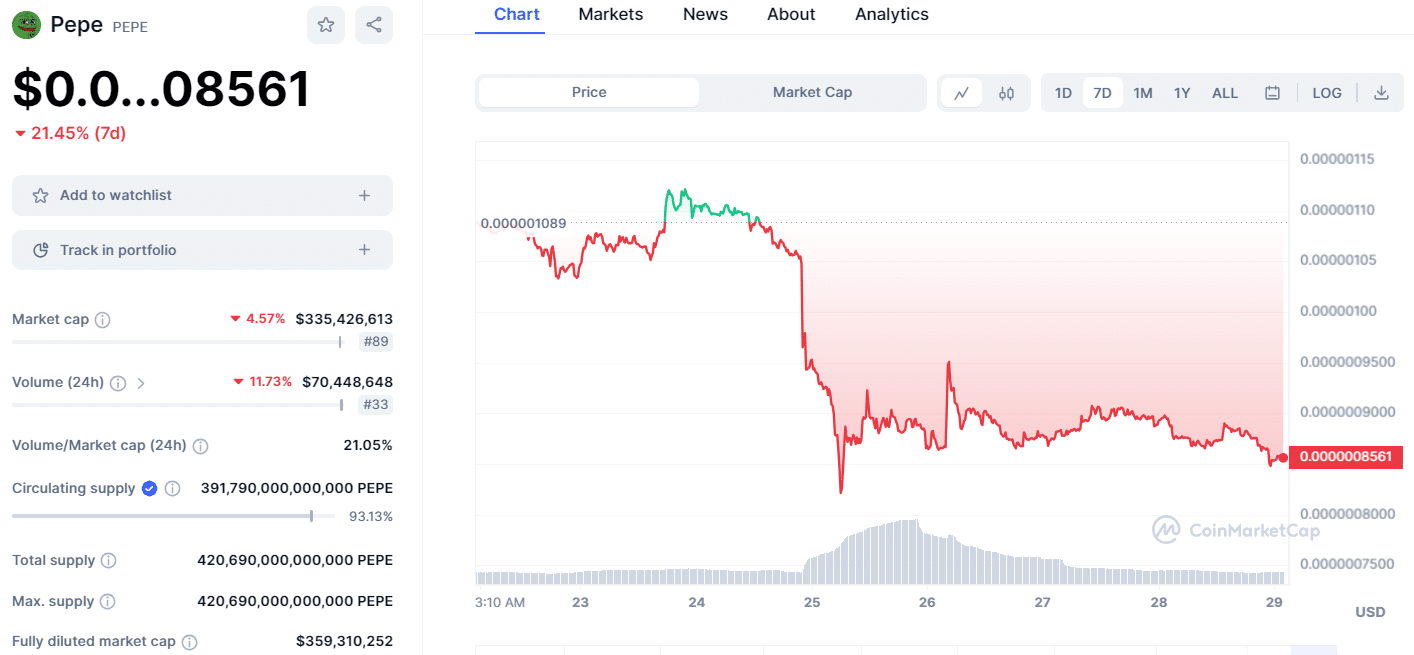 Wall Street Memes (WSM): An Outstanding Meme Coin To Provide Impressive Gains
Wall Street Memes is one fascinating crypto on the radar of crypto whales since the start of 2023's second half. This meme coin aims to claim the throne by providing memes, fun, and investment potential to its fans and investors. The team behind WSM boasts a history of resounding achievements in the financial markets, especially in the GameStop saga that rattled the traditional Wall Street foundations.
Also, the WSM team was the driving force behind the Wall St. Bulls NFT collection in 2021, which sold out within 30 minutes and held a market volume of 2,000 ETH on OpenSea. With these dual triumphs, Wall Street Memes has captivated traders, investors, and enthusiasts with a genuine thirst for financial independence.
In addition, Wall Street Mems have received recognition from Elon Musk, the CEO of X (formerly Twitter) and Space X, causing many traders to purchase its native token, WSM, at an incredible rate. Wall Street Memes also boasts a robust community of over a million fervent supporters, consistently championing the project's cause.
Wall Street Memes allocates the entire WSM token supply to the community, forgoing private sales or team allocations. This approach has led Wall Street Memes to run one of the most coveted presales of the year. The WSM token allocation strategy speaks volumes: 30% designated for community rewards, 10% for CEX liquidity, 10% for DEX liquidity, and an impressive 50% reserved for its presale event.
Wall Street Memes continues to achieve massive success in its presale, accumulating over $25 million. With its incredible community support and promising utilities, Wall Street Memes will surely provide massive gains to savvy investors.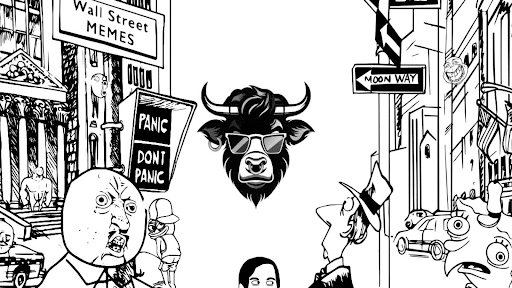 Sonik Coin (SONIK): A Revolutionary Meme Coin With Staking and Yield Capabilities. 
Another crypto alternative worth considering is Sonik Coin, a game-changing meme coin pumped for market success. Despite its new entry into the meme coin space, Sonik Coin aims to shatter records and captivate crypto enthusiasts globally.
Built as an ERC-20 token inspired by the iconic Sonic the Hedgehog, Sonik Coin transcends the realm of mere humor as it embraces a bold mission. According to its official page, Sonik Coin sets out to be the "fastest meme coin to reach a $100 million market cap," which is a remarkable feat for any meme coin.
Sonik Coin introduces staking capabilities to carry out this mission. This strategic approach transforms Sonik Coin from a speculative asset to a multifaceted investment prospect. A substantial 40% of its native token supply, SONIK, is dedicated to staking rewards, thus infusing utility into its tokenomics. The staking protocol incentivizes enduring ownership as it promotes price stability and active participation in the meme coin's growth.
Sonik Coin's tokenomics are both striking and innovative. With a supply mirroring the speed of light, at 299,792,458,000 tokens, and strategic allocation: 50% for presale, 40% for staking rewards, and 10% for exchange liquidity.  The ongoing public presale offers 50% of the total supply, inviting enthusiasts to join at an accessible price of $0.000014 per token. Notably, Sonik Coin adopts a community-centric approach.
The presale targets a modest $2 million hard cap, with token purchases available via ETH and USDT. The presale has accrued over $400,000 in its presale event. Upon reaching the hard cap, anticipation turns to the imminent Uniswap launch. With its compelling utility and community-driven approach, Sonik Coin establishes itself as an influential player in the crypto sphere and a force to be reckoned with.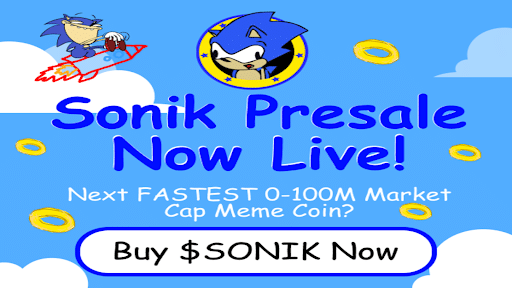 DogeMiyagi (MIYAGI): A Meme Coin Set To Become The Leader of All Meme Coins
DogeMiyagi is another meme coin on the crypto whale's radar for 100X potential, positioning itself as a potential frontrunner among meme coins. This token seamlessly blends memes and pop cultures to offer a pathway for individuals to amass wealth.
Anchored in the values of patience and community, DogeMiyagi's distinctiveness stems from its creators' transparent and community-oriented approach. Thus, this stance empowers investors to actively contribute to shaping the coin's trajectory.
Furthermore, the DogeMiyagi Token Referral Program further enhances its value as successful referrals garner up to 10% in bonus tokens. This initiative will enable referrals to fulfill their financial aspirations. All these impressive features make DogeMiyagi a potential target for crypto whales eyeing a 100X potential. Check it out today!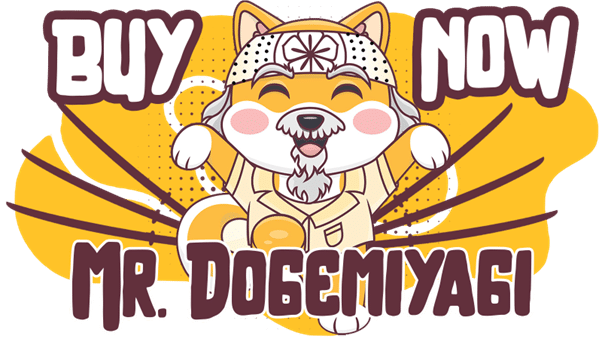 Final Thoughts: Invest in These Meme Coins For Amazing Investment Yields
Despite the market's volatility and FUD, meme coins play a pivotal role in crypto. With Pepe's massive price drawdown, the hope of recovery may be slim due to mistrust in its ecosystem. As such, there is a need to look for new alternatives to provide better gains in your portfolios.
As discussed in this post, these three meme coins are on the crypto whale's radar and will provide fantastic gains. Consequently, get involved with these projects today and enjoy the best value for your investment in no time. Join the whales as they invest and be on your way to financial freedom.