Bitcoin (BTC) recently dipped below the $30,000 mark, and the excitement surrounding the potential approval of a spot ETF and a favorable XRP ruling appears to be cooling off. But guess what? The world of meme coins is alive and kicking! A brand-new player has entered the scene, and it's called Evil Pepe Coin ($EVILPEPE).
Evil Pepe Coin aims to follow in the footsteps of other Pepe derivatives like Pepe 2.0 (PEPE2.0), Proof of Pepe ($POP), Saudi Pepe (SAUDIPEPE), and more. These meme coins have been incredibly popular this year among meme coin traders. In fact, Evil Pepe Coin's presale just launched, and it's already gaining some serious traction. Incredibly, it has managed to raise over $716k in a very short span of time. With all the hype surrounding the Pepe genre, it's expected that Evil Pepe Coin will sell out fast.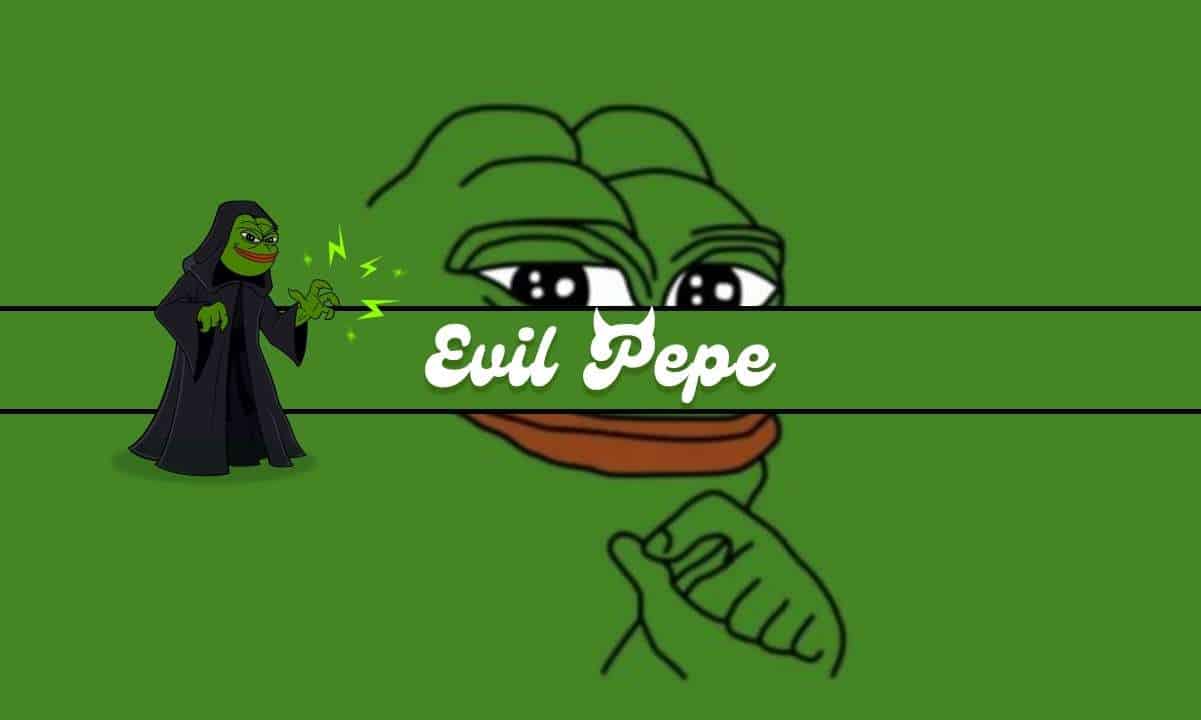 Buy Evil Pepe Coin Now
Evil Pepe Coin ($EVILPEPE) – The Dark Twist on the Meme Coin Phenomenon Sweeping the Crypto World
Evil Pepe token is the hottest new meme coin that just hit the market recently and is causing a lot of buzz and excitement! This ERC-20 coin is all about the famous Pepe the Frog meme that everyone loves but with a dark twist.
What's cool is this meme coin is part of the wider Pepe family of meme coins, so it's riding on the success of Pepe's incredible journey in 2023. The original Pepe Coin ($PEPE) went through the roof after its launch on Uniswap, reaching an astonishing $2 billion market cap right after being listed on Binance.
Then came Pepe 2.0, giving folks another opportunity to jump on the Pepe train. It went from a tiny price of $0.000000000005 to an incredible $0.000000177, pumping up by a whopping 43,000% since its Uniswap listing. 
And guess what? Other Pepe coins are also hot right now, like Hoppy Token ($HOPPY) and Proof of Pepe ($POP), just to name a few. The Pepe meme is still rocking the crypto world.
With all this Pepe coin hype, Evil Pepe wants in on the action. If Evil Pepe can capture even a fraction of the Pepe mania, experts predict that early investors in the presale could see fantastic returns — and possibly become millionaires. So, if you're looking to jump on board, now's the perfect time to get involved.
Smart Moves for Long-Term Success – No Dumping, Fixed Pricing, and Community Trust
Even with the evil name, Evil Pepe Coin is trying to build an actual community, which is cool to see. 
For the presale, it's making 90% of the total supply available to regular investors like us. Afterward, it will lock up the remaining 10% as liquidity on a DEX for a whole month once it officially launches.
This is big because it prevents the team from just dumping the tokens and crashing the price right away. And it's good for investors, too, since all the presale tokens cost the same fixed price of $0.000033. No shady pricing tiers or anything. 
With no insider allocation either, there won't be whales holding big chunks ready to cash out and leave people high and dry. So it seems like Evil Pepe Coin is making some smart moves to build trust with the community early on.
Locking up tokens and liquidity shows these guys are serious and thinking long-term. There's definitely more confidence in the project compared to other crypto coin ICOS.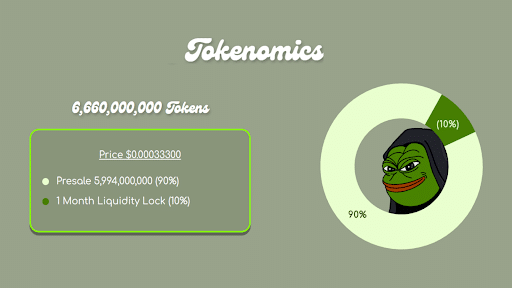 Fueling Growth from DEX to the Moon – Setting Sights on a $100M Market Cap
Even though the presale price has stayed stable, experts think $EVILPEPE could take off big time once it hits exchanges. And guess what – Evil Pepe is only launching on a decentralized exchange first. 
That's a smart move to build their community since a DEX is open to everyone right from the start. Lots of meme coin projects go to centralized exchanges right away, but Evil Pepe wants to be more inclusive upfront.
Being a DEX-only project, it gives ordinary investors an equal chance to get in early and be part of growing the project. Definitely seems in line with their vision of community engagement.
And it looks like the Evil Pepe team has big plans beyond the launch too! Its roadmap shows some ambitious goals – major marketing campaigns, big partnerships, and a goal to hit a $100 million market cap.
Timing is Everything – Get in Early for Massive Profit Potential
Evil Pepe is creating quite a buzz, and there's a lot of profit potential in the air. We've witnessed other meme coins, like $PEPE, go through insane pumps after listing, sometimes multiplying in value by over 100 times in just a few days. Evil Pepe is riding the wave of meme mania, and timing is crucial for maximizing gains. 
The key is to get in early during the presale or right at launch to take full advantage of the excitement before the inevitable pump and dump. With over $700k already raised in the presale, the hype is growing, making it the prime opportunity for maximum upside.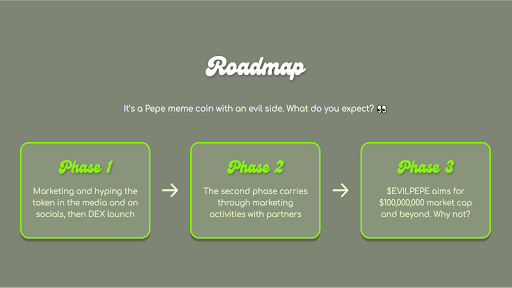 Conclusion
Evil Pepe Coin is bringing the fire with its dark meme coin style. This hot new crypto sensation is riding the Pepe hype train straight to the moon! With smart moves to build community trust, a DEX-only launch, and massive profit potential for early buyers, this coin is poised to become the next big thing in meme mania. Don't miss the launch – get in on presale now and go along for the evil ride to epic gains!