The Meta Masters Guild (MEMAG) is the revolutionary web3 gaming guild because it focuses entirely on providing games that can be played on mobile phones. Its presale ended recently with an enormous success when $4.97 million was raised, showing just what crypto enthusiasts can expect from a project like this in the future. Now there is more exciting news regarding this highly appealing project – there are newly announced listings and the staking that will begin on the same day, which will drive more attention to it.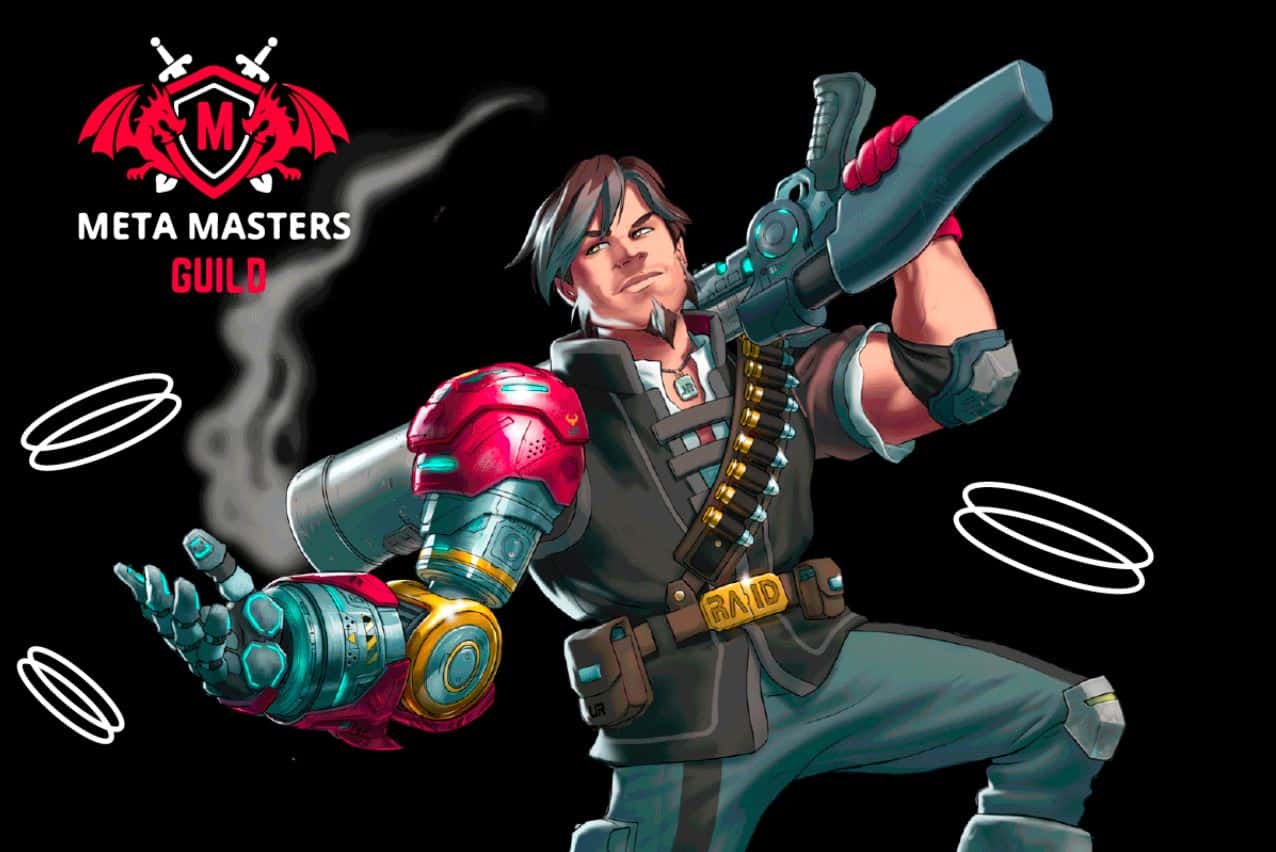 Where will MEMAG be listed on March 15th?
After an extremely successful MEMAG presale, all eyes were on the news regarding the first listings. Even though the first listings were supposed to go live in April, the tokens got sold out faster, and MEMAG tokens got listed on March 1st when claiming of tokens began as well. MEMAG first got listed on XTexchange and Uniswap. These tokens got listed next on CoinGecko on March 7th. CoinGecko was established in 2014, and it currently tracks more than 9k cryptos and provides info about them in real time. CoinGecko has already shown it is trustworthy, which is why this listing is very important for Meta Masters Guild. 
Now, all the interested investors are looking forward to the new listings confirmed by the MEMAG team. MEMAG will be listed on Bitmart and HitBTC on March 15th. Both of these exchanges are extremely important for the crypto market and they will increase the exposure of MEMAG tokens to a larger number of people. BitMart currently holds 14th place among other crypto exchanges. Its trading volume during a 24-hour period is $730 million, as CoinGecko states. Its headquarter is in the Cayman Islands, and it was established back in 2017. 
On the other hand, HitBTC was established back in 2013, which means it managed to evolve successfully for a decade. It has more than 500 coins listed, and its trading volume in a 24-hour period is $470 million. Undoubtedly, listings on these exchanges will significantly impact the value of MEMAG tokens in the following period.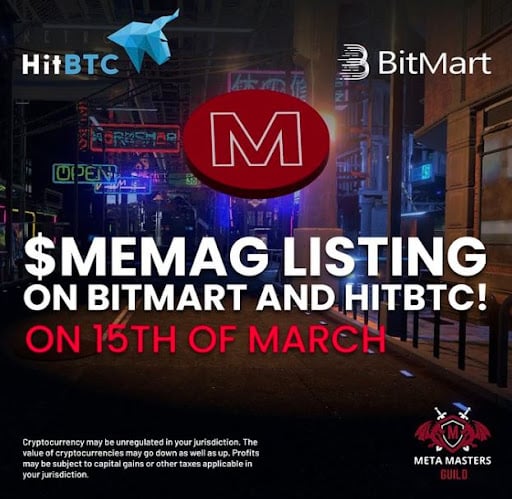 A 75% Introductory Offer Lures Token Holders 
The investors that have secured their MEMAG tokens in time will be more than happy to welcome the beginning of staking. The token holders will be able to earn a substantial APY (Annual Percentage Yield) of up to 75%, which is a way for the Meta Masters Guild team to incentivize the investors. Here is what the investors can expect:
7-day lockup – The investors will get an introductory offer of 75% APY that will be available between March 15th and the end of April. Locking for the entire period will bring an additional 9%. 

30-day lockup – This option will bring 7.5% APY.

90-day lockup – Opting for this period will bring 15% APY.
The second and third options were designed to reward stakers while ensuring sustainability. Meta Masters Guild believes the crypto community is tired of projects promising unrealistic yields and then seeing the protocol collapse. Holders can stake their tokens by visiting the official Meta Masters Guild website and clicking the staking button. After holders have connected their crypto wallet, they will be able to see all the lock options that are available in the menu.
The process ends when the stakers choose the lockup period they like and how many tokens they want to stake. To claim the reward, the stakers should return to the original page after the staking period has ended. Staking allows holders to earn yield before the initial game launches. However, tokens won't be tied to buying or playing in-game assets. The staking facility gives MEMAG holders the opportunity to earn passive income.
Meta Kart Racers is Currently Being Developed 
Meta Masters Guild already has Gamearound, its first game studio, on board. The development of the Meta Kart Racers is moving at a rapid pace. Gamearound is an experienced game developer who has created games for Boohoo, which is an online fashion retailer that has seen huge success with sales exceeding $1 billion.
Meta Masters Guild aims to challenge the play-to-earn paradigm (P2E) by gravitating towards play-and-earn. The team behind Meta Masters Guild believes that the players shouldn't play boring games only because of the earning but give players fun games. This way, playing and earning will occur simultaneously, maximizing the experience of the players. In return, having so many faithful players who genuinely like the games means the ecosystem will remain stable for many years. 
The players can expect to get two versions of Meta Kart Racers:
Free to play

Play and earn 
Meta Kart will be available on mobile phones, just as all the other games within Meta Masters Guild, which will surely be appreciated by the millions of passionate gamers worldwide. The P2E version allows players to earn gems through in-game activities and win rare NFTs. Meta Kart Racers allows users to choose their favorite driver and kart, then they can choose from any of the many racing tracks. In order to win rare NFTs, the players can also play and earn in arcade mode. All Meta Masters Guild NFTs are characters fully playable once they have been purchased. They are rendered in 3D.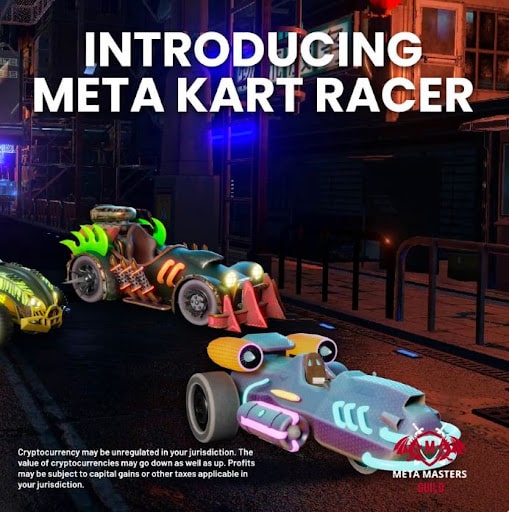 Conclusion
There is no doubt that Meta Masters Guild caught the attention of the players, particularly because it targets the mobile gaming space. MEMAG is a utility token necessary for unlocking all the features this ecosystem offers. The tokens can be staked and traded, which means that the investors will get a chance to earn besides having a blast while playing extremely appealing and exciting games. The excitement grows as the date for the new listings approaches, and it will surely impact the demand for MEMAG tokens in the following period. Make sure you keep your eye on MEMAG tokens and get some more before their price pumps!