It didn't take long for Love Hate Inu (LHINU), the Vote-to-Earn meme coin, to hit the $400,000 presale milestone. In fact, it took less than a week for it to do so. In the time since, LHINU hasn't slowed down at all, as it's now raised more than $450,000 of its $956,250 goal for Stage 1 of the presale.
This amazing new crypto project is proving to be one of the most impressive new presale launches of 2023 already. In addition to raising as much as it already has, it's blowing through presale stages in record time. With prices increasing every time that a new presale stage ends, it's imperative to buy it ASAP so you can get the best price possible.
Below, we dive deeper into what makes Love Hate Inu so special, which is why investors are gobbling up all the available presale tokens in such short order.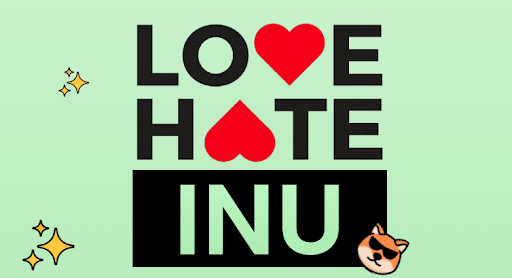 Everyone Has an Opinion
Love Hate Inu is leaning in heavily to something that's very obvious: Everyone has an opinion, and they love to share it online. People already invest so much passion into what they love and hate online, and LHINU is going to make it even easier – and more rewarding – for them to do so.
Users on Love Hate Inu will be able to vote on everything from politics to social issues to entertainment and more. An example is whether you like Elon Musk or Donald Trump. But, it's not just all about voting to give your opinions on people, places and things. It's about having fun and sharing your opinions with others.
To this end, Love Hate Inu will be creating striking character illustrations for each one of the poll questions it posts. This makes it fun to take part in and also makes them highly shareable on social media. This guarantees that there will be a legitimate virality to Love Hate Inu, which is a core attribute of the project overall.
Unlike many other polling sites and apps that are out there, Love Hate Inu will be leveraging blockchain technology to take advantage of its best use cases – providing secure and transparent systems. This means that there's no chance that the voting mechanism can be subverted, since everyone who is taking part in the polls has to stake the LHINU token in order to participate.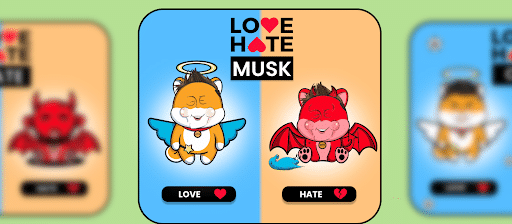 The Impressive Survey Industry is Ripe to Be Disrupted
At first glance, you may think that Love Hate Inu is a relatively frivolous use of blockchain technology, but that couldn't be further from the truth. The fact is that the survey industry is valued at $3.2 billion for this year. The industry is only growing in popularity and, as a result, growing in value.
Yet, much of the industry is based on old technology and old ways of doing things. It's ripe to be disrupted, and Love Hate Inu is that new project that's going to be its No. 1 disruptor.
The fact that it's based on the blockchain is what makes it so much different than all of the other survey platforms that are on the market. Not only does it ensure security and transparency, but it also allows Love Hate Inu to reward people for taking part in their polls. 
The projected explosion in popularity of Love Hate Inu – and the fact that it's going to be very viral – means that there are going to be plenty of opportunities for marketing partnerships. Individuals and brands will have the ability to launch their own sponsored polls on the platform.
Brands will be able to incentivize people to take part in the polls by providing them individualized digital and even non-digital rewards. This could come in the form of NFT discount voucher codes being provided to people who participate in the poll, for instance. Not only is this a great way for brands to increase their reach and possibly even test out new product and service ideas, it's a great way that Love Hate Inu could bring in some extra revenue.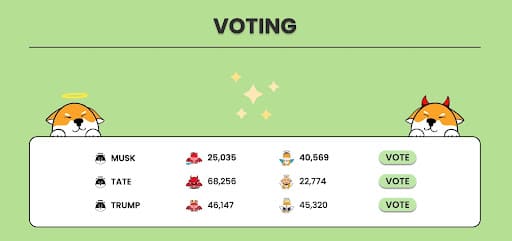 It's a Beautiful Blend of Meme Coin and Trusted Voting System
What makes Love Hate Inu so special from a crypto standpoint is that it's a beautiful blend of the traditional meme coin market along with the utility of a useful and trusted voting system. The super utility of the LHINU token is what is separating it from other new crypto launches, and why it has meme coin giants Dogecoin and Shiba Inu in its sights. In fact, it's very possible that Love Hate Inu could surpass those well-known meme coins in value in short order.
If it's able to do what Shiba Inu did, it would bring amazing returns to its investors. The meme coin launched back in August of 2020 and rocketed an unbelievable 7,254,000%, providing those who jumped in and out at the right times amazing returns of 72,000x.
Even if Love Hate Inu doesn't reach quite those levels, it still has plenty of potential for amazing returns for all those who invest. There's a solid chance that LHINU could become one of the biggest crypto launches of 2023, as it's sure to go viral on all social media platforms.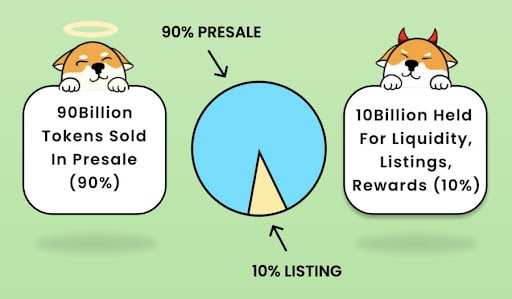 Buy Love Hate Inu Now Before You Miss Out
Love Hate Inu is poised to disrupt not only the online survey industry but also meme coins in general. It has amazing growth potential and could easily become the biggest crypto launch of the year when all is said and done. 
This isn't just conjecture, either. In less than a week, Love Hate Inu crossed the $350,000 mark, and it's raised more than $450,000 total in its Presale Stage 1 thus far. The current price of LHINU is $0.000085 in Stage 1, and it's set to increase to $0.00009 for Stage 2, which will start in just a few days' time. At launch, the price will be $0.000145, meaning it's sure to produce amazing returns for investors.
So, act now before you miss out on this amazing price.
Love Hate Inu (LHINU) Hits $450k Presale Milestone in First Week!
Already in its first week, Love Hate Inu (LHINU) is proving how valuable a Vote-to-Earn meme coin it will be by raising $450K.