IMPT Exchange Listings Confirmed for 14th December – 1 Week Left to Buy this $15 Million Green Crypto
In the cryptocurrency industry, big presales are often a sign of promising things to come. Without any doubt, IMPT is making waves as the latest big green crypto, with an eye-watering $14 million already raised in barely two stages of its presale.  
The current prices are low too. Opportunistic investors were quick to snap up the token in its first presale stage when it was $0.018 per token. Today, the IMPT hype has ramped up another notch with news regarding exchange listings. In less than two weeks, IMPT is set to go live on exchange platforms. This will only lead to increased interest in the project.
Presently, the token is selling for $0.023, a slight increase on its stage 1 presale price. Investors who didn't take advantage of the lower prices earlier on can still do so now. In fact, given the inherent use cases and utilities of the token, there's no better time to buy IMPT than right now. 
IMPT will Get Listed on Exchanges Soon; There's no Time to Waste
IMPT has been in presale stage 2 since the 26th of October. At the time of writing this article, over 755 thousand tokens have been sold out of 1,260,000,000 tokens. Simultaneously, over $14 million has been raised out of the projected $25,980,000. The figures are truly impressive and are a testament to just how much interest the project is attracting from investors. 
However, there's no time to waste. Anyone seeking to purchase the token at the current price must do so before presale stage 2 ends on the 11th of December, three days before IMPT goes live on Uniswap, Changelly Pro, and LBank.  News regarding impending exchange listings will spur more excitement, and there's a strong chance that the token will sell out before the 11th of December. 
Interestingly, purchasing IMPT tokens is quite easy. It's an ERC-20 token; you can purchase it if you have ETH or USDT on MetaMask or Trustwallet. On the other hand, via your card, you can utilize the Transak widget to buy ETH, which you can then exchange for IMPT.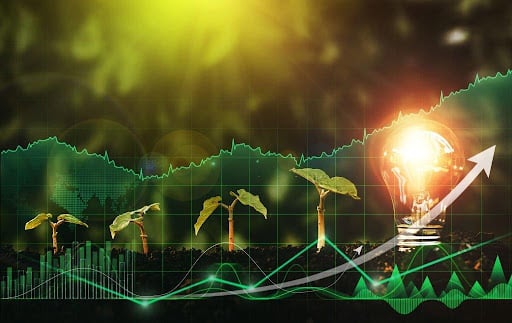 Over 25,000 Affiliates
Another reason for IMPT's popularity is its affiliation with popular retail brands. Big-name retailers like Amazon, Dominos, Lego, Macy's, and Bloomingdales are already on board, along with tech giants Microsoft and Samsung. Fashion outlets like Harry Brown and River Island are also in the mix, including AEG, Dyson, and Tripadvisor. Of course, with interest ramping up, IMPT's commercial viability is in view. 
IMPT.io and its ESG goals 
One of the reasons that IMPT is drawing so much interest is because it's a green energy token. 
In the modern era, carbon emissions seriously threaten the sustainability of life on the planet. High rates of carbon emissions are resulting in the accelerated depletion of the ozone layer leading to a worrying rise in average temperatures across the globe. Various industrial activities, including crypto mining, have faced increased scrutiny due to their links to significant levels of carbon emission. 
IMPT adopts ESG (Environmental, social, and governance) principles by inviting investors and affiliates to take measures to reduce carbon emissions and lower overall air pollution. 
Every time users shop with any of the brand's affiliates using IMPT's mobile app or web widget, the retailer donates a portion of the amount they pay to a vetted green project. Additionally, there's a first-of-its-kind scoring system that allows consumers and organizations to assess themselves in their efforts at carbon offsetting. 
Also, there's an online marketplace for businesses and consumers to retire carbon credits by burning them on the blockchain. In return, users get unique NFT collectibles specially designed by artists. Additionally, those who don't want to retire their carbon credits can trade them on the marketplace or hold them as investments.
IMPT's system is unique, as it tracks the origins of each credit. The use of blockchain technology means that double spending and fraud are not possible, something that has been a significant issue in the carbon credits market.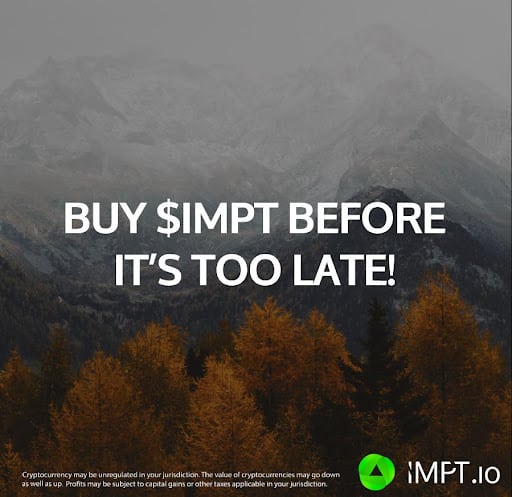 Why You Should Buy IMPT
Investors are currently buying IMPT in droves, and a close examination of the project reveals the reasons behind its popularity:
It's an Eco-friendly Project
IMPT's potential for long-term viability due to its utility as a green project is one of the reasons it's a top crypto choice for investors. The token allows investors and affiliates to participate in a world-changing project by contributing their quota to eliminating carbon emissions. 
The Fast Growth of the Carbon Offset Market
With the voluntary carbon offset market projected to reach over $700 million at a compound average growth rate of 12.71% between 2022 and 2027, there is equally great potential for IMPT's affiliated green energy project. 
Changing the Negative Image of Blockchain Technology as it pertains to the Environment
Blockchain technology has come under attack in recent years due to its energy-intensive nature and proof-of-work model that indirectly causes high carbon emissions. However, IMPT offers a blockchain alternative to environment-conscious individuals and businesses, proving that it is indeed a sustainable project. As such, it's no surprise that investors are flocking to purchase IMPT in its presale stages.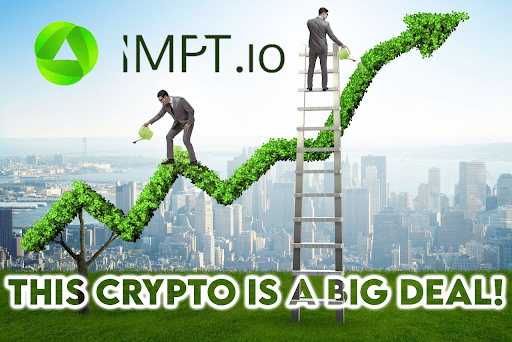 Conclusion
Although the chances of extra tokens remaining at the end of the presale are rather very low at this point (given the current buying frenzy), you should note that any remaining tokens will be burnt. 
Public trading, when it begins, is expected to go fully mainstream given how unique the product is and how attuned it is to environmental conservation. As such, analysts predict a significant price surge for IMPT when it's finally launched. Early bird investors will certainly experience massive gains.
Buy IMPT today!