The meme coin game is an absolute jungle in 2023. It has on a macro level been an absolute success. Things were already looking good in terms of upcoming projects revolutionizing how we thought of meme coins. Utility was the hot feature and it looked like the traditional meme coin with no real use was about to be left in the dust.
Then Pepe Coin (PEPE) came along and dispelled that myth basically overnight. PEPE proved that investors still loved the old meme coins that just relied on virality to pump, it showed there was room for both kinds of meme coins. What has birthed from this though is an explosion in new meme coin projects.
The positives of this are obvious but the negatives need to be examined too. More projects in a bubble where predicting the next big coin was already a lottery can make it more difficult for investors. There is also the bad side of meme coins floating over the sector like a dark cloud.
The meme coin stomping ground is known to be a target for scammers and this increased interest has led to more cowboys hoping to profit nefariously off innocent investors. Rug-pulls are a popular theme so it is left up to investors to educate themselves in what is real and what isn't. 
Dogelon (Dogelon 2.0) is a perfect example of a project inventors should be avoiding. Let's take a look at why.
Avoid meme coins with gimmicky outdated premises 
Above we can see the price performance for Dogelon (DOGELON2.0) since it was launched under two weeks ago. This is the perfect example of a money-grab project. Everybody knows Twitter owner and controversial billionaire Elon Musk has a lot of sway in the crypto community.
Dodgy inventors tend to use his sway in the community to their advantage. We constantly see coins created based on a tweet from him or some offhand comment and really none of them have been successful since Dogecoin (DOGE) which is also the only crypto Musk has even slightly come close to promoting.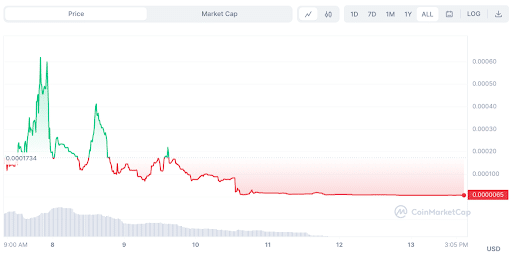 These coins tend to pump for a day before plummeting in price completely. It is likely that the seed investors use some influencers so it pumps and then immediately cash out leaving innocent parties holding the bag.
So this is what we must be aware of. Luckily it's not all bad news and there are also meme coin projects popping up that are the best quality we have ever seen and if we want to talk about projects that Elon Musk might actually endorse, then Wall Street Memes is the meme coin to look at.
Wall Street Memes- Musk ready to move from DOGE to WSM
One meme coin that we are sure is going to be as legit as it gets is Wall Street Memes ($WSM). A great example of how confident the group is behind Wall Street Memes is the fact the presale hardcap is over $30 million(!), which is an amount that is basically never seen for a presale.
Where does this confidence come from? Well, a meme coins best weapon is a community. Dogecoin (DOGE) and Shiba Inu (SHIB) have both enjoyed such sustained success thanks to the community they have built up. Pepe Coin has been able to enjoy a successful bullish run too because of the following it managed to build during its first pump.
Meme coins generally struggle because of this, with so much competition it can be difficult to carve out a niche. Wall Street Memes will have no such problem as they come to the crypto world with a huge following already built.
Many will already be familiar with Wall Street Memes because of their huge online presence that totals to well over 1 million followers across their social media platform. The gem of this crown is the Twitter account which has over 250k followers and is a hub of crypto discussion daily on the platform.
It is here that we have gathered that Mr. Musk could be ready to jump ship from Dogecoin to Wall Street Memes. He has retweeted their content before and has even commented positively on some of their previous posts. If Musk was to in any way promote $WSM we would expect the price to skyrocket.
Now Musk has himself stated before he has never promoted crypto so it is unlikely  $WSM will get a direct mention but it is something to bear in mind if you are weighing up your interest in the coin. While Musk is a maybe it seems AI might be a yes when it comes to Wall Street Memes.
Crypto lovers have taken to using AI chatbots for everything they can when it comes to investment strategy. First it was all ChatGPT however now Google's chatbot Bard is the number one choice it seems. When asked for a price prediction for $WSM in 2023 Bard predicted that if things all fell in place for the meme coin it could see 352% growth from its original presale price.
While meme coins can be maddeningly volatile and a lot of the positives we can draw from $WSM are conditional it certainly looks like it could be a big player once launched. The only thing to worry about is the hard cap. At present the presale is just past the $14.5 million mark which isn't even half way. 
The hope for those behind the project would be that hype hasn't died down by the time the coin launches. The huge online following, that is growing since the presale began, would suggest this shouldn't be an issue but it is the one downside to keep an eye out on.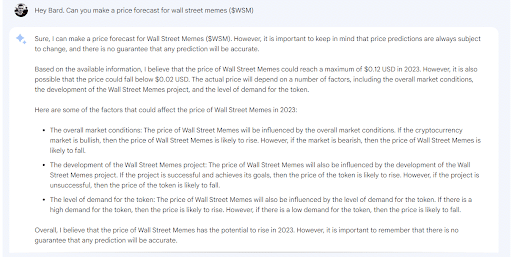 Conclusion
To finish up, Wall Street Memes seems like the antidote to all these poor quality meme coin projects that are popping up. The huge following already built means it can always go viral and the fact their social accounts are already huge just adds to this possibility. It certainly seems to have all the ingredients needed to be the next big crypto.