In the vast and ever-evolving world of cryptocurrency, many new contenders constantly emerge, vying for attention, credibility, and investment. But, just a few stand out. Among the recent standout names are DogeFarm and Dummy Token, two interesting projects that have quickly exploded to the top of investors' radar.
Both DogeFarm and Dummy Token promise substantial returns on investment and innovative features. Hence, both have captured the imagination of many. Nonetheless, with the crypto market notorious for its volatility and potential risks and scams, it becomes crucial to evaluate coins' legitimacy and investment potential critically.
Here, we will delve into the world of DogeFarm and Dummy Token, unraveling their underlying mechanisms, assessing their merits, and offering insights into whether they could be solid investment opportunities or mere flashes in the pan.
As you embark on this exciting journey through the realm of DogeFarm and Dummy Token, speculation meets reality, and the fate of your investment hangs in the balance.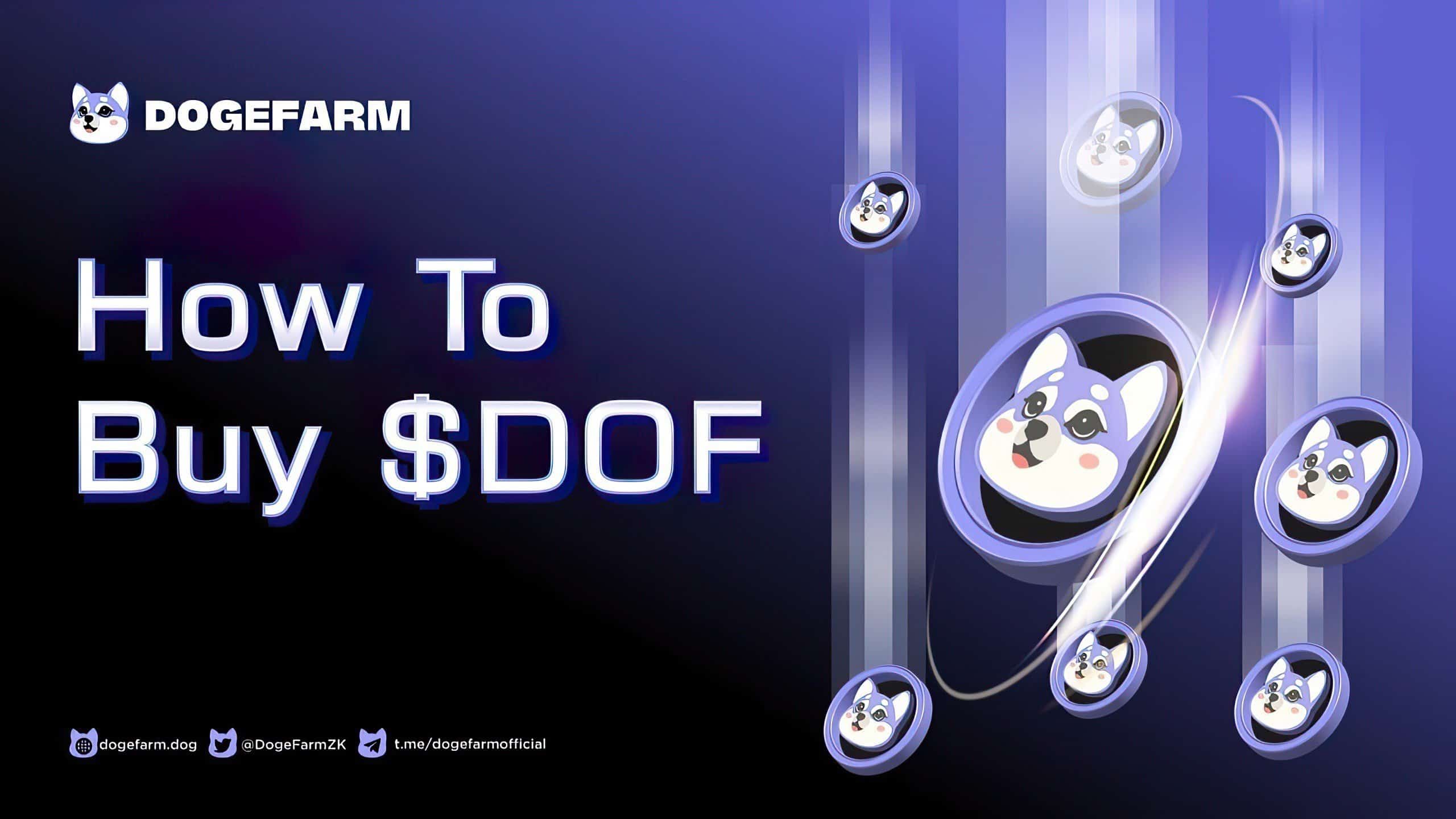 DogeFarm Overview
DogeFarm, a decentralized real yield platform built on zkSync, is significantly redefining the landscape of passive income generation. By harnessing the power of advanced technology, DogeFarm lets "farmers" unlock the potential of their idle assets, yielding a solid stream of passive income with higher APY and lower gas fees.
What makes DogeFarm unique is its hands-off approach, needing no active management from investors.
With an unwavering commitment to offering diverse investment opportunities, DogeFarm integrates many Liquidity Pools (LPs) and Automated Market Makers (AMMs), all backed by thoroughly audited smart contracts. This blending of security and flexibility guarantees that users have many choices while safeguarding their investments.
At DogeFarm, the protection of investors' assets takes precedence, allowing them to invest with confidence and peace of mind.
Doge Farm, the community token #DOGEFARM, emerged from the enthusiastic support and active participation of fans and members within the Shiba Inu community. This experimental token was birthed to foster a collaborative environment where users can engage in various activities and explore new possibilities.
The primary goal of DogeFarm is to bring users from all over the world together. Together you enjoy financial freedom – all through an assortment of memes.
Doge Farm places great emphasis on the promotion of positive thinking and the education of Decentralized Finance (DeFi), recognizing the importance of both aspects in liberating individuals from the traditional 9 to 5 work environment. By encouraging a positive mindset and offering valuable DeFi knowledge, DogeFarm strives to empower users to break free from conventional work structures and explore all newly available opportunities for financial independence.
DogeFarm inspires users to do a lot more than just provide basic value-exchanging services. However, the focus will mostly lay on what the community seems to drive towards.
Dummy Tokens Overview
On June 1st, 2023, the Ethereum-based ERC-20 token called DUMMY was introduced. In its early days, the value of the DUMMY coin recorded a remarkable surge, witnessing an incredible 200% price rally. Currently, the DUMMY token holds top positions on various market leaderboards, signifying a growing interest from buyers in this specific token.
The DUMMY token has positioned itself strategically as "the ultimate no utility meme coin," embracing its lack of practicality. Interestingly, despite this self-proclaimed status, the DUMMY token's website announces the presence of a vibrant economy surrounding the coin.
This community that has formed around the DUMMY coin consists of both crypto and NFT enthusiasts, highlighting the assorted interests it has attracted. It serves as a testament to the notion that unusual and unconventional ventures can gain success when embraced by people.
An important takeaway here is that the DUMMY token is a 'meme coin.' But what does that mean?
The term "meme coin" is used in the crypto space to refer to the tokens that enjoy massive support from a huge online community of traders and followers. These coins mostly get their association with renowned memes such as PEPE, Doge, and Chad, which also contributes to their popularity and recognition.
Nevertheless, a majority of the meme coins do not have any intrinsic value and are merely trading instruments. It means that the prices are exclusively based on the value that is put on them by their communities. The same case applies to the DUMMY coin. However, it has gained popularity within the crypto community and its trajectory is set to go upwards.
Though it is a meme coin, the developers have published a solid roadmap which is believed to be among the factors that are helping push its price higher.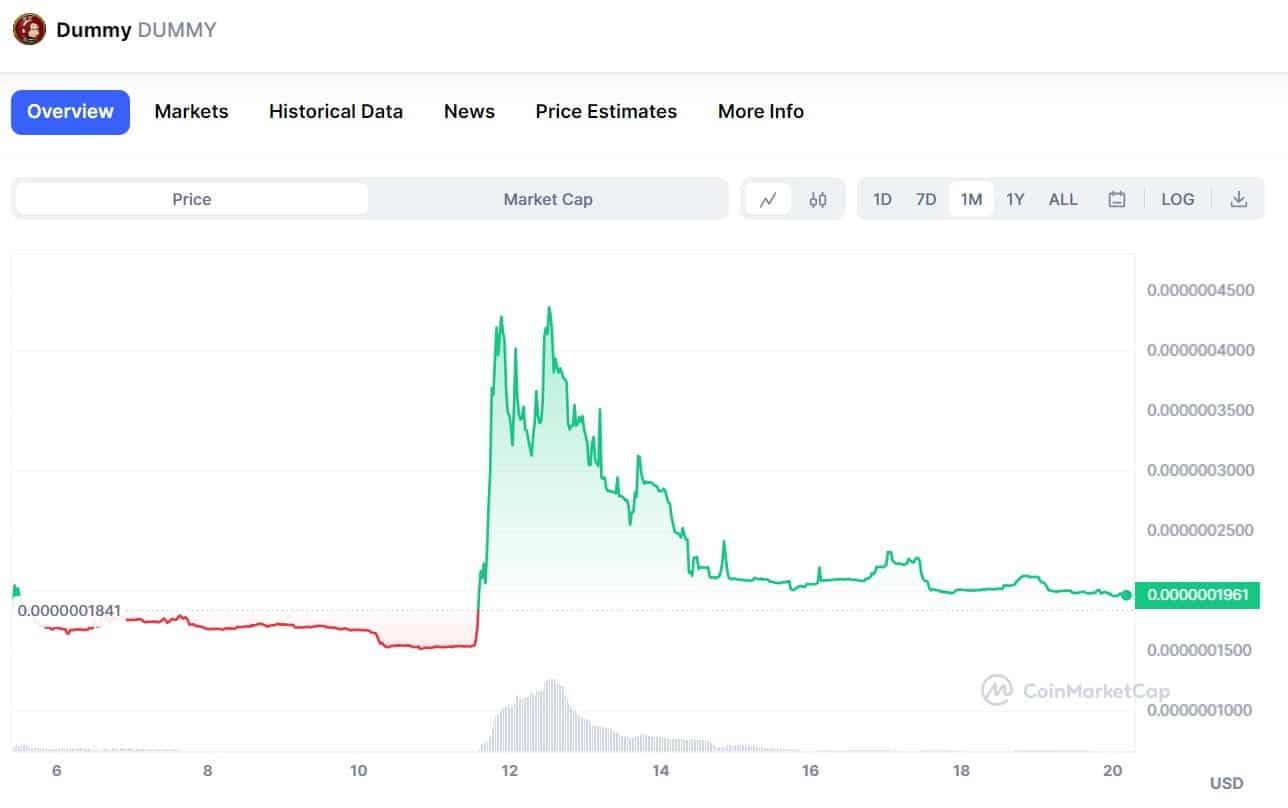 Wall Street Memes ($WSM): The Next Big Thing
Following the incredible successes of coins like DogeFarm and DUMMY tokens, investors are actively looking for the next lucrative investment opportunity. The presale phase of the Wall Street Memes ($WSM) token has attracted massive attention, positioning itself strategically as a possible frontrunner in the market.
With its impressive upside potential and notable traction gained thus far, $WSM is poised to capture the spotlight and attract lots of interest from investors.
Backed by a huge and active community of over one million members, the impact of $WSM in the crypto space has been extraordinary. This project managed to raise a staggering $6 million in two weeks. In that context, the emerging phenomenon has swiftly ascended to the pinnacle, strengthening its position as the most sought-after cryptocurrency presale of 2023, and generating intense excitement within the market.
Investors seem eager to participate in the presale phase before the prices rise further.
What distinguishes $WSM from the many other meme coins is its deep connection to the stock market frenzy, greatly driven by retail investors. Rooted strongly in the meme stock craze, the developers of $WSM understand the integral importance of supporting community engagement.
This understanding creates the backbone of their strategy, setting $WSM apart from other tokens and reflecting a unique interaction between the worlds of memes and stock market dynamics.
Analysts forecast at least 10X gains for $WSM when trading begins, but it might be a conservative estimate seeing the growing enthusiasm around the presale.
Seize this golden opportunity and align yourself with visionary investors ready to ride the upcoming wave of meme coin success. Buy into the $WSM presale now before the prices rise!