The cryptocurrency trading industry is known for its rapid pace, with new tokens and coins frequently emerging and quickly rising in value within days or even hours. One of these tokens that have recently gained traction among traders is Dash 2 Trade (D2T), which has seen a remarkable 160% increase in value in a mere 30 days on the widely-used Gate.io exchange.
In this article, we will delve deeper into the project and try to understand what has led to its impressive growth in value. We will examine the technology behind it, its features, potential use cases, as well as the current state of the market. By doing so, we hope to provide readers with a better understanding of this exciting new token and its potential in the rapidly evolving world of cryptocurrency trading.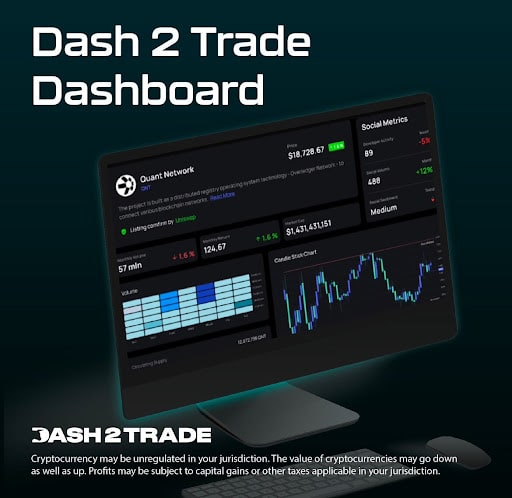 Dash 2 Trade (D2T) and its Concept
Smart traders depend on timely analytical instruments and knowledge to make wise trading choices. Obtaining a comprehensive market view is challenging without those insights, making it tough to spot profitable prospects.
Tools and information like this have been available for years in traditional stock market investing, for instance, even before the widespread use of smartphones. Sadly, those systems and tools have yet to be able to adapt to the cryptocurrency market, forcing cryptocurrency investors to struggle to make wise investment decisions using fragmented methods and tools.
But things have changed with the advent of Dash 2 Trade (D2T), a top-notch cryptocurrency analytics and social trading platform that simplifies the process for investors to make informed decisions in the crypto world, similar to the ones they've been making in traditional investing for several years now.
Uses of Dash 2 Trade (D2T)
As with any cryptocurrency project that focuses on utility, Dash 2 Trade has numerous applications. Below are some of the project's use cases
Discovering new crypto presales
Dash 2 Trade has a fascinating feature that assists users in identifying new coin offerings and ongoing presale for investment. With this tool, users can invest with complete confidence because the platform furnishes all the essential knowledge, analysis, and fact checking on new projects and assigns a score depending on various parameters.
Crypto Trading Signals
The platform offers excellent tools and features to assist traders become more reliable and profitable, making them feel at ease on the platform. The platform offers expert-level market models, including moving averages and order book statistics, as well as automated trading APIs and a back-tester that enables the testing of ideas and techniques in real-world scenarios without risking any money.
Furthermore, traders can discuss thoughts and techniques using social trading capabilities and special Discord groups. A Learn to Earn academy is available for beginners where they may improve their trading abilities and gain D2T tokens. There are also copy trading tools, notifications on new exchange listings, and other features.
On-Chain Analytics
Every investor strives to make the right trading decisions, but achieving this is challenging. Fortunately, Dash 2 Trade's wide range of on and off-chain data may considerably enhance decision-making, curbing losses and amplifying profits.
Additionally, with narrative and perception influencing price as much as technical facts, the platform monitors social media sites, evaluates on-chain activity, and follows whale wallet activities to aid its users recognize and capitalize on market trends.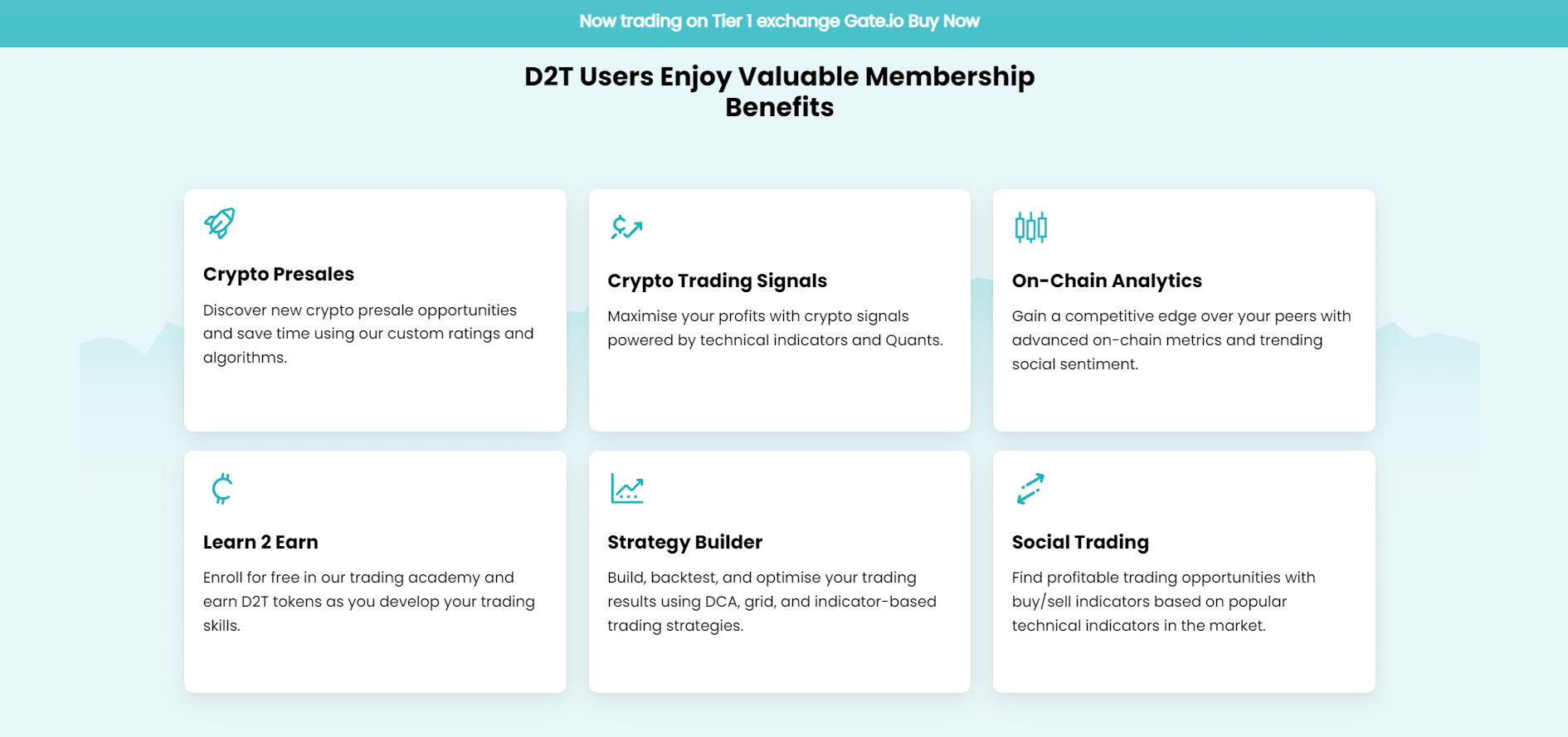 What Factors Determine the Value of Dash 2 Trade?
To understand the value of Dash 2 Trade, it is essential to consider the factors that determine its price, which can vary depending on the;
Supply and Demand
The supply and demand factors affect the value of almost every financial asset. Nevertheless, because D2T has a fixed supply of 1 billion tokens which are utilized to subscribe for the platform's membership, natural demand greatly magnifies the effects of supply and demand.
Community
The community has a significant impact on Dash 2 Trade token value. Demand for the D2T token will increase as the project becomes more well-known and has a larger user base, raising the asset's value.
Fundamental Value
Utility has a significant impact on asset value, and regardless of market performance, projects that can address real problems are frequently in great demand. Compared to most cryptocurrencies, Dash 2 Trade places a stronger emphasis on usefulness and fundamental value by emphasizing the provision of useful tools and measurements to its users.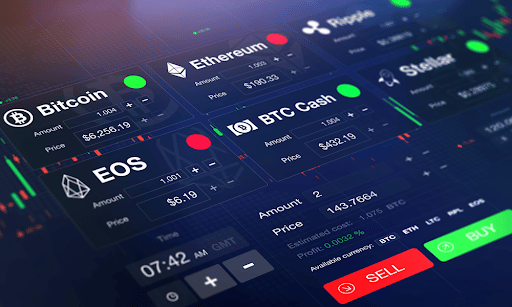 How to Buy Dash 2 Trade on Gate.io
For those interested in joining the D2T token trend and taking advantage of its potential for gains in the coming months, purchasing the token on Gate.io is an excellent option. Below, we will provide a step-by-step guide on how to purchase D2T on the exchange.
Step 1 – Create an Account on Gate.io
Creating an exchange account is the first step to purchasing D2T on Gate.io. This process is straightforward and requires minimal information. Visit the Gate.io website and click on the "Sign Up" button in the screen's top right corner. Follow the prompts to create an account by providing an email address, password, and other required information.
Step 2 – Complete KYC & Security Verification
After creating an account on Gate.io, the next step is to complete the KYC (Know Your Customer) and security verification process. This process is necessary to ensure the platform complies with global regulations and safeguards users' funds and personal information. You will provide personal information such as your name, date of birth, and address, and also upload a government-issued ID, such as a passport or driver's license.
Step 3 – Select your Preferred Payment Method
Once you have completed the KYC and security verification process on Gate.io, the next step is to select your preferred payment method. To purchase the desired amount of the D2T token, enter the quantity you want to buy using any currency in your wallet, and the transaction will be executed promptly.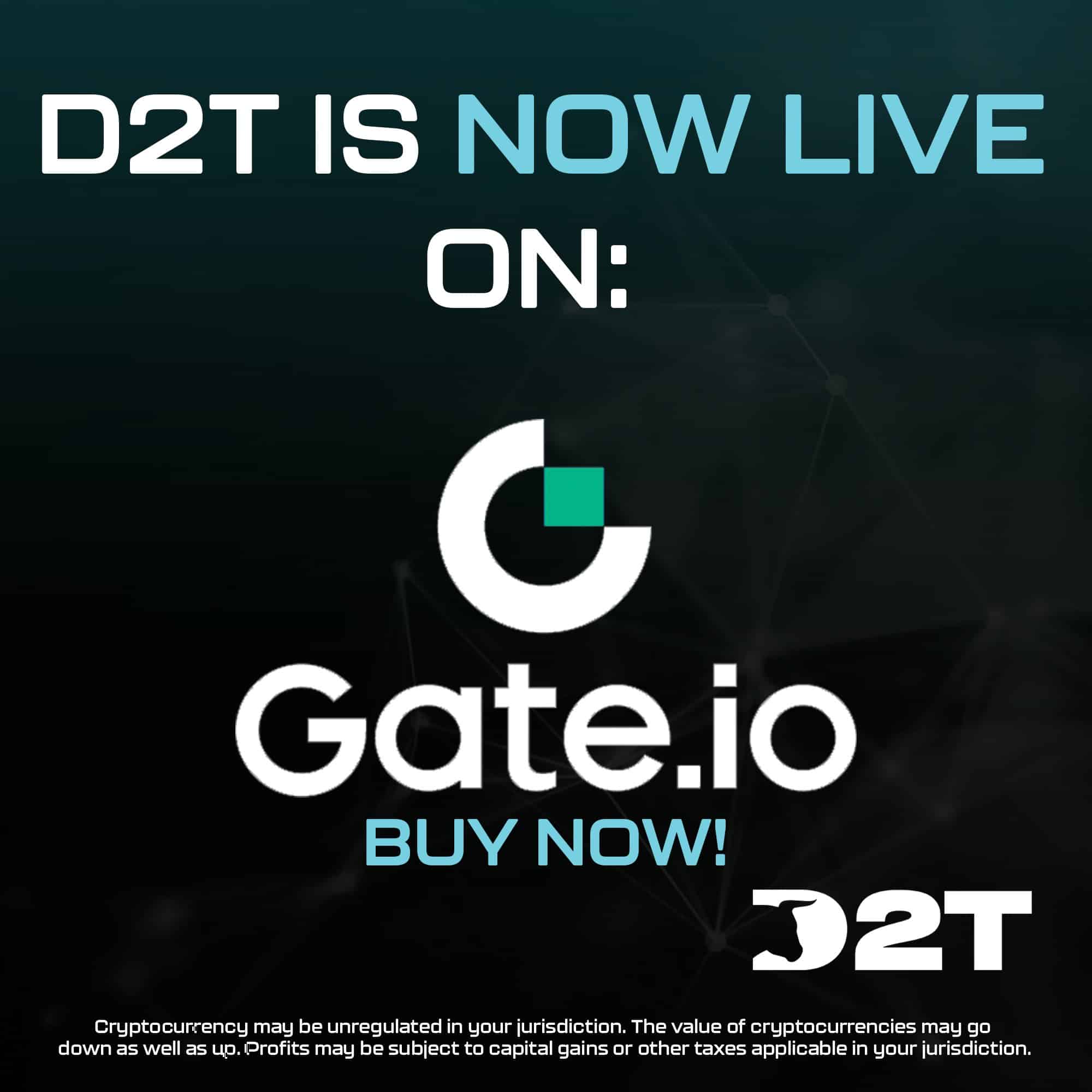 Conclusion
With all the features and tools that Dash 2 Trade (D2T) offers, it's not surprising that the token has recently seen a massive surge in value. Its focus on utility and intrinsic value is more significant than most cryptocurrencies, making it a top choice for investors. If you're looking to invest in a promising token with massive potential for growth, D2T on Gate.io is an excellent option to consider. Don't wait any longer; invest in D2T today and take advantage of all the opportunities it offers.