Crypto signal groups have become epicenters of predictions and insights in the crypto world. One such influential group is the Crypto Whale Pumps. This group has recently made waves by forecasting Ethereum's potential rise to $2,000 by 2024. Given their history of accurate predictions, this projection is garnering substantial attention within the crypto community.
But there's another crypto called Bitcoin Minetrix ($BTCMTX), which is generating quite a buzz with its unique Stake-to-Mine concept. Interestingly, even Crypto Whale Pumps is showing bullish sentiments toward this coin. The BTCMTX presale has recently kicked off, and it's off to a roaring start, having already gathered over $150K in a relatively short period. But before we delve deeper into this, let's take a moment to explore the Ethereum predictions.
Crypto Whale Pumps Signals Optimism – Ethereum's Path to Recovery Anticipated
Ethereum (ETH) has seen its fair share of ups and downs. Currently trading at just over $1,500, it's quite a drop from its all-time high of nearly $4,800 back in November 2021. But don't count it out just yet; there are some intriguing signs that ETH might be gearing up for a comeback.
Crypto Whale Pumps, a Telegram crypto signal group with almost 25,000 followers, is pretty optimistic about ETH's prospects. They see strong fundamentals and unique utility in Ethereum that could lead to some significant gains in 2024. Why? Well, it's all about the highly anticipated Dencun upgrade.
Dencun, set to roll out soon, is expected to do wonders for Ethereum's scalability and efficiency. It's planning to introduce proto-dank sharding through EIP-4844, allowing off-chain data storage and faster, cost-effective transactions. This kind of upgrade is a game-changer and could reignite interest in Ethereum.
If Dencun lives up to its promises and delivers the expected performance boost, we could see more developers, users, and even institutional investment flocking back to Ethereum. And with ETH's current price at around $1,500, it wouldn't be surprising to see it climb back above the crucial $2,000 in 2024 as adoption picks up steam.
Crypto Whale Pumps looks optimistic about ETH, but they're also pretty bullish on a fresh Bitcoin alternative, which recently started its presale and has gotten tremendous attention. So, let's dive into this coin now.
Bitcoin Minetrix ($BTCMTX) – Redefining Cloud Mining in the Crypto World – Presale Just Started
Bitcoin Minetrix ($BTCMTX) is a fresh face in the world of cryptocurrencies, and it's making quite a stir. This innovative project presents itself as a decentralized Bitcoin miner, aiming to revolutionize the concept of cloud mining by emphasizing security and transparency.
What's it all about? Well, for those eager to jump on board, you can acquire BTCMTX, the native token of this project. This token serves as your ticket to a secure and transparent Bitcoin cloud mining platform.
What sets Bitcoin Minetrix apart is it's tackling a pressing issue in the crypto world – the risks associated with third-party cloud mining. By doing so, it aims to empower token holders, giving them greater control over their mining endeavors.
Cloud mining Bitcoin offers several advantages, including easy entry, cost-effectiveness, no need for physical space or dealing with noise, and no worries about reselling equipment.
Interestingly, the Crypto Whale Pumps Telegram group is buzzing with optimism about this project, even going as far as to say that it could completely transform the mining landscape.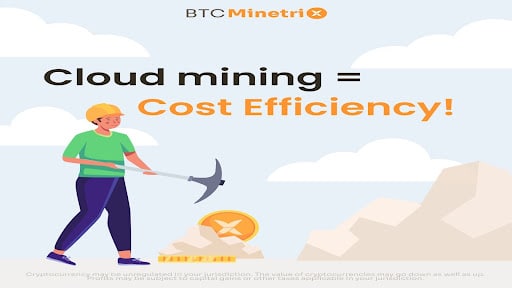 Unlock Bitcoin Mining with $BTCMTX's Innovative Staking – Presale Selling Fast
Bitcoin Minetrix's ($BTCMTX) main idea revolves around its innovative staking model. Here's how it works: when you stake BTCMTX tokens, you receive non-tradable credits in proportion to your staked amount. These credits grant you access to cloud mining power, essentially allowing you to mine Bitcoin without the need for expensive hardware. This "Stake-to-Mine" concept is the game-changer. 
The beauty of this model is that it encourages users to hold onto their BTCMTX tokens. The more you stake, the higher your mining rewards, and it contributes to greater mining power for all participants. Your staking size directly impacts your mining capability, and you can manage everything through a user-friendly dashboard.
With the global crypto mining market poised for significant growth, Crypto Whale Pumps sees Bitcoin Minetrix as well-positioned to ride this wave, and its presale will sell out soon. Their staking-based mining innovation is the linchpin to the project's success, making mining accessible, rewarding, and user-friendly for all.
BTCMTX Presale – Grab Bitcoin Mining Opportunities at Just $0.011
BTCMTX's presale phase is off to a roaring start, having already raised over $150K toward its $3,080,000 hard cap target. During this phase, you can snag these tokens at a discounted rate of just $0.011 per token.
The exciting part is by holding these tokens; you could potentially enjoy substantial returns. Right now, it offers an impressive annual staking reward of 6925%, and currently, more than 6 million $BTCMTX tokens have already been staked.
Here's a crucial tip: early adoption could be a smart move. As more people stake their tokens, that attractive return rate might decrease, so it's wise to get in while the getting's good.
In terms of tokenomics, there's a total of four billion BTCMTX tokens in play. A significant chunk, approximately 42.5%, is dedicated to funding Bitcoin mining operations, ensuring the platform's sustainability. Another 35% is allocated to marketing efforts, 15% for community rewards, and 7.5% for staking rewards.
Apart from Crypto Whale Pumps group, prominent crypto influencer Jacob Crypto Bury has also endorsed BTCMTX as a prime crypto investment with the potential for massive 10X growth. With all this buzz, BTCMTX is definitely one you shouldn't miss.
Conclusion
Crypto Whale Pumps is painting an optimistic picture for Ethereum, foreseeing a rise to $2,000 by 2024 due to the game-changing Dencun upgrade. But they're even more enthusiastic about Bitcoin Minetrix. With its groundbreaking Stake-to-Mine concept, it's redefining cloud mining. The BTCMTX presale is already heating up, and early adopters are poised for substantial returns with an annual staking reward of 6925%. Don't miss out on the crypto revolution – join the BTCMTX journey now!