The market as a whole has enjoyed a very positive first two and a half quarters of 2023. Of course, as with any risk market, the arrow isn't always going to be pointing up. We are currently going through one of those rougher patches where in general most of the projects on the market are seeing their price drop.
What is a little more worrying is that the negative volatility seems to have caught up with the meme coin sector of the market. Since Pepe Coin meme coins have been trending upwards but in the last couple of days some of the biggest meme coins have taken a hit. However, the light at the end of the tunnel may be Sonik Coin (SONIK).
To paraphrase Rudyard Kipling while all the projects around Sonik Coin seem to be losing their heads it instead goes from strength to strength. The presale raised over $100k in just 48 hours and is on track to sell out in just a matter of weeks.
Before going deeper into what makes Sonik Coin such a fascinating presale let's first look at what is happening in the meme coin market.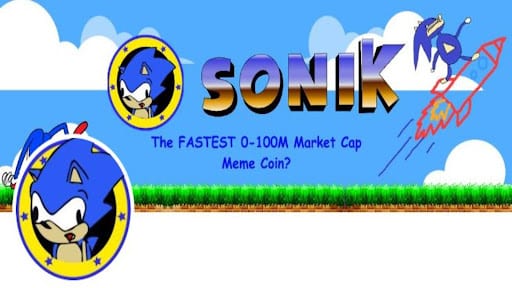 Major meme coins suffer big losses 
The below is just one example of what is happening to the major meme coins right now. This is Dogecoin (DOGE), the number one ranked meme coin, but if you were to look at Shiba Inu (SHIB) or Pepe Coin (PEPE) they nearly have identical charts.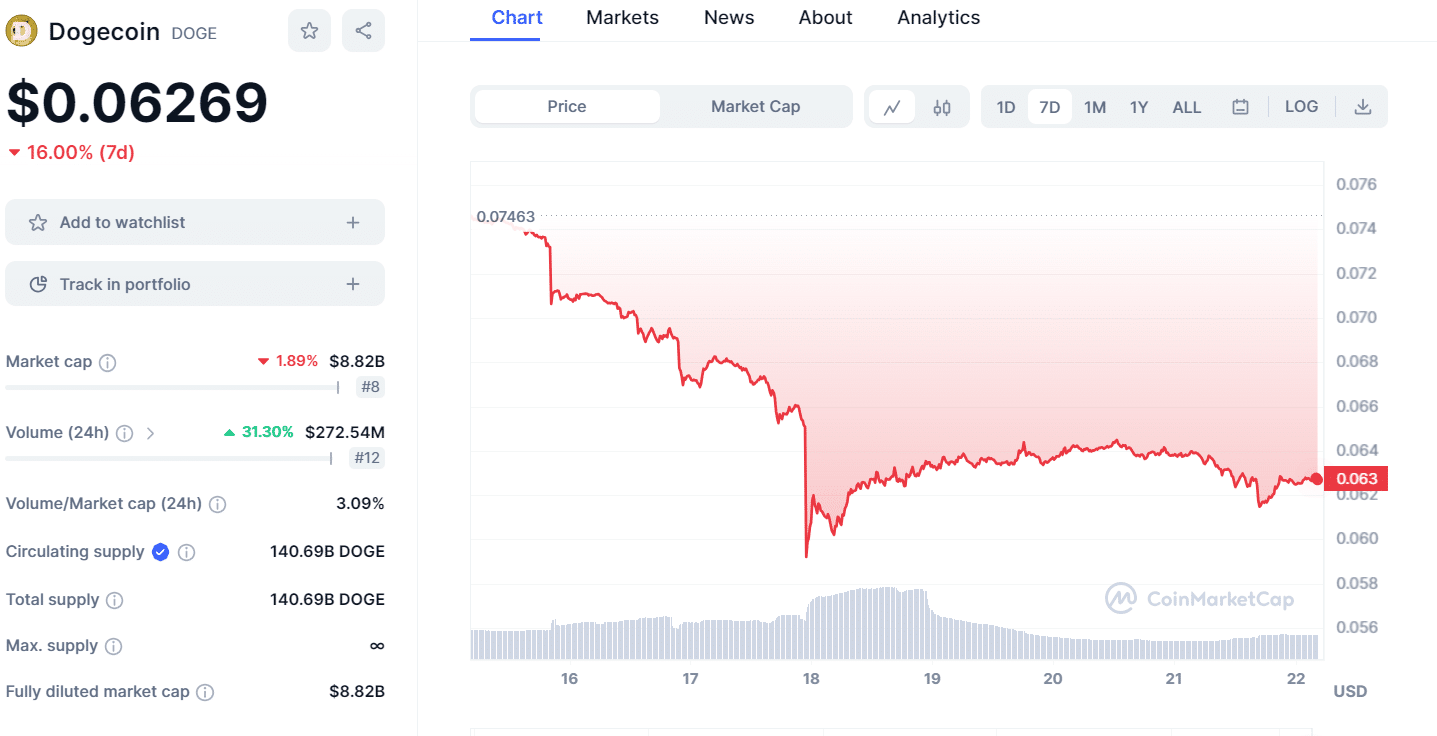 The above chart just shows the last 7 day performance but it is very worrying for the top meme coins. On the 18th of August the two biggest cryptocurrencies Bitcoin (BTC) and Ethereum (ETH) hit two month lows which was terrible news for any traders with hedged positions as they were liquidated. If you lost any money in this, consider the one trader who lost $55.9 million before feeling too sorry for yourself.
While this did have an effect on the meme coins, see the last steep drop from the $0.66 mark, the price had been falling steeply for the last few days before that. While all of them will likely recover at least a small bit due to market correction we need to consider the above. While major meme coins were affected by the BTC and ETC bloodbath things were bleak even before that.
Investors looking to buy the dip should consider this when investing in Dogecoin, Shiba Inu, or Pepe Coin. While they may bounce back a little we may have to wait until the market recovers before they really recover. Luckily there is a presale that is succeeding despite this rough time for meme coins.
Let's look at what makes it so appealing.
Sonik Coin- Aims to be the fastest crypto to a $100 million market cap
So while all the major meme coins are failing, Sonik Coin (SONIK) has raised over $100 k in 48 hours, but why? Are investors still backing this meme coin when the ones already listed are failing? The answer is innovation. Sonik Coin is a meme coin project with a difference.
One part meme coin, one part utility coin, SONIK is a perfect mix of the funny and the serious. Let's start with the funny. Sonik Coin, as you have guessed, is based on SEGA's mega-popular character Sonic the Hedgehog, however there is one big difference.
While they are both incredibly fast, SONIK may be a little slower when it comes to other facets of his character, just read the slogan on the companies site and we are sure you'll get what we mean- 'Sonik is a speedy lil' bastard. Pro'lly a hedgehog? A speshul boi, obsessed with becoming the Fastest 0-100M MC meme coin'
While based on Sonic the character is still an original creation as you can see by all the fun illustrations and memes already on the site. We think this blend of humor is a proven winning token within the meme coin market but alone would not allow it to become the fastest meme coin to a $100 million market cap.
This is where the serious part comes in and the Tokenomics to be precise. SONIK, like his inspiration, is thought to run at the speed of light (299,792,458,000 m/s) and this is exactly what the total token supply will be too. The breakdown is; 50% for the presale, 10% for liquidation once CEX listings begin, and a massive 40% for staking.
A very new but successful trend is adding staking to coin projects that would not have before had such a system. For example, the new '20' trend has been very successful in doing this, these projects take a crypto giant and pick a place in time when its price was the most affordable and launch their coin at that price but they also add staking.
BTC20 (BTC20) a bitcoin inspired coin did this and pumped by 6x the immediately after being listed. We actually think because it's a meme coin Sonik Coin can hope to outperform this by quite a lot. The volatility of the market added with the virality it will get from its fun character should be a great combo.
Investors have already started staking millions of coins but the APY is still very high so potential investors will be lured in by this. The presale total is set at the relatively low figure of $2,098,547 and the presale ticker is going up by the thousands even as I type so interested parties should act fast.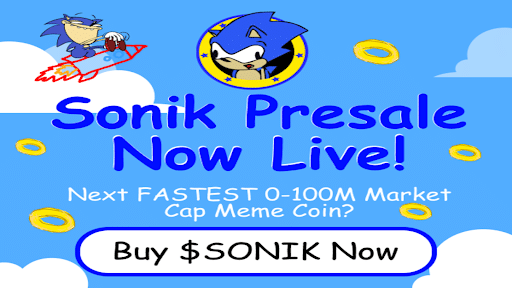 Conclusion
So we leave you with this, although the major meme coins have taken a serious hit in their price there is still a lot of hope for the sector and one example of that is Sonik Coin. The meme coin is the perfect mix of inspiration and originality on the meme side with a hearty dose of utility mixed in to ensure more security and a passive income for investors. A winning formula for sure!