Only hours before the completion of its presale, C+Charge (CCHG), an eco-friendly cryptocurrency platform, received $3.4 million in funding from Pixia.ai, a self-scanning NFT development platform. With this sizable investment, C+Charge will improve its platform, which aims to lower carbon emissions and advance sustainable energy usage in the cryptocurrency sector.
Considering the timing of this investment is essential because it occurs right before the end of CCHG's presale and is a substantial affirmation of the platform's potential. With the money raised, C+Charge will be able to improve and develop its platform and provide an alternative response to the environmental problems that cryptocurrency poses.
In this article, we will go into the specifics of the investment and explain what it means for C+Charge and its investors. We will examine how this investment might affect the advancement of C+Charge's eco-friendly crypto platform.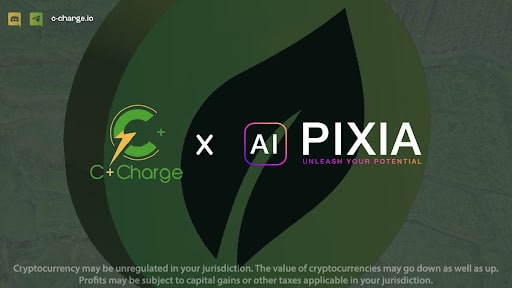 C+Charge and Pixia Partnership – What does it mean?
C+Charge is providing EV owners with the exceptional ability to generate 3D NFT representations of their vehicles through cooperation with Pixia technology. The recently formed agreement offers more advantages to owners of the C+Charge utility token, CCHG, and further solidifies the project's position as a market leader in the EV-focused cryptocurrency field.
C+Charge – Every to know about this eco-friendly crypto platform 
Built on blockchain technology, C+Charge is a peer-to-peer (P2P) payment system for EV charging stations that promotes alternative approaches to lowering pollution and keeping a clean, healthy environment. The main goal of C+Charge is to make it possible for drivers to use the native CCHG token to pay for charging electric vehicles at EV charging stations worldwide.
To pinpoint the primary flaws in the current EV system, C+Charge assembled a group of committed professionals. The primary flaws of the current system have been identified as a need for more transparency, regulations, payment options, and incentives for EV users. C+Charge seeks to solve all current issues and advance the industry by collaborating with the top companies in the EV space.
C+Charge (CCHG) Token
CCHG is the native token of the C+Charge platform, designed to reduce carbon emissions and promote sustainable energy practices in the cryptocurrency industry. Built on the Ethereum blockchain, CCHG is a token that serves as the primary means of payment on the platform.
The presale for CCHG began on December 25, 2022, and has already raised more than $3.5 million in funding. The token has real-world utility, as users can earn rewards in the form of carbon credits simply by saving their tokens. Additionally, the platform uses smart contracts to facilitate payments, ensuring customers can access their funds after performing tasks such as driving.
Experts forecast that CCHG has the potential to increase massively, as it will be listed on BitMart once the presale is over. As the presale nears its end, investor interest in CCHG is rising, with many keen to get involved in this innovative and eco-friendly cryptocurrency platform.
CCHG BitMart Listing
On March 31, CCHG is scheduled to list on the BitMart cryptocurrency exchange. Early token buyers, who invested at the initial CCHG presale for $0.013, are now benefiting from an 80% gain in value.
Investing in CCHG now, despite the initial price spike, is a smart move to take advantage of the potential for huge gains after it starts trading on cryptocurrency exchanges. According to cryptocurrency analysts, CCHG is projected to give investors a return on investment that is ten times greater than their initial investment.
With more than 9 million users and a daily trading volume of more than $400 million, BitMart is one of the biggest cryptocurrency exchanges in the world and ranks in the top 30 cryptocurrency exchanges globally. CCHG is sure to maximize its time on BitMart and goes on to be listed on major platforms by building a solid community, enhancing visibility, ensuring compliance, and partnering with reputable eco-friendly organizations.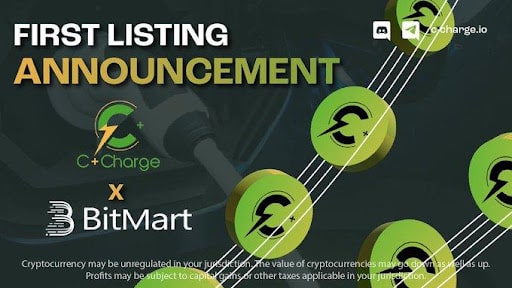 How to Invest in the C+Charge Presale 
As the C+Charge presale enters its final stage, investing in CCHG tokens is an opportunity to participate in a cutting-edge blockchain project. This section provides a simple four-step guide on buying CCHG and securing them in your wallet.
Step 1: Set up a crypto wallet
Traders that use mobile devices are advised by the C+Charge platform to use TrustWallet. Traders using a computer, however, are advised to use MetaMask. To increase security after setting up the wallet, creating a reliable, strong password is also advisable.
Step 2: Purchase ETH, BNB or USDT 
The cryptocurrencies ETH, BNB, or USDT must be used to buy CCHG tokens. Because the ecosystem explicitly supports these coins, they can be used to buy other cryptocurrencies. As a result, purchasing a C+Charge token requires first obtaining one of the mentioned cryptocurrencies. To quickly purchase additional crypto tokens, such as the C+Charge token, an investor with BTC can trade their coin for USDT.
Step 3: Connect your preferred wallet to the presale website 
Visit the C+Charge platform's official website, and then choose the "connect wallet" option to complete this quick and easy process. You will be given further information and prompted to select between TrustWallet and MetaMask.
Step 4: Purchase the tokens
An order box will be made available after the wallet is connected to the website and the connection has been made. Enter the total number of tokens you wish to buy, then contact the provider of your crypto wallet to confirm the transaction. There must be a minimum purchase of 1000 CCHG tokens.
How to claim your CCHG tokens 
Tokens purchased in the presale phase cannot be utilized immediately as they still need to be created. A Token Generation Event will occur following the completion of the presale stage to claim the tokens bought during the presale. During this event, the tokens will be generated and ready for claiming. Individuals can visit the C+Charge website to claim the tokens.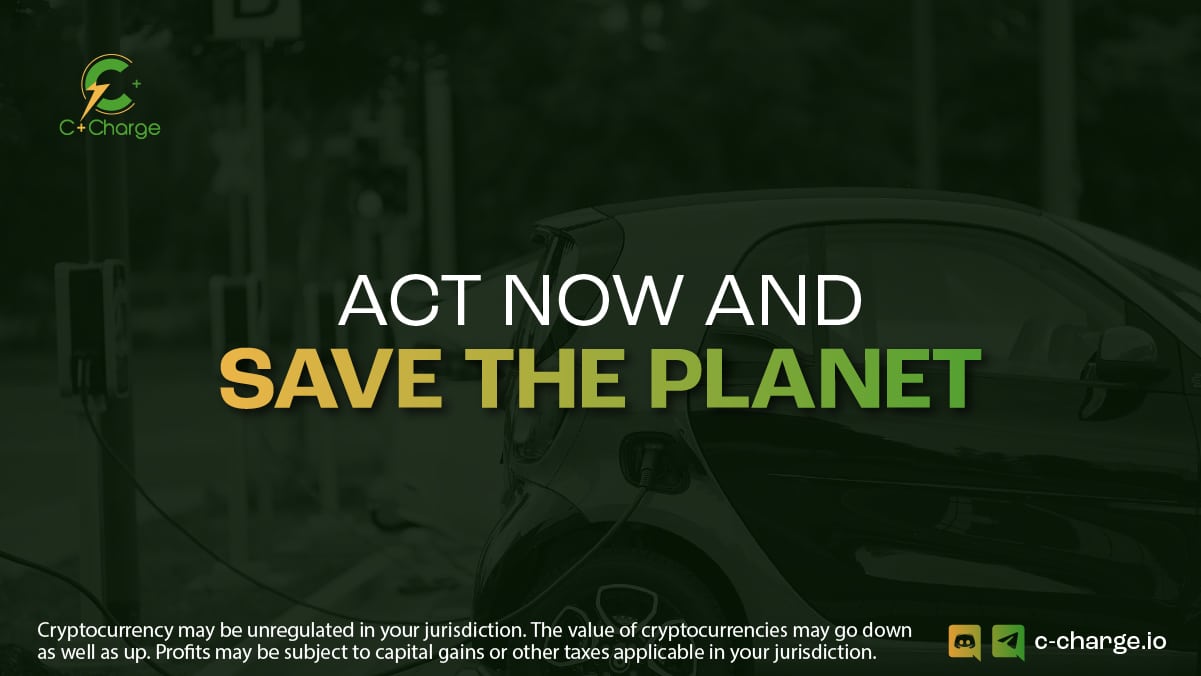 Conclusion 
The countdown to the end of C+Charge's presale is rapidly approaching, making it the perfect time to join this eco-friendly cryptocurrency platform. With a recent investment of $3.4 million from Pixia.ai, C+Charge is poised to significantly impact the cryptocurrency industry by reducing carbon emissions and promoting sustainable energy usage.
Furthermore, with the BitMart listing approaching, now is the ideal time to get involved with C+Charge and its vision for a cleaner, healthier future. Invest in the C+Charge presale today!