The crypto industry as a whole has started to go green, and not before time. There is a perception from outside the market that crypto is bad for the environment and it has definitely hurt its chances of being legitimized as a currency within the minds of the everyday person.
The problem is a lot of these perceptions were very accurate. Mining crypto is very bad for the environment as data centers use up so much electricity. Crypto miners came under a lot of pressure in the last few years to find alternative ways to work, thankfully the industry has responded positively and is moving with the times.
There are a lot of great examples currently in the industry of organizations trying to get the crypto market to go greener. The Crypto Climate Accord, for example, is a group of companies striving towards getting the industry to achieve net-zero emissions by the year 2023. Then we have Hive Blockchain who are a crypto mining company from Canada who are only using renewable energy to mine Ethereum. They use hydropower for their mining centers in the north of Sweden, the great thing is the power they use is a surplus that none of the surrounding houses or businesses need.
With all this being said the proof of work model still makes crypto very taxing energy wise and countries like China have banned mining completely. There are spokespeople for environmental agencies still saying that renewable energies should be used for the development of electric vehicles. So what if they could do both?
This is where C+Charge (CCHG) comes in. It is the latest green crypto to take the market by storm with its incredibly successful presale and it is going to help revolutionize the electric vehicle (EV) industry.
5 reasons to buy C+Charge before it's presale ends 
One of the hottest presales on the market 
C+Charge (CCHG) is one of the hottest presales on the market right now. There had been a lot of buzz around the project when it first launched but once we reached the halfway point it really started to take off. C+Charge started to burn tokens, which of course increased the worth of the remaining tokens and from there things really started to take off. 
The presale currently has raised over $3.2 million and potential investors still have a chance to get involved at a low price that likely won't be available once it is listed on exchanges. Plus as an added bonus 1 person will have the chance to win $300 worth of CCHG and the first 200 people to submit their wallet address via the new C+Charge app will be airdropped CCHG tokens.
The chance to earn carbon credits 
Carbon credits are already a billion dollar industry and are predicted to turn into a trillion dollar one in the near future. The problem is, like most industries that are worth so much, that it is mostly dominated by huge corporations. 
That is the great thing about C+Charge: it is rewarding EV drivers for doing their bit to help the environment by giving them carbon credits. How it works is drivers will pay for topping up their EVs at a charging station using CCHG and be rewarded with carbon credits in the form of NFTs. These credits can be stored or sold on the open market.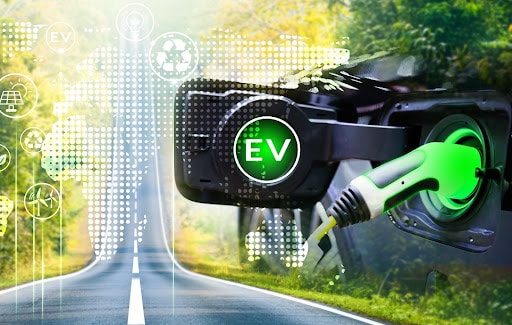 Peer-to-peer payment system
C+charge is doing a lot more than just rewarding EV drivers with carbon credits. They have pinpointed many problems with the charging stations infrastructure that drivers have to put up with and they wish to make life easier for them. 
One such problem is paying at charging stations. As they tend to be run by local municipalities, charging stations have no consistent pricing or payment consistency. So, drivers could arrive at a charging station with very little power and it could turn out their choice of payment isn't accepted at the station. The peer-to-peer payment system will eliminate this hassle as drivers will be able to pay directly from their crypto wallet.
The C+Charge app.
Second to the carbon credit reward system we think the C+Charge app could be the other main factor that convinces regular gas guzzlers to make the change to a more sustainable form of driving. The app is designed to make EV drivers' lives much easier with lots of cool features.
What EV drivers will most look forward to using is the live map that comes with it. This will show drivers where their nearest charging station is when they are traveling so they no longer need to fear running out of power in an unfamiliar area. Another very handy feature is a tool that notifies drivers when their car needs a service or when parts need to be replaced.
A Bright Future 
C+Charge has already made some great steps forward to give them the chance to break into as many markets as possible, for example they just announced a partnership with 'The Recharge' who are based in South Korea. This is great for the future of C+Charge as it will open up South Korea's charging station market for them. 
This is just the latest partnership off the back of many other exciting ones like Flowcarbon and Phihong. What it indicates is the project's commitment to keep growing and there will likely be more announcements soon after the CEX listings next week.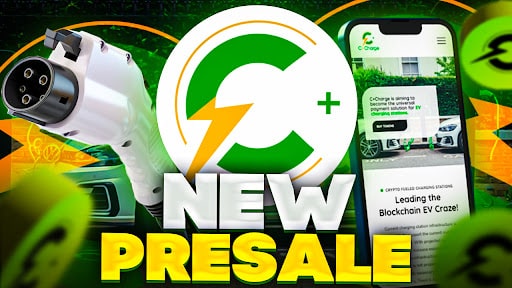 Buy C+Charge Now!
Conclusion
Environmental practices are certainly the way of the future so cryptos that implement them are sure to be successful. C+Charge does this but also their whole project is forward thinking, which is sure to win over even the staunchest environmentalists.
The coin is entering its last few days of presale and looks like it is really set to explode once it hits the exchanges. There is still time to get involved at a low-low price and we think we have given you more than enough reasons to ensure you C+Charge will be one of the hottest cryptos of 2023.