C+Charge is a new environmentally friendly cryptocurrency project that offers big rewards to electric vehicle drivers.
Since its announcement, the project has gained significant attention and has raised over $1 million in funding.
Considering how big of a success the project has been so far, the team decided to upgrade the presale system further.
Currently, the project is in its second presale phase, but not for much longer – the next phase is right around the corner. 
Let's go through the details and see what the hype is all about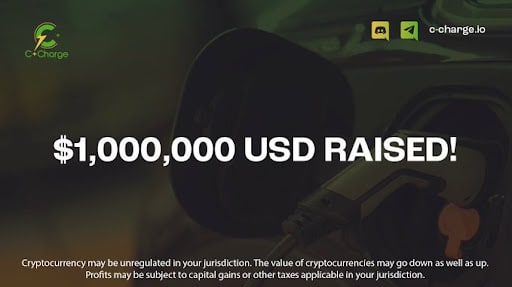 Monetizing EV Charging and Helping Out Drivers
C+Charge started with developers noticing that there is a part missing from the green crypto space with a big potential for profits – EV charging.
Namely, the team wanted to develop a platform that will reward EV drivers for their use of eco-friendly transportation options.
With C+Charge, drivers will be able to charge their electric vehicles at designated charging stations and earn carbon credits while doing it. 
In addition to that, users will be able to pay for their charges much more easily through the state-of-the-art mobile app.
C+Charge is an ideal solution for a world facing the urgent need to reduce carbon emissions and prevent the harmful effects of climate change.
C+Charge's First International Partnership Announced
This blockchain-based EV project has already managed to sign its first big partnership with a giant in the electric industry – Perfect Solutions Turkey. According to the contract, Perfect Solutions will add 20% of all EV chargers in Turkey to the C+Charge network.. 
Massive success considering that CCHG is just entering its third (out of eight) presale stage. We can expect at least a few more tech giants to sign partnerships with C+Charge until It goes live.
Such success was made possible by C+Charge's co-founder, Ryan Fishoff. 
Ryan is the CEO of American Wealth Mining Corporation, a publicly traded company that deals with cryptocurrency, health and wellness, financial education, and eco-friendly investments.
The project has also received a $250,000 investment from 360° Crypto Economy, a venture capital firm. 
The VC investors demonstrate foresight and view C+Charge as a key player in creating a more environmentally sustainable future.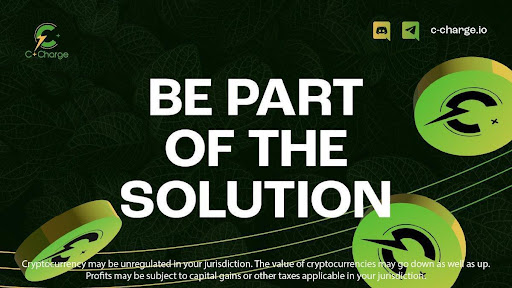 State-of-the-Art Mobile App is On the Way
There are a lot of game-changing features that C+Charge is bringing to the EV charging table. And for this extensive project to function perfectly, there needs to be a singular system that will incorporate all of these features. 
That's where the cutting-edge CCHG app comes into play. 
Users will be able to use this app to find the nearest designated chargers and check out whether there is a big waiting line.
Besides that, the app will be connected to the top-notch diagnostic system that'll be within every CCHG charger. 
By doing this, CCHG will save its users from wasting their time and mileage left, only to find themselves next to a broken charger.
The C+Charge app will feature an integrated cryptocurrency wallet to enable users to monitor all their CCHG tokens. 
Lastly, the carbon credits earned through the app can be converted into non-fungible tokens as part of the new reflections program.
Upgrading From 4 to 8-Stage Presale System
Stage 2 of the 8 total will end with over $1 million collected in funding, with phase 3 starting in less than 2 days.
Media outlets have dubbed C+Charge as the "greenest project of the year" and investors are eager to see the outcome of its plan to democratize the carbon credit market.
With the ever-rising climate change problem, CCHG is providing us with much needed solutions.
The latest update from the C+Charge development team is that they have decided to expand their presale plan from four stages to eight stages due to the massive investors interest in the platform.
The current price of the token is set at $0.0145, that is until phase 2 comes to an end. After that the price will rise to $0.0160 per CCHG. Which translates to 10% return on investments in less than two days!
If you were to invest right now and with current final presale price set at $0.0235 you would gain over 62% of your initial funds invested.
We know that this might be a little confusing put like this, so here's a complete presale table for you to get a better look on how big (or small if you invest late) profits can be.
| | | | | | |
| --- | --- | --- | --- | --- | --- |
| Phase | Price | % of Tokens | Number of Tokens | $ Value | End dates |
| Phase 1 | $0.01300 | 15% | 60,000,000 | 780,000 | 8th Feb |
| Phase 2 | $0.01450 | 15% | 60,000,000 | 870,000 | 15th Feb |
| Phase 3 | $0.01600 | 15% | 60,000,000 | 960,000 | 22nd Feb |
| Phase 4 | $0.01700 | 15% | 60,000,000 | 1,020,000 | 1st March |
| Phase 5 | $0.01800 | 10% | 40,000,000 | 720,000 | 8th March |
| Phase 6 | $0.01900 | 10% | 40,000,000 | 760,000 | 15th March |
| Phase 7 | $0.02000 | 10% | 40,000,000 | 800,000 | 22nd March |
| Phase 8 | $0.02350 | 10% | 40,000,000 | 940,000 | 29th March |
| | | | 400,000,000 | 6,850,000 | |
Initially, the maximum amount of funds to be raised was set on$6.6 million, however due to the large interest the amount was increased to $6.86 million.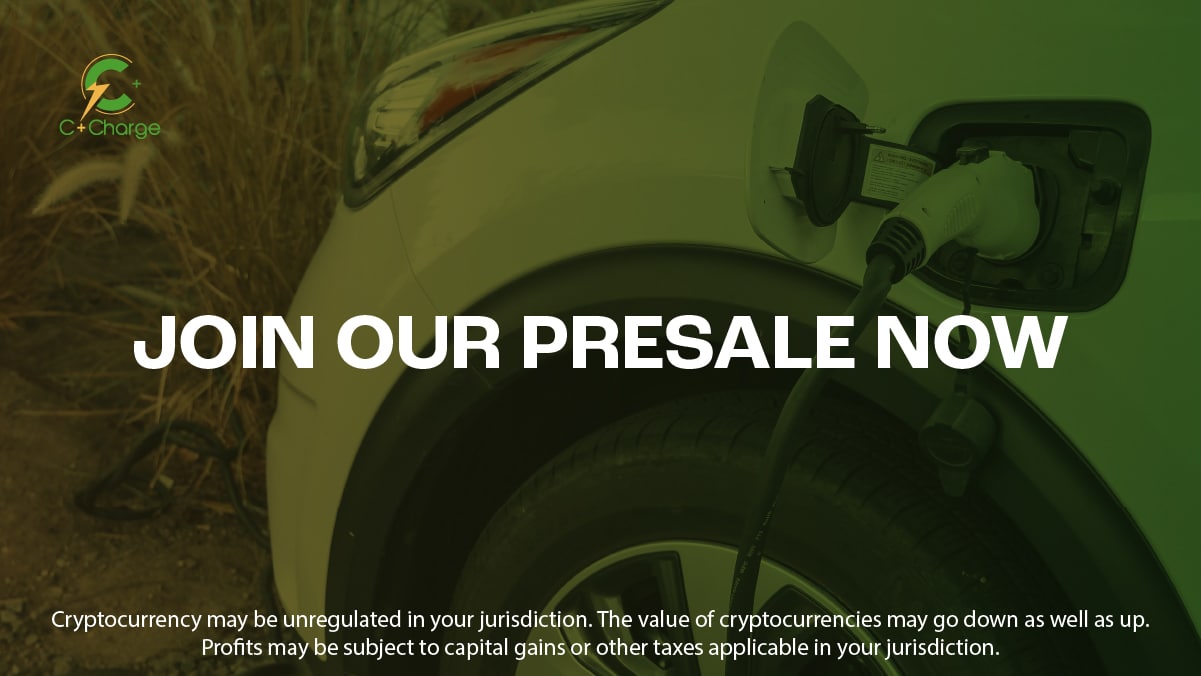 The Conclusion
C+Charge is raising the bar for environmentally conscious cryptocurrencies by democratizing the carbon credit market and filling a significant gap in the electric vehicle industry.
Experienced analysts predict that the project has the potential to experience a growth of 50-60x easily when it gains widespread popularity, making its current pricing even more attractive.
With only two days remaining until the next price increase, there is no time to waste for you to acquire your first batch of CCHG tokens.