Do you want to be heard and to decide on crucial questions? Additionally, are you a fan of meme coins with utility that can bring you rewards?
Then the new vote-2-earn meme project, Love Hate Inu, is for you! The project has just started its presale, raising over $100k during the first day! 
Love Hate Inu is the voting token that allows users to vote in polls, express their opinion and get rewards.
But the project is more than just a voting platform because of its ultimate goal to become a space for people to express their thoughts freely.
The project is already viral on social because of the catchy and shareable character illustrations Love Hate Inu uses. Experts predict the project will have a similar trajectory as other meme coins Dogecoin, Shiba Inu, and Tamadoge, and have a great future. 
This article will cover everything you need to know about Love Hate Inu:
What is Love Hate Inu, and what makes the project unique

Love Hate Inu's native token tokenomics

How to buy LHINU

Why you should invest in Love Hate Inu
So, let's start!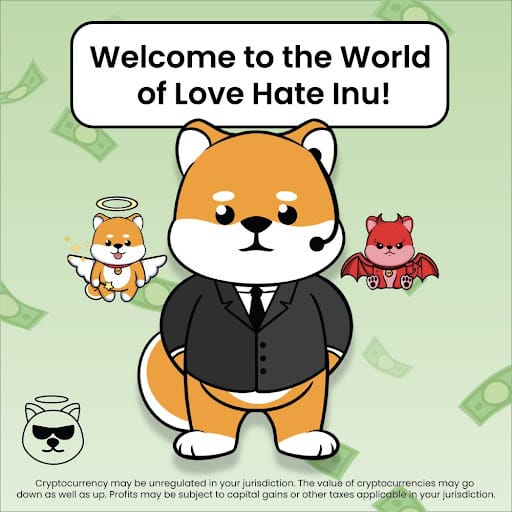 What is Love Hate Inu?
A voting platform where users can earn coins by staking and voting – this is a short summary of everything this new meme vote-2-earn token represents.
The whole project is based on two crucial pillars:
Stake to Vote

– To qualify to vote, users must stake tokens. All users must hold up their coins for at least 30 days to be able to vote to prevent spam and manipulation in the voting process. If they stake tokens for a long time or hold up a higher volume of coins, their voting power will be higher.

Vote to Earn

– Users will earn tokens by voting on the platform. For now, the project creators will set up polls, but with time, users will be able to create the ballots themselves. The voting is anonymous, giving users an opportunity to express their opinions without fear.
Poll creators will fund the polls and provide the LHINU tokens to everyone who votes. 
The main cons of the project are:
LHINU is a meme coin with utility.

The project is disrupting the market as the first Web3 vote-2-earn platform.

The voting is secure, reliable, and anonymous.

Love Hate Inu has no rug pull.
Love Hate Inu platform
Once it becomes available, the Love Hate Inu platform will have:
The User Interface – where users can vote and earn rewards.

The Vote Submission – is a place for users to submit new poll ideas. 

The Management Dashboard – is reserved for project managers to ensure voting fulfills platform standards.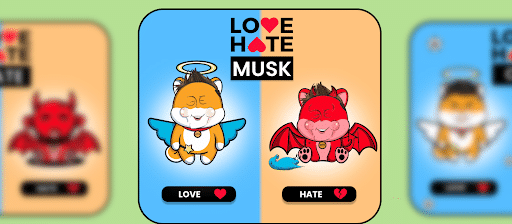 Love Hate Inu's tokenomics
There are 100,000,000,000 tokens available, and 90% (90,000,000,000 tokens) are offered at the presale. The remaining 10% is reserved for the exchange listings.
The project team offers 90% of available tokens on the presale to ensure community members who believe in the project own LHINU. This way, the Love Hate Inu builds a strong foundation for the project and ensures community support. 
How to invest in Love Hate Inu?
Love Hate Inu just started the presale of its native token LHINU on its official website. The presale lasts for 60 days only, so you should hurry and buy the coins before the presale ends on the 8th of May.
STEP 1 – Go to the Love Hate Inu official page and click the SHOP NOW button.
STEP 2 – Connect your crypto wallet.
STEP 3 – Buy LHINU using one of the options below.
Buy LHINU using ETH – Enter the amount of LHINU you want to buy, and confirm the gas fees and your transaction.

Buy LHINU using USDT.

Buy LHINU using a credit card – If you're using fiat currency or don't have a wallet, use WERT to buy coins directly from the smart contract. 
Love Hate Inu has the potential to grow exponentially
Predictions say the global online survey software market will grow to $5.69 billion by 2027 at a compound annual growth rate of 15.5%. Love Hate Inu is the first blockchain solution for voting capable of recording immutable results, making the project the only voting platform that matters.
Additionally, as a meme coin with utility, LHINU can become the most-wanted crypto and follow the steps of other meme coins with a utility like Tamadoge.
To remind you, Tamadoge raised $19 million in less than two months. After the presale, TAMA pumped by over 200%. The token is still considered one of the most successful meme coins because of its utility. 
And since Love Hate Inu is similar concerning utility, it can reach Tamadoge's success. 
Lastly, the project uses the Ethereum blockchain to provide a robust system for building secure, reliable, and easy-to-use Apps. The ecosystem underwent rigorous testing to ensure it performs smoothly, without vulnerabilities.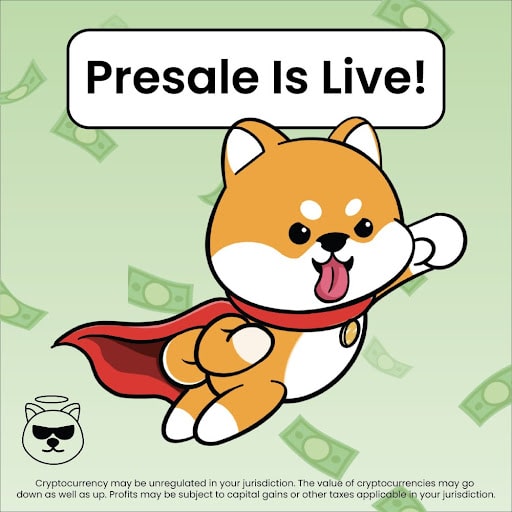 Why should you invest in Love Hate Inu?
Your voice is heard! Love Hate Inu provides a platform for everyone to speak their mind freely, without fear. Love Hate Inu encourages a healthy discussion on important topics.

Your rewards will grow with time because Love Hate Inu is a part of the growing and up-and-coming market.

Earning rewards has never been easier. All you have to do is to vote!

You get a utility from LHINU tokens. The tokens with utility are the future of the meme crypto world.
Lastly, the Love Hate Inu's presale lasts only two months – an unusually brief period – so hurry up and buy the tokens before they sell out!