Bears in the Bonk, or BONK, as it's better known, is a meme coin introduced in December 2022. The platform is built on the Solana network and is a dog-themed cryptocurrency designed as the best alternative to Dogecoin and Shiba Inu. BONK focuses on community development, particularly in the DEX and DeFi markets. 
It's one of the tokens that reached the markets without fanfare or marketing efforts. For the most part, BONK tokens didn't perform well, but they gained over 1465% in the past month. Let's see if this is the right time to invest in BONK and more details about an emerging meme coin with massive potential called Meme Kombat.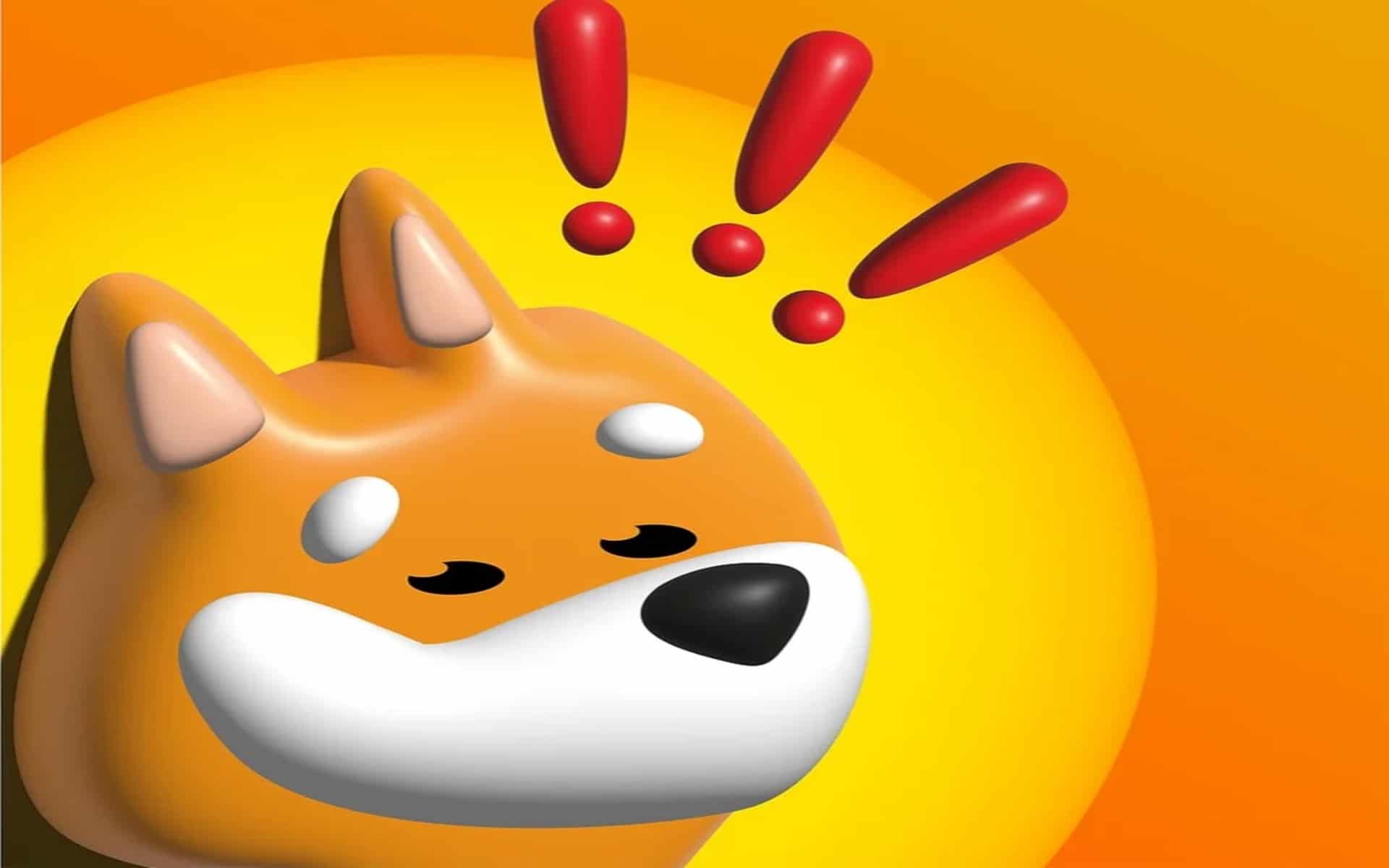 BONK Token Market Analysis
As mentioned, BONK tokens were under the radar for most cryptocurrency traders and token holders for almost a year. However, the recent price movements have brought the crypto into focus. Namely, BONK tokens started gaining momentum on November 7, and just three days later, they jumped from $0.00000076 to $0.0000028. The crypto reached its all-time high in value and market cap, attracting even more investors and signaling a bright future for all token holders.
The massive price gains of over 915% result from increased purchasing pressure and a favorable market environment. The confidence in BONK tokens is growing, and despite having smaller price corrections, the platform is slowly gaining value almost daily.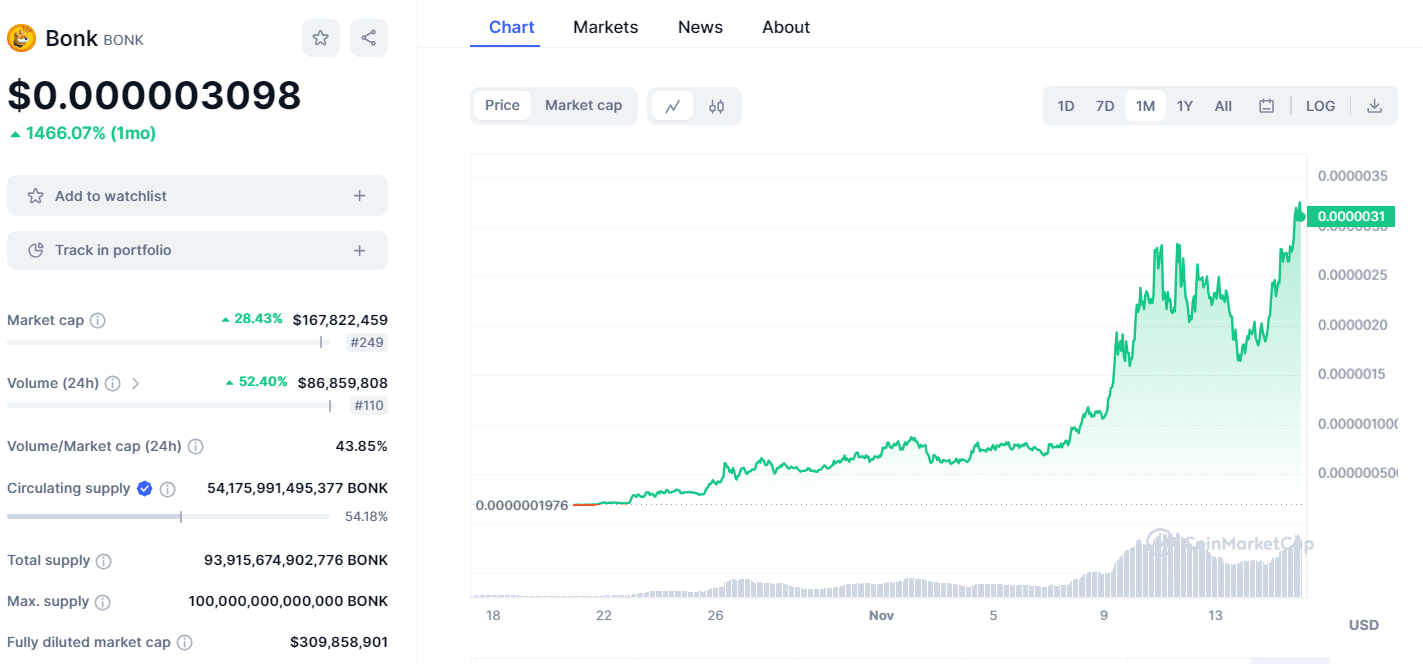 In the past week alone, BONK's trading volume increased by 130%, and its market cap reached an impressive $152 million at one point. The platform is currently ranked #298, with a market cap of just below $100 million. BONK tokens are currently struggling to surpass the $0.0000020 resistance level, but with enough support, they will surely be able to regain lost ground and result in a new ATH. Despite losing some value, BONK's 24-hour trading volume is still increasing and is 6.8% higher than the previous day. 
The bottom line is that BONK's significant price surge and bullish indicators point to a potential breakout, attracting more investors and daily traders, as it became one of the highest gainers in a matter of days. However, the adverse price movements in the past two days could result in a bearish market, but only time can tell.
Meme Kombat as the Next Big Gainer In The Meme Coin Market
Investing in BONK right now is a risky endower as the token's price could go either way. Suppose you invest in a newly emerging meme coin platform called Meme Kombat. In that case, you will secure your spot among the earliest investors, as the $MK token is only available in presale. Investing in cryptos during presale events is almost guaranteed to result in higher returns once the platform goes live. 
Considering that Meme Kombat is designed according to the best industry practices and offers high token utilization, it's an investment opportunity you want to take advantage of. So, let's see what's going on with the hottest meme coin presale of November 2023.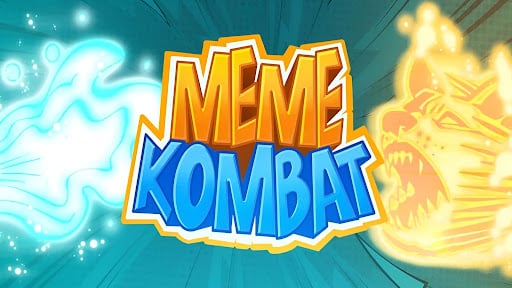 Meme Kombat – Exciting Staking Platform With Online Casino and Gaming Features
Meme Kombat is an exciting meme coin platform built around battle arena game mechanics with multiple reward systems. Once it goes live, users can choose one of 11 available online meme characters, such as Pepe the Frog, Doge, Patrickstar, and others, and put them against each other in AI-powered arena battles. 
Players can earn $MK tokens every time they win a fight, but they can also obtain them by betting on other fights. If their guess is correct, players get increased $MK in return. Therefore, the platform perfectly combines three growing industries: cryptocurrencies, gaming, and online casinos. The $MK tokens can also be used to upgrade characters, unlock new attacks, and staking. 
The official presale event is still open, and it allows investors to stake their $MK tokens immediately after buying them to get higher returns once the platform goes live. The APY is currently at a whopping 739%, and over 1460 investors have already staked over 5.3 million $MK tokens. The devs aim for long-term relevance and rewards, so let's see what the tokenomics looks like from up close.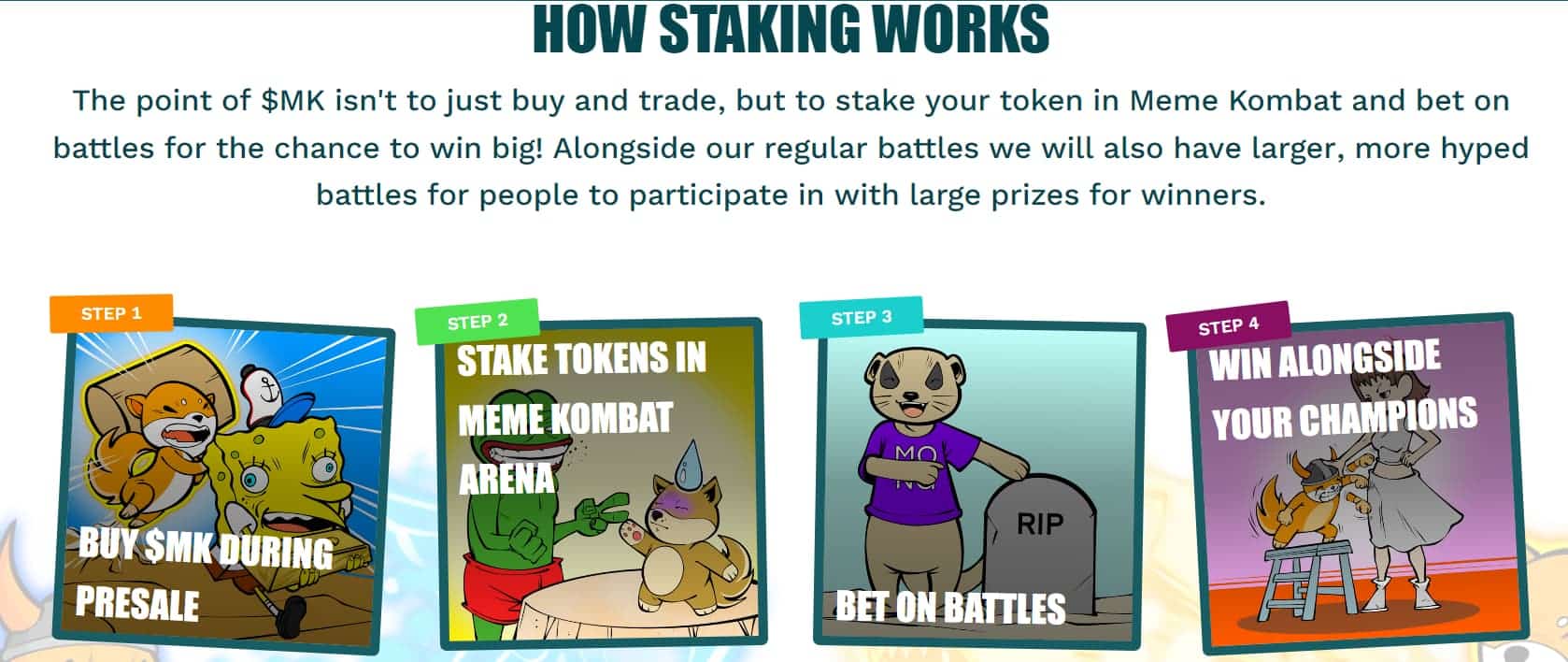 Meme Kombat Sustainable Tokenomics
To provide multiple reward mechanisms, Meme Kombat has robust tokenomics that ensure seamless transactions, high liquidity, and impressive rewards. It has 12 million $MK tokens, but only 50% is available during the ongoing presale. Another 30% is set aside to support the staking ecosystem and battle rewards. The remaining 2.4 million $MK tokens are used for DEX liquidity pools, and the final 10% is reserved for community rewards, rewarding users for participating in the battles and helping the team spread awareness about the platform. 
Therefore, over 6 million $MK tokens are used to ensure everyone involved gets a chance to earn tokens by completing challenges, placing bets on arena battles, and staking.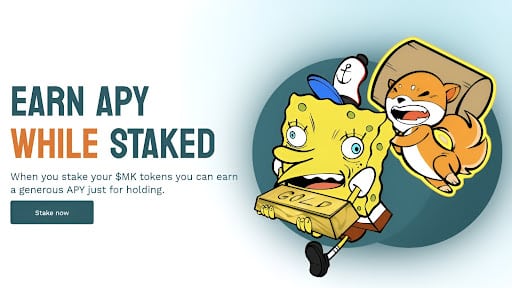 Meme Kombat Token Presale Event
The official Meme Kombat token presale event is live and has been going exceptionally well. It launched in late October, and the platform has raised over $1.65 million in just a few weeks. Over 5.6 million $MK tokens were staked already, and the investors got over 337.000 tokens back through rewards. The staking requires you to lock your $MK for up to a week to earn higher returns. The presale is nearing its end, as over 80% of tokens have already been sold, so you don't have much time to invest to secure your spot among the earliest investors that will get the highest returns.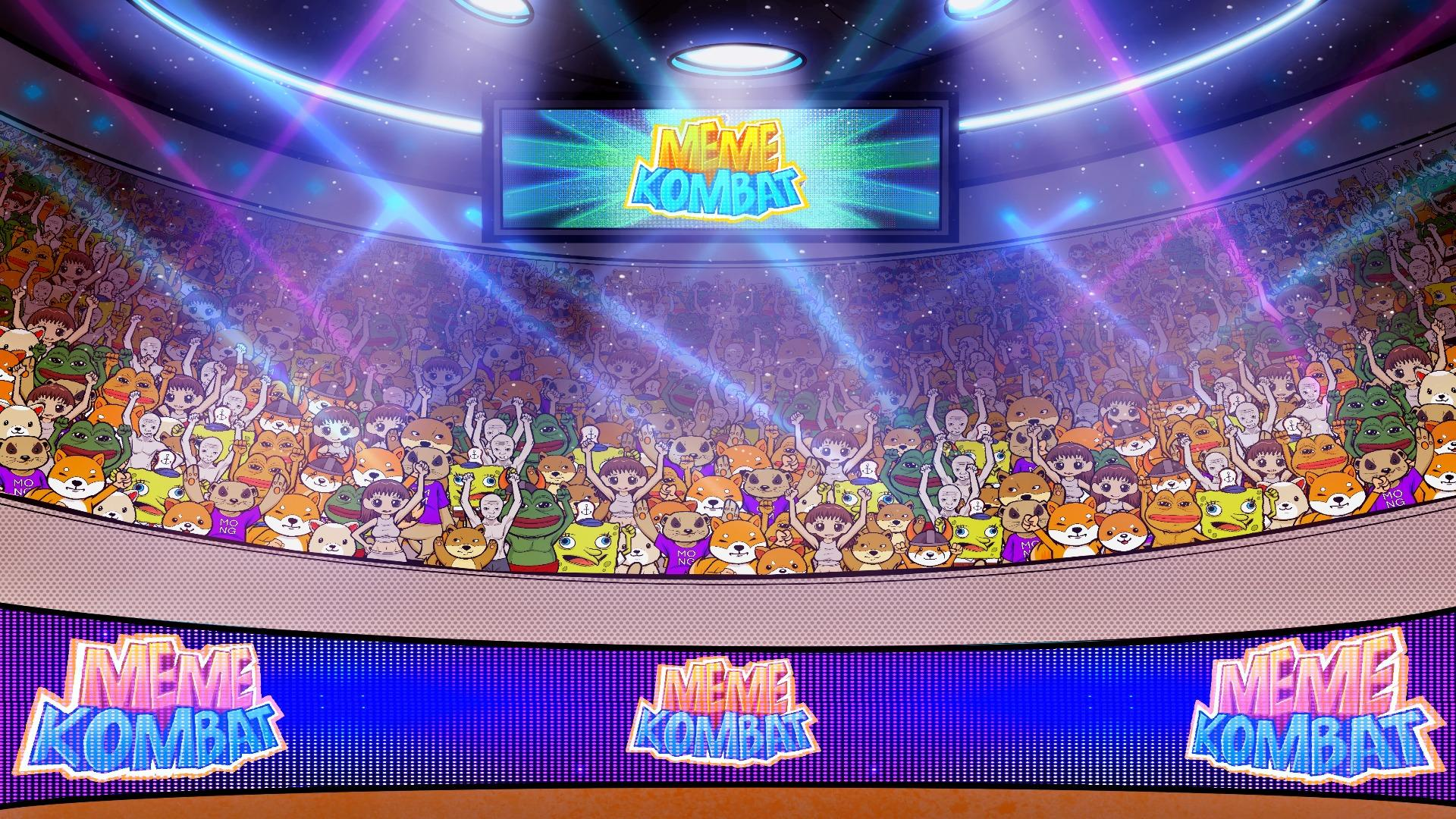 Final Words
BONK tokens had a massive bull run that earned holders over 900% returns. However, the platform's momentum has slowed, so if you missed your chance to invest before the bull run, putting your money in BONK is too risky. Please visit the official Meme Kombat site to learn more about the hottest new meme coin available in presale. Invest today, and you will likely get 10x or higher returns in Q1 of 2024.