In spite of recent ups and downs in the crypto world, there's a lot of uncertainty around popular coins like Ben Coin (BEN) and Pepe Coin (PEPE). They've seen their prices take a hit due to what's known as FUD – Fear, Uncertainty, Doubt. But even in this uncertain situation, a new player called Sonik Coin ($SONIK) has gained considerable attention and has raised almost $700,000 during its presale. It's interesting how, amid all the twists and turns, there's this fresh contender stepping up and making its mark. However, let's look at what's going on with BEN and PEPE before we get into this new meme coin.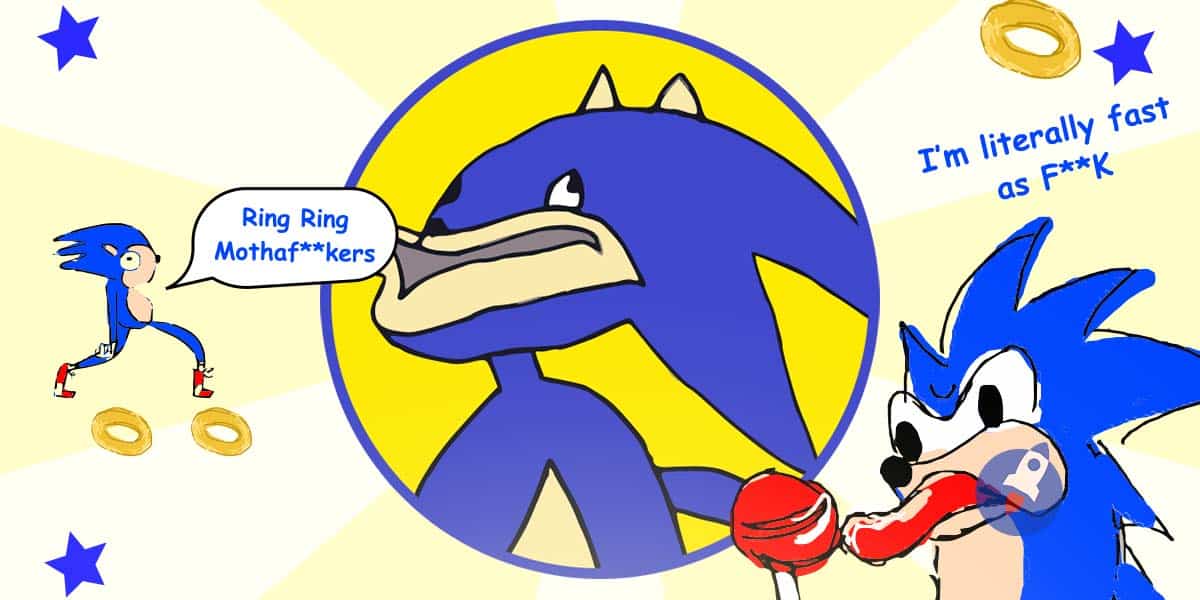 FUD Strikes Top Coins: BEN and PEPE Witness Price Swings
Ben Coin, the meme coin brought to life by influencer and popular YouTuber Ben Armstrong, known for his role in BitBoy Crypto, has hit a rough patch. Armstrong's abrupt departure from BitBoy Crypto, amidst claims of an internal shakeup, has sent shockwaves through the crypto community. This exit fueled FUD, which caused a 41% drop in BEN's value within a day as doubts swirled. While Armstrong reassured his dedication to BEN on Twitter, the sudden split from the platform that heavily promoted BEN has raised questions about the coin's direction. The departure's impact is uncertain, but it's undoubtedly causing concerns and price fluctuations for this once-hyped memecoin.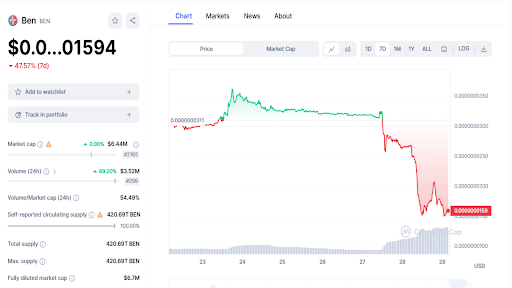 Pepe Coin, famous for its spectacular surges, is now grappling with a sharp decline. The meme coin faced a dose of FUD as about $16 million in tokens took an unexpected detour from its developer wallet to exchanges. This led to whispers of a potential "rug pull" scam by creators, sparking panic sales despite unverified claims. Consequently, due to this negative sentiment, PEPE's value dipped 21% in a single day. While some people think the wallet activity is suspicious, they argue that a genuine scam would involve larger sums. Regardless, uncertainty prevailed, causing a $14 million investor loss.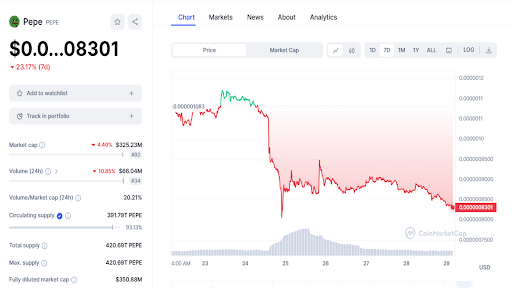 But amidst all the FUD, there's a new coin that's stealing the spotlight. This coin has been creating quite a buzz in the market, bringing in almost $700k during its presale in a surprisingly short span. So, let's dive into what's special about this coin.
Sonik Coin ($SONIK) on the Rise – $700k Presale Momentum Sparks Enthusiasm
Sonik Coin ($SONIK) has quickly become the talk of the town in the world of meme coins, pulling in almost $700,000 during its presale phase. This surge is a clear sign of the growing FOMO that surrounds this new project. Taking inspiration from Sonic the Hedgehog, the coin aspires to be the speediest meme coin to hit a $100 million market cap. Looking at its explosive start in the presale, hitting the $1 million mark doesn't seem too far off.
Considering the astonishing rise of meme coins like PEPE, which have shot up by hundreds or even thousands of times their initial value this year, Sonik Coin presents an exciting chance for significant returns on your investment.
What's even more interesting is the rapid growth of the Sonik Coin Telegram community, boosting the excitement. Every day, new members are joining, and engagement levels are skyrocketing.
Adding to the buzz, the fact that influencers like Michael Wrubel are now giving Sonik Coin attention only adds to its credibility in the already bustling meme coin landscape.
Sonik Coin's Staking Revolution: 100% APY for Long-Term Holders
Sonik Coin is shaking up the meme coin game by adding a practical twist to the mix. They're not just being funny – these guys are bringing some real-world usefulness into play.
Sonik Coin is doing something pretty unique with its staking protocol. While many tokens out there are all about speculation, Sonik Coin is putting a solid 40% chunk of its total token supply, which is around 299 billion, into staking rewards. Another 40% is reserved for staking, and 10% is for exchange liquidity.
When it comes to $SONIK staking, you can earn enticing Annual Percentage Yield (APY) returns, boasting a whopping 100% staking APY currently. However, this rate will gradually decline as more stakeholders deposit funds into the smart contract. About 24 billion $SONIK tokens are already locked up. This move shows that the community is fully embracing this innovative feature.
The staking system for Sonik Coin isn't just about sitting back and earning. It's designed to encourage you to hang onto your tokens long-term, which, in the grand scheme of things, helps keep the price steady.
So, when you stake $SONIK, you're not just making money – you're actively becoming a part of the project's goals, embodying the whole community-driven vibe they're all about.
Secure Path Ahead: SONIK's Focus on Audits and Trustworthy Listings
Sonik Coin is making a distinct mark by conducting smart contract audits, a step often overlooked by meme coins. As its presale approaches the $2.1 million hard cap, Sonik remains committed to integrity, preparing for a secure listing on decentralized Uniswap.
This emphasis on audits and transparent exchanges sets Sonik apart in the meme coin landscape during a time of FUD. The presale offers a chance to get $SONIK at a lower price before its September DexTools listing. As a meme coin prioritizing audits and reliable exchanges, Sonik brings accountability to a speculative market. Its integrity might drive Sonik to defy FUD and shine in an uncertain market, appealing to investors seeking conscientious meme coin options.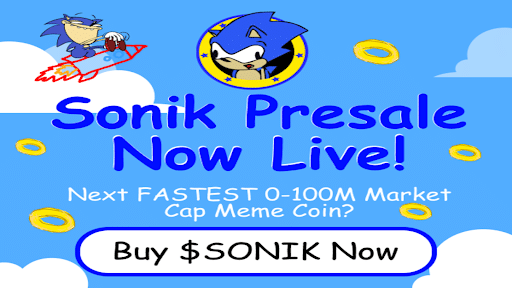 Conclusion
Amid all the FUD affecting BEN and PEPE, $SONIK stands out as a promising choice. While BEN and PEPE struggle with price drops due to uncertainties, $SONIK has grabbed attention through its impressive presale milestone of more than $700,000, practical staking feature, and security focus, making it an interesting option for meme coin enthusiasts. It's worth considering for those intrigued by unique features in this crypto landscape. Don't miss out on its presale opportunity, as $SONIK's momentum continues to build rapidly.