Dash 2 Trade (D2T) is one of the most exciting cryptocurrency projects out there. Popularly reckoned with as a cryptocurrency analytics platform, it ensures that traders are able to operate in the cryptocurrency market with ease and improved security against bad trades. It ensures that traders recognize forthcoming high-value opportunities before they slip past them. 
Dash 2 Trade's aim is to help users optimize their gains by offering trading signals, social analytics, on-chain data, and a user-friendly dashboard. Dash 2 Trade's crypto-analytics environment's development in the last couple of months has been mind-blowing and pacy. Recently, it reached a new major milestone, generating roughly $8.6 million in funding in just over a month.
The unprecedented crash of FTX and the saga around SBF have increased demand for Dash 2 Trade. Investors are looking to avoid any sort of catastrophe; hence, the spiked demand for Dash 2 Trade's effective analytical tools and features. Because of these pressing demands, the development around Dash 2 Trade has been immense, provoking Dash 2 Trade's development team to bring down the presale hard cap to $13.4 million so that enthusiastic market traders can access the crypto intelligence platform sooner.
Market experts and analysts project Dash 2 Trade to hit this hard cap in the coming weeks, highlighting the token as one for the future and signaling a robust foundation for intense growth in 2023. Investors should highlight D2T as one of the tokens to add to their sophisticated crypto wallet. It is a token that deserves more attention, as the future obviously hints at palpable success.
 Check out five reasons why you should be buying D2T at an all-time low now before it is listed on exchanges and its price jumps!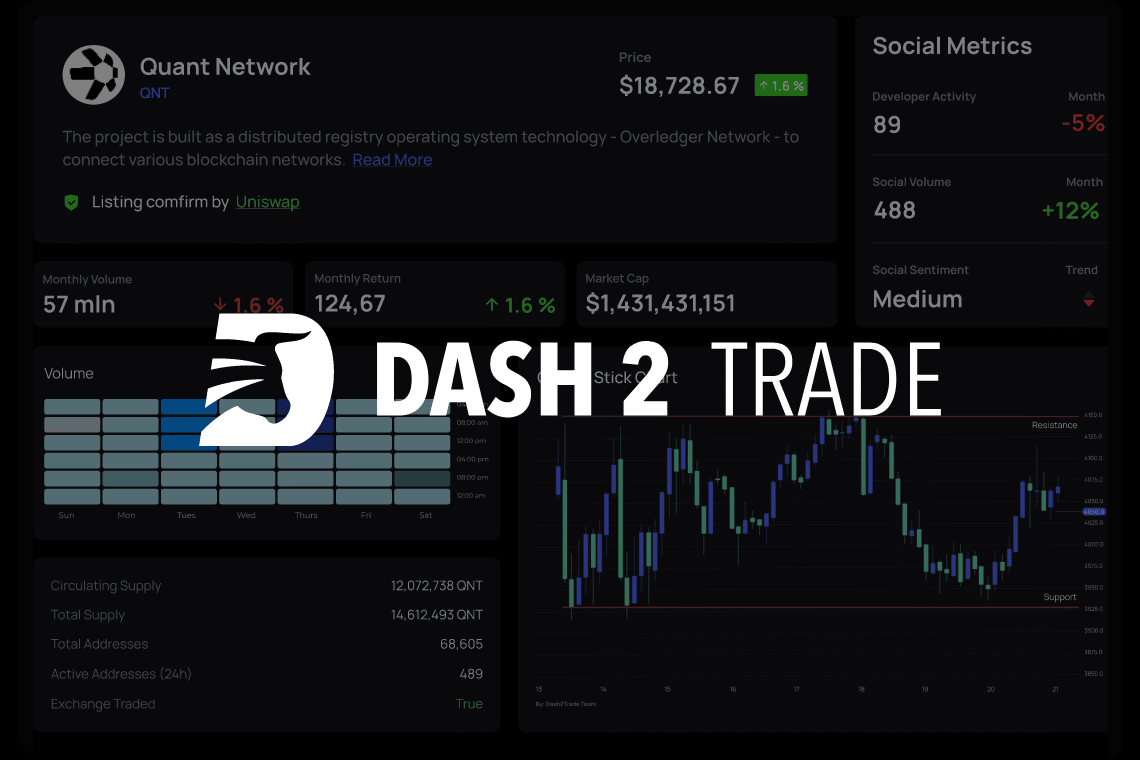 Provides a Subscription-based Dashboard
Dash 2 Trade stands out significantly from its contemporaries due to its offering of a top-tier dashboard. Many crypto experts think this is a valid reason why investors should jump on the Dash 2 Trade trend before it is too late. Dash 2 Trade's world-class dashboard ensures interaction with users to ensure they are able to use core trading tools to enhance the quality of their trades. The dashboard is used to filter out bad trades and derive quality market insights and analyses that are not available elsewhere. The dashboard has three subscription types:
Free Tier

: Users can select this without having to use their D2T tokens, though it is accompanied by limited access to premium features of the platform.

 
Starter Tier

: Users can subscribe to this option by offering $300 in D2T tokens. Through this subscription option, they get access to tools that are not available to free-tier users.

 
Premium Tier

: This is the peak of the subscription options. It requires a huge sum of 1,000 D2T per month before it can be accessed. Premium users are entitled to a 20% discount if they pay for the yearly subscription and engage in quarterly giveaways. Users have access to features that lower-tier users do not have. These features go a long way in increasing the demand for the token in the cryptocurrency market. 
Dash 2 Trade's Impressive Tokenomics
The utility token for Dash 2 Trade is $D2T. It is the power of the Dash 2 Trade ecosystem. The brilliance of Dash 2 Trade's tokenomics is another reason you should buy them before their imminent surge in 2023. The $D2T token is an ERC-20 token with a regulated supply of 1 billion and no underlying plan to have additional tokens minted. $D2T tokens do not heap taxes on users, as users can buy or sell $D2T tokens on exchange platforms without paying tax. 
Users who desire access to the Dash 2 Trade dashboard and its impressive perks will have to pay through D2T tokens. Cutting-edge tooling like the strategy backtester on the platform will need D2T tokens since operating this strategy evaluation software over diverse tokens is computationally taxing. Thus, users will have to pay for what they get. Experts say this one of the features that has made D2T an irresistible token— a must buy!
Dash 2 Trade Includes a Builder and Backtester for Users
One of the reasons why crypto experts and analysts present D2T as a token to buy is its inclusion of a builder and backtester for users. It empowers users with D2T criteria to create independent market-beating schemes. Users are allowed to build their strategy and backtest it on the D2T platform to check its performance against previous data. 
Through this scheme, users can identify the strengths and weaknesses of their strategy without incurring any capital losses. Also, they can re-assess the scheme, rebuild it, and backtest it numerous times before it emerges as a profitable scheme for traders. The strategy builder will build a metric to evaluate the strategy's risk and offer a better solution without incurring losses.
Dash 2 Trade offers a Great Scoring System For Crypto ICOs and Pre-sales
 One of the reasons why D2T is the token to purchase right now is because the platform provides a great scoring system for crypto ICOs and presales. In the market, investors know like the back of their hands that successful crypto ICOs (initial coin offerings) offer so much assistance in generating massive investment returns for early users. Thus, a lot of users in the crypto space consistently search for good and quality ICOs they can invest in before they go on to list on public crypto exchanges. Nonetheless, some ICOs could exist as traps to swindle investors without offering utility. Dash 2 Trade solves this with its development of a scoring system replete with potential existing and forthcoming crypto ICOs.
Dash 2 Trade is an Investment Channel
 Another good reason to buy D2T before its price spikes in the coming weeks is that its presale offers a brilliant chance to select some D2T tokens at a comparative discount. With ceaseless predictions hinting at an unavoidable increase, D2T is worth its salt. As an investor, it would be huge blasphemy to neglect D2T while it is easily accessible and cost-friendly.

Conclusion
Dash 2 Trade is a token that you should not take lightly as an investor. Its gradual momentum is gathering more attention, and in the coming days, it is going to be massive. This is the perfect time to add D2T to your crypto wallet. Invest now!