Clint Bowyer breaks 190-race winless streak at Martinsville to claim the STP 500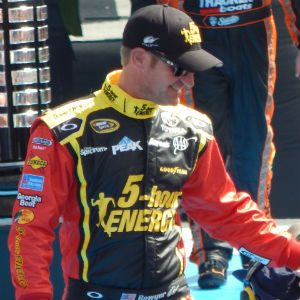 It's been a long dry spell for Clint Bowyer. Zero for 190. No wins for the Kansas native, dating back to the fall Charlotte race in 2012. But unlike the surprise spring snow that fell over Henry County and Martinsville, postponing the race one day from Sunday to Monday, Bowyer's win in the STP 500 felt right.
"For whatever reason, it felt right driving up here," replied Bowyer, who led nearly half the race for 215 laps after taking the lead from Penske driver Ryan Blaney.
In turn, Bowyer picked up his ninth win overall in the series, his sixth top five in 25 starts at Martinsville and further proved that his move to Stewart-Haas had paid off, although it took some time making the payments.
"It was just time," exclaimed Bowyer.
With the win by Bowyer, the Stewart-Haas Racing team powered by Ford has won four of the first six races of 2018 (Atlanta, Las Vegas and ISM-Phoenix).
"We learned last year," Bowyer said in his post race comments."Obviously, Harvick came on strong at the end of last year, but it was a learning year for our team and the 14 bunch."
Bowyer would finish 1.146 seconds ahead of Joe Gibbs Racing driver Kyle Busch, keeping the Toyota driver winless in the first six races of 2018. It was the third time in four races that Busch that the Toyota driver would finish second.
Busch did receive some solace in the second place finish.  He took over the points lead from 2017 Series Champion Martin Truex, Jr., despite the New Jersey native's start on the pole and fourth place finish.
"We just tried to maintain and keep ourselves in the right position, in the right spots all day long on the long runs and save our stuff as much as we could to see if we couldn't mount a charge late in the going," Busch said following the race. "For us, saving our stuff, the 14 was able to save his stuff, and he was a little bit better than we were. He was able to kind of edge out there through the early laps of firing off each and every time, first 10 or 15 and kind of get that gap, and then he'd kind of just hold that. He was probably saving just as much as I was trying to save to make sure he had something to go at the end."
Bowyer also recognized that he had outlasted Busch in a duel on the track at Martinsville.
"To keep Kyle Busch, one of the best in the business, behind you in those closing laps, the nerves were through the roof. It's unbelievable how it all came true."
Stewart-Haas driver Kevin Harvick finished fifth, with Penske driver Joey Logano finishing sixth.  Alex Bowman driving the Hendrick Motorsports #88 finished in eighth place with JTG Daugherty Racing driver A.J. Allmendinger finishing eighth.  Chase Elliott driving the Hendrick No. 9 Chevy finished in ninth place with Penske driver Brad Keselowski coming in tenth.
Other notables on the afternoon included Denny Hamlin finishing 12th, the Wood Brothers driver Paul Menard finishing 13th, Hendrick driver and nine time winner at Martinsville,  Jimmie Johnson finishing 15th, one lap down.
Daytona 500 winner Austin Dillon finished 30th with Richard Petty Motorsports driver Darrell "Bubba" Wallace Jr. coming in 34th.
Ryan Blaney led 145 laps, second to Bowyer in laps run and won the second 130-lap stage of the race. Denny Hamlin also led 111 laps in the early going and also claimed the first stage victory.