Sports
Clemson Press Conference: Cole Stoudt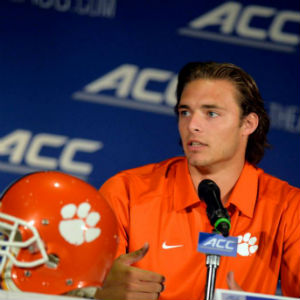 Q. Obviously you have a tough act to follow, so we'll start there, you and your team have a tough act to follow. Can you talk about that?
COLE STOUDT: Yeah, you know, the seniors from last year, they've all set a standard for Clemson, and we're not going to — one thing we started out for the year after last year was that we all talked about that the standard was set, so now it's set to go beyond that standard. They've set a goal, we want to go above it. Even though we've lost a few guys, we still have many veterans on the team that have been in this for four years, both on the offensive and defensive side of the ball. We're all very comfortable, and we're all just going to go out there and have some fun and enjoy the year.
Q. Cole, you're a senior, first-year starting quarterback and you're going between the hedges for the first game. Talk about what's going through your mind thinking forward to Georgia?
COLE STOUDT: Just I've always prepared for every game, go in there, get in the film room, constantly study and prepare like I have for the past three years. I always — back then I always used to prepare like I'm going to be the starter, and now that I am the starter I'm going to prepare the same way constantly, put in even more work and just developing the team and constantly being a leader and keeping the guys going.
Q. What's it like being handed the keys to this offensive machine?
COLE STOUDT: It's exciting. It's a huge thrill ride constantly. There's always something new every single day, and I've had a blast. I've never been more excited in my entire life, and I'm constantly every single day working hard, making myself better along with the team, and it's been very fun and exciting. I just can't wait for the season to start.
Q. What can you say about this offense for Clemson under you? How would you describe yourself as a quarterback moving forward, and how do you feel you're going to lead this team going forward?
COLE STOUDT: I'm going to do the best that I possibly can. I'm very comfortable with the situation I'm in. I've always been a relaxed kind of guy that goes out there and operates the system and plays the best I possibly can. The past couple years, every time I went in, I always maximized my opportunities. Last year I think I did that the best. I set a couple records for accuracy and passing efficiency, and I'm very proud of that, but I also have to continue to keep getting better, myself better and the team. I kind of just go in there, have some fun with it, relax, and just go with my reads one at a time and just operate the system.
Q. Last year you guys came in as the favorites, this year you're coming in as the underdog. How do you feel about your chances to win the conference this year?
COLE STOUDT: It's the same chance anyone else has. You've still got to go out there and perform and be the best you possibly can. That's something I think every team strives for. We go in there, we're going to do the best that we can this year, and I'm confident just like every other team is confident in our chances of winning.
Q. Defense has been getting a lot of press, obviously, as the summer builds. As the quarterback on this team, talk to me about what you see so far in skills and drills from this defense, and in particular, comment on your teammates you've got here with you Vic Beasley.
COLE STOUDT: I'm very impressed with what I've seen for the summer of the defense. Vic, he's been doing a great job, Stephone, Grady, all of them over there, they've been getting the defense going, and it's going to be a very exciting year for the defense. They've been working hard all summer. They've been pushing the offense every day, too, and they're a team that wants the rest of the team better, not just the defense. They're constantly getting each other better. If we mess up on offense, they get on us. If they mess up on defense, we get on them. It's a two-way sway and it kind of goes back and forth and they just want the best out of us and they've been improving a lot this summer.
Q. I know it's towards the end of the season, but you have some experience in this realm. Can you tell us, give us some insight maybe into what kind of extra preparation goes into the South Carolina game, or is it just any other game for you guys? What's your feelings on that game in general?
COLE STOUDT: It's just like any rivalry game that you have. You always want to — everyone always wants to win that game. Everyone always wants to prepare more. But we go in there every single day, and when we're going to prepare for them we're going to prepare for them hard, and we're going to do the best that we can. We're going to do the simple things better than anyone. That's what we are striving for. We want us to be the best, and we want to win that game. That's the emphasis that we have put on, and over the past few years losing to them has kind of not sat well with us, so this year we're hopefully going to turn that around this year.
Q. (Inaudible.)
COLE STOUDT: Yeah, it's been mentioned a few times and they always keep drilling it, putting it in the back of our head but it's not something we're focusing on every day. We don't want to just focus on that game because we have Georgia, Florida State, we have games before that. We're going to take it a week at a time and we're always going to have that reminder in the back of our head, hey, we've got South Carolina coming up.