Civil rights activist Bernice A. King keynotes W&L's MLK celebration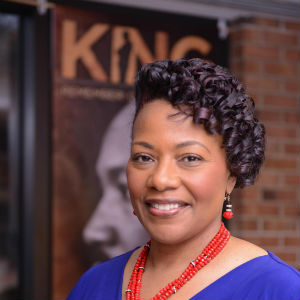 Bernice A. King, the daughter of the late Dr. Martin Luther King Jr. and CEO of The King Center, will give the featured keynote address during Washington and Lee University's annual multi-day observance of King's birthday, "Celebrating the Life and Legacy of Dr. Martin Luther King Jr."
King will speak on Sunday, Jan. 21, at 6 p.m. in Keller Theatre, Lenfest Center, on the W&L campus.
Born the youngest daughter of the late Coretta Scott King and Dr. Martin Luther King Jr., King began her oratorical journey when she spoke in her mother's stead at the United Nations at age 17. Over the years, she has had the occasion to speak in such places as the steps of The Lincoln Memorial, The White House, major corporations and universities and in places throughout the world, including South Africa, Germany and New Zealand.
King is a graduate of Spelman College with a bachelor of arts degree in psychology and a masters of divinity and doctorate of law degrees from Emory University. She is currently a member of the State Bar of Georgia and a trained mediator. King serves on the HOPE Southeastern Board of Directors of Operation HOPE and is a member of the International Women's Forum.
King also serves as a mentor and advisor to the Coretta Scott King Young Women's Leadership Academy, grades 6-12, (CSKYWLA). In January of 2011, King launched the 100 Days of Nonviolence campaign at CSKYWLA to expose the girls to nonviolence as modeled by Dr. Martin Luther King, Jr. (Nonviolence 365), and encouraged them to embrace it as a way of life. She also provided Nonviolence 365 education training in Ferguson, Missouri that included students, teachers, law enforcement, gangs, businesses, community leaders and activists.
Through her work at the King Center, she has continued to educate youth and adults about the nonviolence principles modeled by her parents. In 2012, she implemented an annual N.O.W. Encounter Summer Camp which has educated youth from New Mexico, South Carolina, Michigan, Alabama and as far away as Cyprus.
In 2013, as she continued her father's legacy, she spearheaded the Aug. 28, 2013, "Let Freedom Ring and Call to Action" event to commemorate the 50th Anniversary of the March on Washington and her father's famous "I Have a Dream" speech. This global event included President Obama, former Presidents Clinton and Carter, members of Congress, as well as many other international leaders, dignitaries and entertainers.
In addition to King's keynote, this year's events will include guest speaker Professor Sonia Katyal at the W&L School of Law; the annual children's MLK birthday party; a dream-themed Chanoyu Tea Society event; viewings of the movie "Selma"; and the Reflections Dinner.
The keynote and all other events in the multi-day program are free and open to the public. Some events require tickets or RSVP. The complete schedule of events and ticket/RSVP information can be found online at www.wlu.edu/provost/initiatives/martin-luther-king-jr-celebration-events.