Chris Graham: My 2017-2018 All-ACC Ballot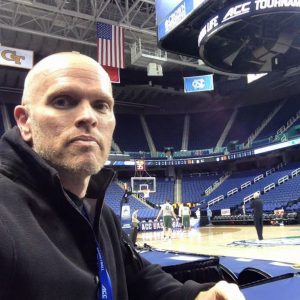 My 2017-2018 All-ACC Ballot is signed, sealed, delivered. Caveat: this is what I see, not what I predict will be the teams. I say that because it is entirely possible that the Virginia team that won an ACC-record 17 regular-season games will not get a player on the All-ACC first team.
I watch that UVA team every time it plays. Devon Hall is, to me, the second-best player in the ACC, and maybe the most complete, a highly efficient offensive player (second in the ACC in offensive rating) and maybe the best on-ball perimeter defender (fourth in the ACC in defensive rating).
Admittedly, I struggled with putting Kyle Guy on my first team. Ultimately I went there because Guy has been the focus of opposing defenses from game one as Virginia's top offensive weapon, and he has evolved into a top-flight defender (ranked sixth in the ACC in defensive rating).
The obvious choices: Marvin Bagley III as player of the year and freshman of the year, Isaiah Wilkins as defensive player of the year, Tony Bennett as coach of the year.
Actually, maybe Bennett isn't so obvious. Brad Brownell took Clemson from preseason 13th in the media voting to a third-place finish, and Kevin Keatts at NC State took a team that had just gotten its coach fired to the doorstep of an NCAA at-large bid.
I'm going Bennett because he took a team unranked in the national polls and forecast sixth in the preseason media voting to a #1 national ranking for what will be a fourth week on Monday and the aforementioned conference-record 17 regular-season wins.
All-ACC First Team
Marvin Bagley III, Duke
Devon Hall, Virginia
Luke Maye, North Carolina
Jerome Robinson, Boston College
Kyle Guy, Virginia
All-ACC Second Team
Grayson Allen, Duke
Ty Jerome, Virginia
Joel Berry, North Carolina
Wendell Carter Jr., Duke
Isaiah Wilkins, Virginia
All-ACC Third Team
Justin Robinson, Virginia Tech
Raymond Spalding, Louisville
Omer Yurtseven, NC State
Marcquise Reed, Clemson
Matt Farrell, Notre Dame
All-Freshman Team
Marvin Bagley III, Duke
Wendell Carter Jr., Duke
De'Andre Hunter, Virginia
Gary Trent Jr., Duke
Nickeil Alexander-Walker, Virginia Tech
All-Defensive Team
Isaiah Wilkins, Virginia
Devon Hall, Virginia
Elijah Thomas, Clemson
Ty Jerome, Virginia
Raymond Spalding, Louisville
Player of the Year: Marvin Bagley III, Duke
Freshman of the Year: Marvin Bagley III, Duke
Sixth Man of the Year: De'Andre Hunter, Virginia
Most Improved Player: Luke Maye, North Carolina
Coach of the Year: Tony Bennett, Virginia