Charlottesville-UVa-Albemarle Emergency Management Coordinator given top honor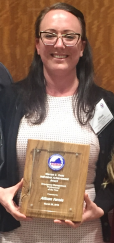 Allison Farole was honored on March 26 with the Warren E. Trent Individual Achievement Award (Emergency Management Professional of the Year).
The annual award is given to an emergency management leader who exemplifies high principles of community preparedness and personal dedication to the safety of local citizens.
"I've had the privilege of working with Allison over the last six years in her roles as both an Assistant and Emergency Management Coordinator. With Allison's knowledge, experience, and expertise, the communities she directly serves are in good hands," said Gerald Smith, Interim Executive Director of the Charlottesville-UVa-Albemarle Emergency Communications Center (ECC). "This award is the result of the countless hours her and her office have put in locally, regionally and statewide, to plan, prepare, exercise, train, re-evaluate, and execute policies and procedures in the event of an emergency in our area."
"Farole's outstanding public service and organizational leadership during her response to local disaster situations throughout the years is an asset to the region," said Maribel Street, who is the Assistant Emergency Management Coordinator and who nominated Farole. "Her proactive approach to the August 12 Anniversary events in 2018 was recognized by officials locally, statewide, and nationally."
"I feel honored to have received this award," said Farole. "The role and success of any emergency manager is never done alone and this, to me, is proof of how the collaborative work of Charlottesville-UVA-Albemarle stakeholders can accomplish success when the safety of our community is priority." Farole added that her goal is to continue building a resilient community through public education and to continue the enhancement of coordination, collaboration, and communication among the region.
Farole was also recognized by members of the ECC Management Board during a public meeting on Tuesday.
Comments