Top News
BRCC students, employees give back for the holidays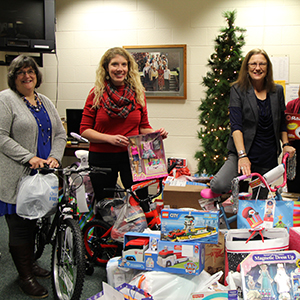 The BRCC community of students and employees combined again this holiday season to make sure that it would be a little brighter for some area children and furry friends.
An Angel Tree, with the names of 50 local children from the Harrisonburg Salvation Army, was located in the staff lounge just before Thanksgiving. Each angel ornament included the name, age, and Christmas wish list of a child. The ornaments were quickly claimed and soon the lounge began to look like Santa's workshop. "We haven't done this well in years," said BRCC Staff Association Secretary, Martha Livick. Surrounded by bikes, Legos, craft kits, balls, games, scooters and more, she and the other Staff Association officers began to take inventory. "We'll definitely do it again."
The Alpha Xi Xi Chapter of Phi Theta Kappa at BRCC also hosted a bake sale to benefit the Angel Tree, and contributed $85 to the cause.
Not forgetting our four-legged friends, the Veterinary Technology Club coordinated an Animal Angel Tree with items on the wish list of the Shenandoah Valley Animal Service Center (SVASC). The "resident" animals of the Vet Tech program during the semester, come from the SVASC, and therefore the shelter was a natural beneficiary for the holiday supply drive.  "They're always in need of the basics," explained BRCC Vet Tech Club President, Hillery Williams. She continued, "It is our way of giving back to the homeless animals in our community."
Despite a slow start, the final collection more than tripled the amount donated last year, with a total item value of over $4,900.  "I thought the results were great this year. Words cannot express what a donation like that means to SVASC's director, volunteers, and animals," said Hillery.